OPH vaccinating 450 in WC over weekend
By Jake Davies - West Carleton Online
KINBURN – the West Carleton Community Complex has not seen this many Ottawa staff members bustling inside its doors for more than a year.
Today (April 1), more than 25 City of Ottawa staff, at varying times, were busy setting up West Carleton's first ever COVID-19 vaccination clinic inside the beautiful building, including nurses and other of Ottawa Public Health (OPH), City of Ottawa Bylaw officers and even communication officers to deal with the throng of media (West Carleton Online, although we missed them).
At roughly 11 a.m. the team was putting together a pop-up COVID-19 vaccination clinic that will inoculate 450 West Carleton residents, 150 a day, over the next three days. All of them will be receiving the Pfizer vaccine.
While this was the first rural vaccination clinic for West Carleton it was not the first rural pop-up clinic OPH has operated, having hosted them in Richmond and Osgoode the three previous days.
These rural clinics were announced by the city on March 22. It only took eight days (and lots of waiting for those on the phone) before the West Carleton clinic was fully booked.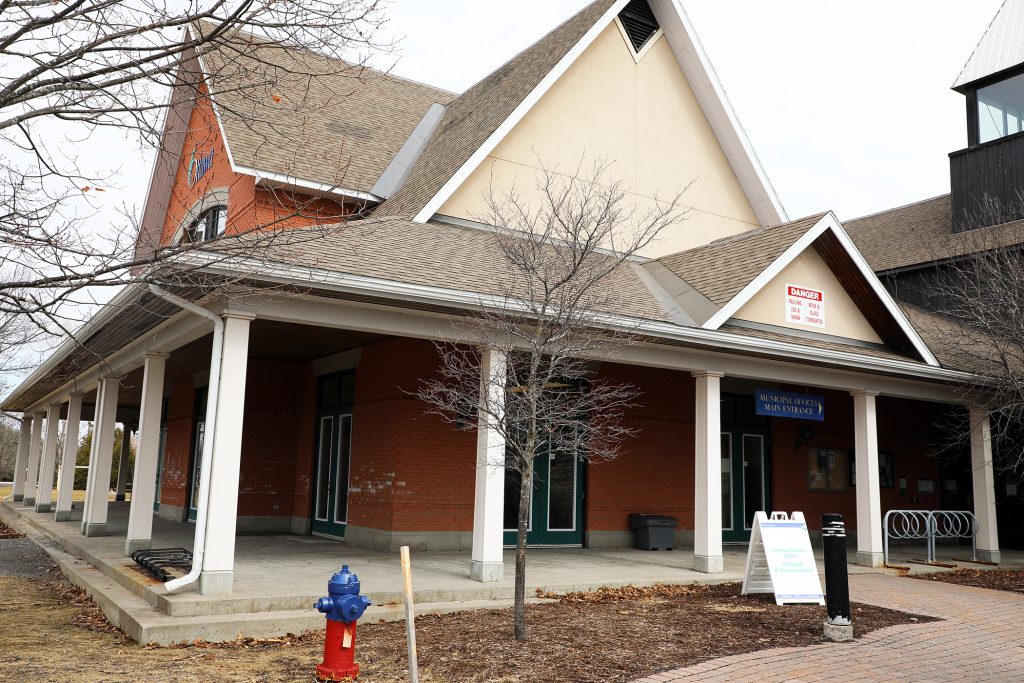 Carp resident Kathy Watson-LeBlanc is one of the City of Ottawa leads of the rural clinics. She said the Richmond clinic was booked solid and not one appointment was missed.
"I love those farmers," LeBlanc told West Carleton Online. "If they make an appointment, they don't miss it."
She says those who have come through are extremely happy to be getting their vaccination.
"It's a riot to see how grateful everyone is," Watson-LeBlanc said. "It's not like the flu clinics where some need convincing of the value of getting their shot. People know it's important."
Coun. Eli El-Chantiry was in the office early today as well. He clocked in at 8 a.m. and was able to watch the clinic get set up.
"We're very happy," he told West Carleton Online. "It's good news for our residents."
Not only is drive-time cut way down for local residents receiving the shot near Kinburn this weekend, parking is free at the complex and the building itself is easily accessible.
"We want it to be successful because we want to do more," El-Chantiry said. "Three nurses here today are from West Carleton and they're excited to be helping their community."
On Nov. 27, the City of Ottawa hosted a mobile flu clinic at the same location. It was held in the Thomas Cavanagh Sensplex parking lot, with four large vehicles (three OC Transpo buses and a recreational vehicle) forming a square. At the time, Coun. El-Chantiry said staff would be monitoring the clinic closely, and it might set the standard for future COVID-19 vaccination clinics.
The biggest difference between the two clinics is, the COVID-19 vaccination clinic was set up inside the building, with the Roly Armitage Hall acting as the inoculation room.
"I don't have to tell you, it's a great building," El-Chantiry said. "It has all the resources it needs. I'm hoping it will be a success."
Another advantage of having it inside is it means the city could deploy fewer resources to set up the clinic, such as OC Transpo buses.
"We did everything we can to have this happen in our ward," El-Chantiry said. "That's how important it is to us."
"We've asked the province and the city to ask our rural pharmacies," El-Chantiry said. "The Constance Bay Pharmacy gave out more than 350 flu shots this season. That would be a great help for the system. It's not our decision to choose what pharmacies will give out vaccinations and they sometimes ask the bigger pharmacy companies. But if they will ask our smaller pharmacies it will save a lot of travel and anxiety."
El-Chantiry says he has already spoke to OPH chief medical officer of health Dr. Vera Etches and Protective Services general manager Anthony Di Monte about future West Carleton clinics.
"Dr. Etches is confident there will be another," El-Chantiry said.
Having said that, the three-day clinic will only inoculate 450, while there are close to 30,000 residents in West Carleton. El-Chantiry says the process is ever-moving and ever-changing.
El-Chantiry says one thing that may gum up the works is residents making multiple appointments to get vaccinated at local clinics, some of the other permanent clinics in Ottawa or wherever there is an opportunity.
"I'm not going to blame them," he said. "They want to get their vaccinations as fast as they can and will take the earliest appointment they can get. But I hope they do the courtesy to cancel their other appointments when they get a confirmation."
While both the provincial and federal government have taken a lot of heat for problems with the vaccine rollout, El-Chantiry says now is not the time to assess blame.
"People are scrambling to get the shot," he said. "My staff know of some people who travelled to Kingston. They don't give a damn who's fault it is, just give us the damn vaccine."
A concern even these pop-up clinics can't address, is serving the needs of those who are housebound.
"Last week I heard from a local personal support worker about a group of housebound people," El-Chantiry said. "Last Tuesday (March 30), I reached out to Dr. Etches and Di Monte about the issue. Dr. Etches says there are some 2,000 residents who are housebound due to medical issues. I believe, they have made a solution. Call OPH and they will make arrangements. I've heard of three or four in my community that need that service."
The Constance Buckham's Bay Community Association has also secured some volunteers to assist those in its community get to their vaccination appointment if necessary.
"If anyone in the K0A 3M0 postal code area has an appointment at the West Carleton Community Complex pop-up for Thursday, Friday or Saturday this week and needs a ride please call 832-3628 or email janedwards34@gmail.com," CBBCA President Len Russell released in a statement yesterday (March 31). "A few volunteers are available to help with transportation. We apologize for the late notice."