Aug. 16 COVID-19 update: Ottawa numbers rising, Harbour clinic starts tomorrow, Pandemic prime minister picked Sept. 20
Special to WC Online
OTTAWA – Community spread is on the increase in the Ottawa area as the province opens up to commerce and recreation, but hospitalizations are down.
Ottawa COVID-19 hospitalizations are down to three people despite a continued, slow climb in cases city-wide.
There are three COVID-19 patients in Ottawa hospitals as of today (Aug. 16). One of those patients is in an intensive care unit. There were four people in hospital with the virus Sunday.
The health unit is confirming 20 new cases of COVID-19 in the city on Monday. There have been 116 new cases in Ottawa over the last seven days, bringing the active case count to 138.
OPH is reporting five new cases of the Delta variant, city-wide. There have been 96 cases of the Delta variant over the course of the pandemic in Ottawa, 43 of which have come in the last 30 days.
There continue to be two COVID-19 outbreaks at local childcare centres, affecting a total of six children and two staff members.
Ottawa's weekly COVID-19 incidence rate is up to 11 per 100,000 residents. Residents being tested for COVID-19 are seeing positive results 1.4 per cent of the time.
Vaccination rates in the capital are up slightly today. The City of Ottawa has administered at least one dose of a COVID-19 vaccine to 84 per cent of its population over the age of 12 and two doses to 76 per cent.
Ontario is reporting 526 new cases of COVID-19 on Monday with nearly 80 per cent of them in unvaccinated residents.
There have been 27,997 confirmed cases of COVID-19 in Ottawa (27,266 resolved) since March of 2020.
There hasn't been a COVID-19-related death in Ottawa since July 8. There have been 593 deaths due to the virus in the city since the beginning of the pandemic.
Harbour vaccination clinic starts tomorrow
ITZROY HARBOUR – The town so nice, Ottawa Public Health (OPH) is visiting it twice.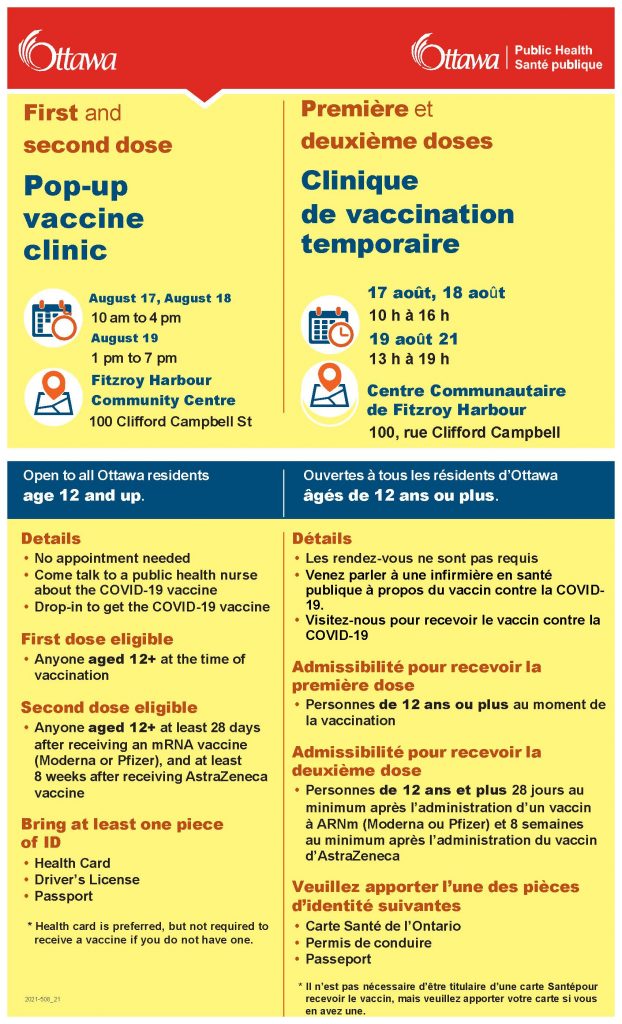 Hot on the heels of last week's pop-up vaccine clinic at the Fitzroy Harbour Community Centre, the OPH will host a second clinic for first and second dose COVID-19 vaccinations back at the centre, Aug. 17, 18 and 19.
The clinic will operate from 10 a.m. to 4 p.m. on Tuesday and Wednesday, and from 1 to 7 p.m. on Thursday. No appointments are necessary.
"Please bring at least one piece of identification (Health Card, Driver's License or Passport)," El-Chantiry's office said.
"Appointments can only be made in-person and on a first come first served basis, while supplies last."
The first vaccination clinic held in Fitzroy Harbour over the Aug. 6 weekend hosted 54 vaccination recipients.
Twenty-four came for a first dose, while 30 were there to receive their second dose.
Ottawa Public Health has held two previous vaccination clinics in West Carleton during the COVID-19 pandemic.
The first was held at the West Carleton Community Complex over the April 1 weekend when 450 received first doses.
The second, a follow-up for those who attended the first, was held June 22 at West Carleton Secondary School.
The West Carleton Family Health Team hosted two drive-through vaccination clinics at their Carp-based clinic on April 19 and April 26.
Vaccinations are also available at two West Carleton pharmacies – the West Carleton Drug Mart in Carp and the Constance Bay Pharmacy.
PSAC for mandatory vaccinations amongst members
CANADA – The Public Service Alliance of Canada (PSAC) says it supports mandatory COVID-19 vaccination for its federal workers, as long as the federal government comes out with "sufficient" details and plans on how the situation would be handled.
Sharon DeSousa, national executive vice-president of PSAC, said in a recent radio interview the union knows federal workers have to do their part during the fourth wave, but PSAC wants to make sure its members' right to privacy is protected and accommodations are made for those who cannot, or do not, receive a vaccine.
"With being in the fourth wave of this pandemic, we all know we have to do our part to protect each other, slow the spread of COVID-19 in our communities," she said. "We also know that vaccinations are the most effective way to fight it. PSAC supports measures to increase vaccination rates and that includes vaccination requirements for federal public service workers to protect our members, their colleagues and our communities. It's critical in any plan the government has would collect or verify the vaccination or medical status of its members and respect their legal right to privacy. We also want to make sure that accommodations must be made for those who cannot be vaccinated for valid reasons under human rights legislation, and mostly we want the government to consult with unions on the implementation on vaccination requirements."
But the union, which represents more than 215,000 workers across Canada (roughly 145,000 of which are in the public sector), said while it supports the goal of the plan, PSAC hasn't yet received any details of a satisfactory plan that would protect privacy or human rights.
For those who don't get vaccinated for medical reasons or others, DaSousa said the government does have a duty to accommodate.
"We do have members that work remotely," DaSousa explained. "There's also the chance of doing rapid testing. So, what does this really look like? And not every job position requires you to be in the worksite."
In the end, DaSousa says there is a lot of work to be done in unpacking the plan, and the government's expectations.
Pandemic prime minister to be chosen Sept. 20
CANADA – Governor General Mary Simon dissolved the 43 Parliament yesterday (Aug. 16) officially triggering what will be the shortest election period under law and West Carleton residents will head to the polls on Monday, Sept. 20.
Trudeau's brief campaign period follows a brief minority term, less than two years since the 2019 election on Oct. 22.
At the time of dissolution, the Liberals hold 155 seats, the Conservatives 119, the Bloc Quebecois 32, the NDP 24 and the Green Party two. There are also four Independents and one vacancy.
Last week, NDP leader Jagmeet Singh said an early election call would be "selfish" and he called on the prime minister to recall the house and "get to work."
Conservative leader Erin O'Toole has been one of many questioning the timing of an election as Canada is facing a fourth wave of COVID-19 fuelled by the Delta variant.
The Liberals, however, argue Canadians deserve a chance to rate the government's handling of the crisis and to decide whether they agree with its ambitious and costly plan to rebuild the economy once the pandemic recedes.
The Liberals have also maintained a minority parliament had become toxic and dysfunctional and they need a strong majority mandate in order to implement the recovery plan.
O'Toole, for his part, will likely seek to seize on his party's reputation for fiscal restraint as anxieties grow over inflation and rising debt levels following a massive $354 billion deficit for 2020-21, which pushed Canada's net debt past $1 trillion for the first time in history.
Singh, adopting a tax-the-rich populism and an upbeat tone, is set to argue he pried pandemic relief out of a reluctant minority government, including beefed-up wage subsidies, emergency benefits and sick-leave payments.
Elections Canada says it is prepared to conduct a safe election during the pandemic, with British Columbia, Saskatchewan, New Brunswick and Newfoundland and Labrador all having successfully held provincial votes in the past two years.
However, Canada's chief electoral officer Stephane Perrault warns it may take two to five days after election day to determine winners in some tightly-contested ridings due to the sheer increase of mail-in ballots expected this time around. While the agency still expects the majority of Canadians will choose to vote in person, it anticipates upwards of five million Canadians to vote by mail, compared to fewer than 50,000 in the 2019 election.
The extra COVID-19 protocols to safely conduct a campaign is also expected to add millions more to the election bill, which could top $610 million, or $110 million more than it cost to run the last two elections.