Mobile flu clinic hits Kinburn
By Jake Davies - West Carleton Online
KINBURN – It was the first of its kind in rural Ottawa, an Ottawa Public Health (OPH) mobile flu shot clinic set up in the Kinburn SensPlex parking lot Friday (Nov. 27) morning.
The mobile flu clinic was a joint effort between the City of Ottawa, OPH and OC Transpo. Four vehicles, three OC Transpo buses and an OPH recreational vehicle, formed a square and there was enough space for a place for paperwork, the clinic in the RV and a place to settle for 10 minutes after the shot.
The clinic was billed as COVID-19 safe and only family bubbles were allowed in each vehicle at one time.
Coun. Eli El-Chantiry said the clinic hoped to provide shots for about 60 people throughout the day.
There was already a small line-up at the time the clinic opened.
"I'm happy, thankful to have this here," Coun. Eli El-Chantiry told West Carleton Online from the nearby West Carleton Community Complex Friday just before noon. "This is important to serve those communities in west Carleton that don't have access to a pharmacy nearby."
Constance Bay and Carp are the only villages that do have pharmacies.
El-Chantiry says this mobile clinic, the first the city has deployed to a rural area, could also be a pilot-program like test for distributing the COVID-19 vaccine when it becomes available.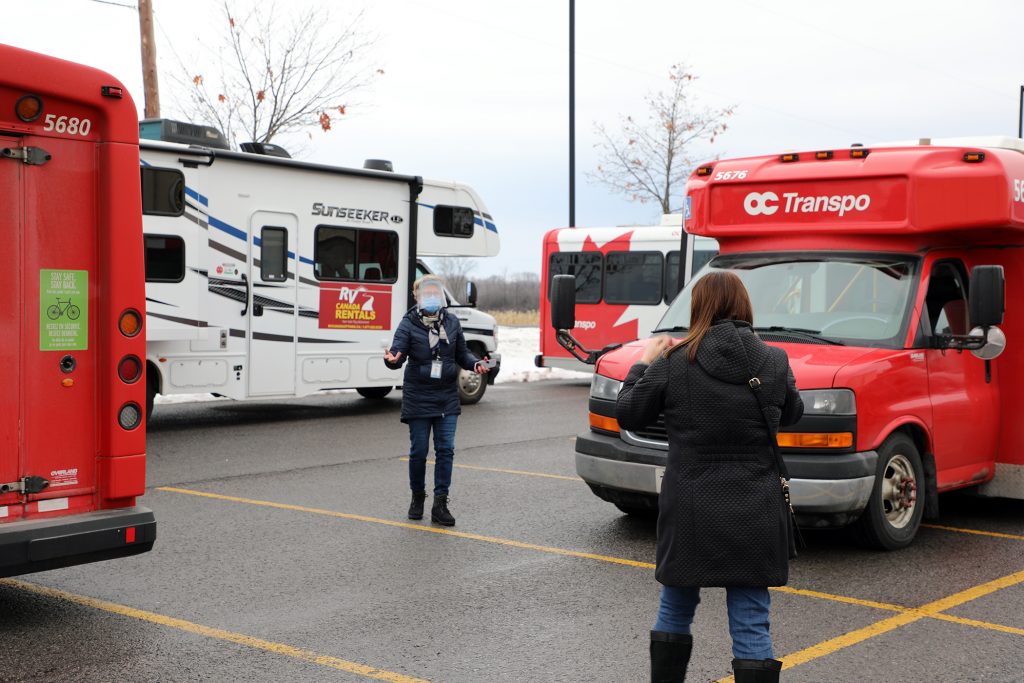 "This isn't just about the flu shot," he said. "We're taking notes about how its going. We'll report back to (City of Ottawa Emergency and Protective Services general manager Anthony) Di Monte. Although we love where we live, we don't have access to some services like nearby pharmacies. You can get your flu shot at Tamara's (Awada, Constance Bay Pharmacy). That's where I got mine. But, residents can come here with no appointment, no health card, fill out a form, get your shot and relax for 10 minutes."
El-Chantiry says the clinic will head to other rural areas around Ottawa next. El-Chantiry says any COVID-19 vaccine rollout may look very similar to today's flu shot clinic. El-Chantiry has asked OPH chief medical officer Dr. Vera Etches repeatedly about getting COVID-19 testing delivered to the rural areas during council.
"Basically yes," El-Chantiry said. "We want to use this opportunity with the flu vaccine, review it and go from there."
West Carleton Online spoke with OPH Immunization Program manager Marie-Claude Turcotte a little later that afternoon.
"It's going excellent," Turcotte said of the clinic. "That's what I'm hearing from the nurses on the ground."
Turcotte said this was the third time the mobile clinic had been out last week.
"Normally our clinics would be roaming out in the city," she said.
There was a clinic in Orleans earlier in the week and another one at a post secondary institution.
"Rural areas are what we want to target," Turcotte said. "We want to make sure that everyone has the opportunity to get the vaccine. That's the whole point is to make a system people can access."
Turcotte says the similarities between distributing a flu shot and a COVID-29 vaccine are obvious.
"Definitely there is some lesson-learning that will go on," she said. "We are working with the COVID-19 task force to plan strategies."
While Turcotte is unsure about how many will be able to use Friday's mobile clinic, the OPH does have a workflow in place.
"It really depends, especially with households," Turcotte said. "We have to space it out, whether a person comes alone or as part of a family. We space at one family of four per 15 minutes. It's not a large-scale clinic but we need to make sure we have enough space for everyone."
Flu shots have been especially popular in Ottawa this year. OPH launched a large awareness campaign this year and stressed the importance of getting the vaccine during the COVID-19 pandemic.
Yesterday (Nov. 30), was the start of the fourth week of OPH's influenza vaccination campaign. Etches says the shot has been very popular this year.
"During the 2019-2020 OPH influenza vaccination campaign 11,321 residents were vaccinated against the flu during the fall and winter months," Etches wrote in a memo to council yesterday. "In comparison, since launching in October 2020, OPH has already vaccinated over 48,000 residents to date."