Harbour to host pop-up vaccination clinic Aug. 6, 7, 8
Special to WC Online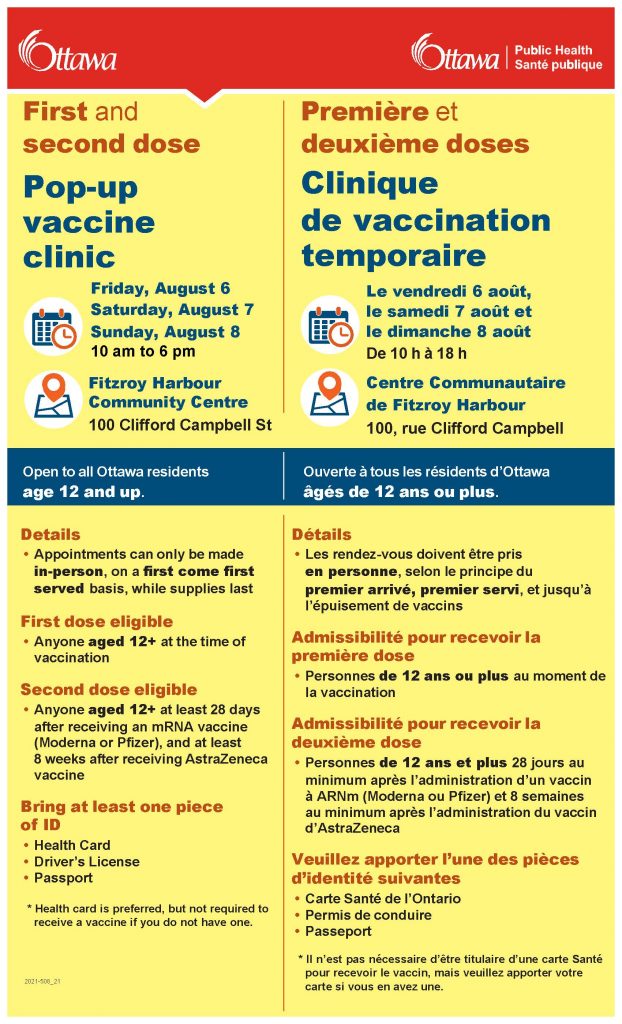 FITZROY HARBOUR – For the first time in the City of Ottawa's COVID-19 vaccination rollout, a pop-up clinic is coming to Fitzroy Harbour.
"There will be a first and second dose pop-up vaccination clinic coming to Fitzroy Harbour this weekend," Coun. Eli El-Chantiry's office released in a statement today (Aug. 4).
The clinic is for anyone needing a first or second vaccination and is open to all Ottawa residents 12 and older.
The clinic will be held Friday (Aug. 6), Saturday (Aug. 7) and Sunday (Aug. 8) from 10 a.m. to 6 p.m. at the Fitzroy Harbour Community Centre at 100 Clifford Campbell St.
"Please bring at least one piece of identification (Health Card, Driver's License or Passport)," El-Chantiry's office said.
"Appointments can only be made in-person and on a first come first served basis, while supplies last."
This is the first vaccination clinic to be held in Fitzroy Harbour.
Ottawa Public Health has held two vaccination clinics in West Carleton during the COVID-19 pandemic. The first was held at the West Carleton Community Complex over the April 1 weekend when 450 received first doses.
The second, a follow-up for those who attended the first, was held June 22 at West Carleton Secondary School.
The West Carleton Family Health Team hosted two drive-through vaccination clinics at their Carp-based clinic on April 19 and April 26.
Vaccinations are also available at two West Carleton pharmacies – the West Carleton Drug Mart in Carp and the Constance Bay Pharmacy.