Davies: Resolutions
By Jake Davies - West Carleton Online
It's finally 2022. We're four days in to the New Year following a day that is supposed to celebrate change and moving forward, and it feels like we are right back where we started more than a year ago.
Yesterday, the province announced new lockdown measures that seem to be a disheartening return to the same old thing. Today (Jan. 4) I am sitting in a restaurant, enjoying my last chance to be out in a public house for the next three weeks at least, while writing this column. It's heartbreaking to know, starting tomorrow, all these businesses will be suffering more financial hardships, again, despite a year of vaccinations, mask-wearing and improved knowledge on the COVID-19 coronavirus and virus spread in general.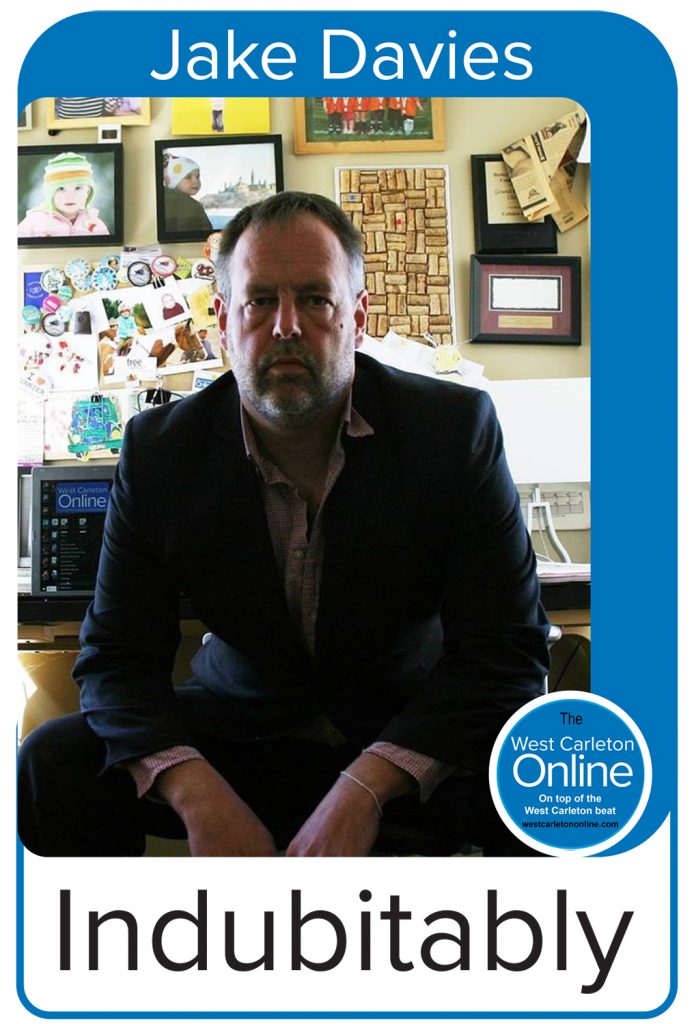 It's frustrating and it's a difficult time to be thinking about moving forward and improving the self in the New Year, while the same old outside influences make that forward movement so, so difficult. But let's pretend anyway.
This year I made two resolutions. The first one is a really good one. I resolve to be more present. Right? What does that even mean? It sounds good, though. It's a very 2022 thing to say you are going to do, I mean be.
When I'm attending one of my child's boring events, for example, I promise to be more focused, to be more engaged, to be more present.
When my sister is telling me about her work foibles, I promise to be a better listener, I promise to be more cognizant, I promise to be more present.
Sure, I will. Prove I'm not. Prove I'm not being more present than I was in 2021. It's the perfect resolution.
My other resolution will directly affect you. Possibly. I promise to be a more consistent monthly columnist. My last monthly column was published Sept. 12. That even surprises me (I just checked after writing that sentence). I knew I had been putting it off, I didn't realize for how long. That column came out before the federal election happened which already seems like a lifetime ago. Before that, I was in the groove though, writing a monthly column pretty much every two months for seven months straight. In my defence, it's hard.
There are two crutches that support my inconsistent columning.
The first one is statistics. You care about my column even less than I do. That Sept. 12, 2021 column I just referenced topped out at 51 pageviews. Surprisingly, a column titled 'More election coverage' was the antithesis of clickbait. Last year's most popular Indubitably column was, coincidentally enough, our 2020 year in review (COVID edition) which garnered 101 clicks. Data is a heartbreaker. In my newspaper days, us reporters just assumed everyone who got the paper read our column. From 2001 to 2007, writing Remove All Doubt every three weeks in rotation with two other reporters who had their own columns, our columns went out to roughly 35,000 people every week published in the Arnprior Chronicle-Guide, West Carleton Review readership area. And every single one of those homes picked up our paper, opened it to Page 6, and read our column. Every week.
Every time I picked up the phone to a resident complaining they didn't receive their paper that week, my heart rose with anticipation at the prospect of debating someone about the week's column's topic. Every single time, without fail, the caller told me they wanted the paper so they could go through the flyers.
This hard Internet data I now have access to only re-confirms, boiling it down to an exact number, people would rather read advertisements than my opinion.
The second reason is, like you, I am just not as married to my opinion as those other better-known columnists must be.
Now columnists are supposed to be experts. In everything. Their columns are steadfastly resolute with their opinion being absolutely right, while all contenders are not only absolutely wrong, but bloody idiots for even considering a different opinion. Have you seen Twitter lately? Today's columnist doesn't need facts or data to back up their argument. Their gut, their instinct and their advertisers tell them they are absolutely right. And dollars to donuts, their points and arguments are exactly in line with one, and only one, political party's talking points. The current editorial opinion landscape indubitably shows columnists are paid by their advertisers, and that is more valuable than actually being correct.
Nowadays, I'm just not that committed to my opinion, and I've never had an advertiser that was either.
So, it's challenging to write a regular column based on an opinion I'm not ready to die on the hill for.
Back in the day, I used to be an expert in sweaters, hunting season, parasitic twins, politics (naturally), the forestry industry, Internet trends, development in West Carleton, basically something different every three weeks.
These days I barely even have an opinion on whether I should get dressed in the morning. Pros and cons are pretty damn equal in the age of COVID-19. I know longer look like that sharp-eyed opinionist in the column header photo. I'm much more tired, wearing much more comfortable clothes, with much, much worse hair. In short, COVID-19 is still here, and we're locked down again; I'm mostly committed to my 2022 New Year's resolutions so there's a reasonable chance you'll hear from me next month; and here's West Carleton Online's Top Stories for 2021.
West Carleton Online's Top 10 stories from 2021
As always, our Top Stories are picked by you the reader, based on pageviews per story. In 2021, West Carleton Online had 220,592 pageviews. More than 40,100 of those pageviews were of our home page – a natural starting point for West Carleton Online visitors, and another 9,500 are split between our 'Stories' home page and 'Obituaries' page. The rest are divided up amongst the roughly 1,860 stories West Carleton Online published over the last year, about 155 a month. Those pageviews are split amongst 67,923 unique visitors. The average visitor visits 1.92 pages per session and the average session lasts 97 seconds.
Carp Fair Drive-In Bingo back this July (Published June 17, 2021. 3,516 pageviews, 1.77 per cent of total 2021 pageviews): It was the first good news coming out of the Carp Agricultural Society for more than a year in the age of COVID-19. It was the first community event the Carp Fair was able to hold since the start of the pandemic in March of 2020. Of course it was big news.
Fire strikes Woodlawn home again (Published on Feb. 19, 2021. 1,250 pageviews, 0.57 per cent) Having your home destroyed by fire once is a tragedy. For a young Woodlawn family, it's a tragedy they had to live through twice in less than two years as the home they rebuilt from the ashes of the 2019 fire, caught fire again last February.
Carp Santa Claus drive-through parade back in 2021 (Published Nov. 3, 2021. 1,185 pageviews, 0.54 per cent): A very similar headline and a very similar storyline to our Number One story. Despite pouring rain, the 2020 version was a big hit. Unfortunately, in 2021, the event was felled by not the pandemic, but a fierce windstorm forcing organizers to cancel the parade the day of.
Conservative McAndrew ready for call (Published Aug. 4, 2021. 1,105 pageviews, 0.5 per cent): For those who already forgot, 2021 was a federal election year. Kanata-Carleton got a very interesting and competitive race this year. The frontrunner and heavy favourite was Liberal Jenna Sudds, the former city councillor who left her job to run in the federal election; had name recognition; was hand-picked by the Liberal party and hailed from the voting power of the riding in Kanata North. Conservative candidate Jennifer McAndrew was a political unknown running a small business in rural Carp hobbled by the pandemic. This story was the only West Carleton Online Kanata-Carleton federal election coverage to make the 2021 Top 10 and McAndrew lost by less than 1,400 votes of the 57,435 cast in Kanata-Carleton in the Sept. 20 federal election.
Flood map update rushed victim says (Published Oct. 29, 2019. 996 pageviews, 0.45 per cent): An anomaly and a mystery. That's not a typo, this story was first published in 2019, one year and three months before 2021 even started. We're not sure how this happened – Google Analytics doesn't provide enough information and I don't get paid enough to do the digging. Is this a digital hiccup? Perhaps the issue (flooding) which is always a top issue every spring in West Carleton, was enough for people to do a deep dive on the subject this year, bringing the story back to relevance in 2021? We'll never know, but there it sits at Number Five in 2021. What this story does do is highlight one advantage of the digital community newspaper in West Carleton Online's eternal battle with those who tell us they 'just prefer their news on paper.' Every story we have ever published is always easily available for re-reading at just a few clicks of your keyboard. You want that in a newspaper? First you have to save every single, physical edition you ever receive; store them; then, to find the archived story you seek, get ready to sift through that massive firetrap in the recesses of your basement. I know the experience well, I used to do year in reviews when I was a newspaperman.
Community moves Carp bunkie (Published Feb. 23, 2021. 658 pageviews, 0.3 per cent): It was a good news story to start the 2021 COVID winter. Or at least it started out as a good news story. Two local businesses combined to help move Arnprior homeless man Guy Lamarche's hand-built bunkie from its Carp location to Arnprior. Lamarche said his bunkie was the blueprint for a plan to help end homelessness in rural and small-town communities. In subsequent West Carleton Online stories, the plan fell apart with Lamarche abandoning his bunkie on a privately owned parking lot in Arnprior, leaving the landowner to remove the shack at his own expense following a number of safety complaints and the Town of Arnprior stating the ramshackle building was in contravention of many town codes and could not remain at the location. West Carleton Online published five stories documenting the foibles of the Carp bunkie.
Doc to examine '89 Corkery alien landing (Published July 29, 2020. 610 pageviews, 0.28 per cent): Another out-of-year 2021 Top 10 story, but this one is less of a mystery. The documentary called UFO Town (changed from Searching for Guardian) on the alleged alien landing made famous by the television show Unsolved Mysteries premiered on CBC's documentary channel on March 26, 2021. So, readers who wanted more information on the story, clicked on our original story on the documentary which featured an interview with the executive producer and filmmaker Nick Crowe way back in 2020 when the film crew was conducting shooting.
Carp Bakery: Kosovo skill, local flavour (Published Feb. 4, 2021. 582 pageviews 0.26 per cent): Just a fun little profile piece on the Nuhijaj family who took over the Carp Bakery 11 years ago. It's a story about food, so of course it's popular.
March Road plan proposes 1,681 new units (Published March 21, 2019. 543 pageviews, 0.25 per cent): Another non-2021 story makes the list! It's a development story, so, like story eight, is less of a surprise than story five was. The story was published almost three years ago, but the development it covers hasn't really started to take shape yet. And with lots more development planned for Carp and west Kanata, these stories will continue to be researched in the years to come.
The Carp Fair returns (Published July 29, 2021. 533 pageviews, 0.24 per cent): I think the biggest surprise of the Top 10th story of 2021 is this story, broken by West Carleton Online, didn't finish higher in clicks. In fact, the return of the fair only finished third in the list of Carp Fair events that returned in 2021 and all you have to do is look up to see the ones that beat it. Oh well, we all know the Internet and 2021 is and was very weird and this is just further proof. Regardless, from here on out, West Carleton Online will only look forward, unless we need to Google something, and we can't wait to see what we will be publishing in 2022. Thank you for your support of locally owned, locally operated community journalism.