Davies: On Fullerton
By Jake Davies - West Carleton Online
Dr. Merrilee Fullerton started her political career roughly the same time I started West Carleton Online.
When I interviewed her after her 2018 election win on June 7, 2018, West Carleton Online still didn't have a website to publish on. I knew we were roughly a couple of weeks away, but it seemed like an important thing to cover. So, we first published the linked story on our Facebook page hours after the 42nd Ontario general election ended.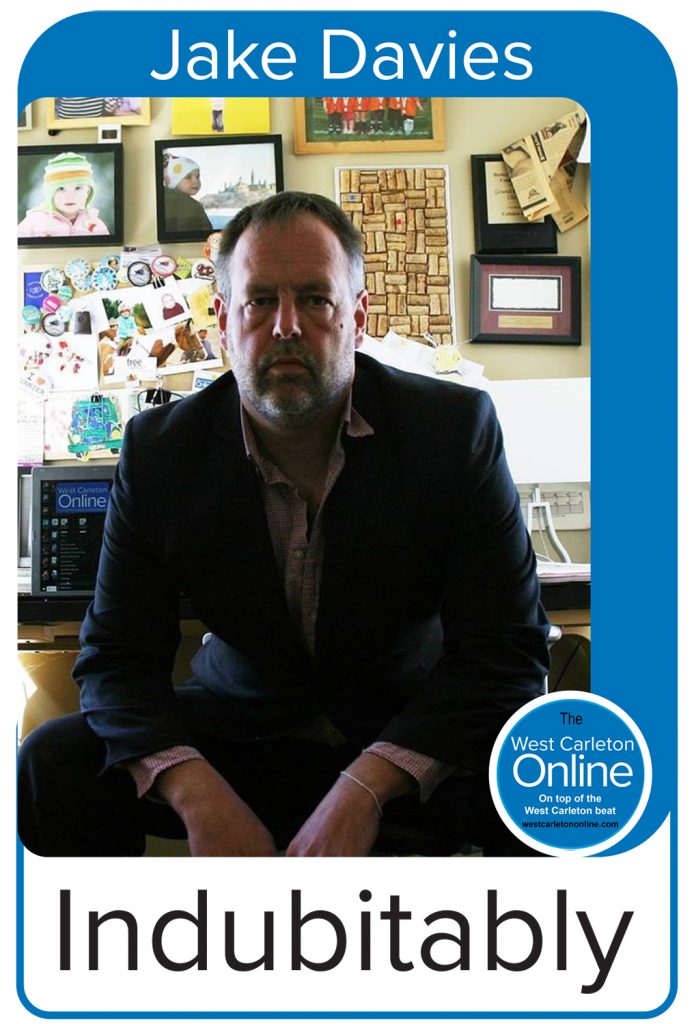 She was part of a blue surge that brough Doug Ford and the Conservatives back to power after five years of Kathleen Wynne, although Fullerton was really just replacing the former Conservative MPP Jack MacLaren who was kicked out of caucus during the previous term after some disastrous decisions.
West Carleton Online would officially launch 19 days later.
Today (March 24) Fullerton resigned from her position.
I don't have statistics, but I feel I can safely say, I have interviewed Fullerton more than any other reporter in her just-under-five years as Kanata-Carleton MPP. Those interviews became harder and harder to get as her time in office progressed.
I've covered a lot of politicians in my career, and most of them Conservatives, not surprisingly as a lot of my 20-some year journalism career has been spent in the Ottawa Valley.
Fullerton was different. I would place our professional relationship (the only one we had) as somewhat contentious.
Jan. 21, 2022 was the last time West Carleton Online had a real, one-on-one interview with the MPP in one of those year-end-review type stories. We certainly covered her after that, ran in to her in person at media events, even as recently as last week's Internet funding in Dunrobin. But we didn't interview her one-on-one. She didn't want to.
When I read her resignation, it was unexpected, but I can't really say I was surprised.
In five years of MPP Fullerton and five years of West Carleton Online, there was a lot of in-person contact. Grant announcements, community events and the occasional media request. While I say I am number one in terms of interviews, I also must be at least top five in photographing the former MPP.
In that time, it was hard to tell why she wanted to be a politician. She was always polite. She regularly asked me about my daughter. She was very gracious when West Carleton Online (me) incorrectly identified someone as her husband who was definitely not her husband. I never met her husband.
But she never seemed comfortable. She always seemed a little stand-off-ish. And as time went on, she seemed to distance herself from the community as well.
I have always had a good relationship with the politicians I have covered. And still do. As far as I know. And that includes former councillor Eli El-Chantiry, former mayor Jim Watson, MP Jenna Sudds, former MP Karen McCrimmon, former MPP Jack MacLaren, MP Cheryl Gallant, MPP John Yakabuski (I even chatted with him at the announcement of the new Grove Nursing Home in Arnprior about my lack of rapport with Fullerton back in 2021), Coun. Clarke Kelly, mayors across the Ottawa Valley throughout the last 20 years, the list goes on and it doesn't even include the dozens and dozens of want-to-be politicians covered over the years. Come on, that's a pretty diverse group of politicians!
I get it, if I don't treat these people (and any people really) with respect, they're not going to speak to me for very long. If I can't get interviews with politicians, by career isn't going to last very long.
I never met a politician who didn't initially get in to politics for the right reason. Certainly, some seemed to lose their way along the way. And I think Fullerton was one of those. I think she came to hate the job. She seemed pretty eager about another term when we interviewed her that last time Jan. 19, 2022. But things changed quickly after that.
Not only did we seem to have trouble speaking with the MPP, I often would hear the same thing from West Carleton residents and organizations. Off the record, of course. Countless different residents told me the same thing. They never heard back. I heard that about Fullerton far, far more often than I ever did about any other West Carleton politician.
By the time the 2022 election campaign came about, I was mailing it in when trying to secure an interview with Fullerton.
She wasn't speaking to anyone, not even the community. She refused to attend any all-candidates meetings during the campaing. Her team game West Carleton Online a statement about why she would not attend one single all-candidates meeting, although the excuse her somewhat obnoxious campaign manager gave was pretty darn lame.
She stopped speaking to reporters, she stopped posting on social media, she went silent. And in an embarrassment to democracy, Fullerton won by a landslide. A politician has two jobs – to help decide how to spend our tax money, and to communicate with the taxpayer so the politician can learn how we want the politician to spend our tax money.
What was a first for me in what is more than 23 years of election coverage, Fullerton refused to speak to the media after winning the riding. It's the easiest interview of a politician's career. Life is great, the future is great, everything is great.
It wasn't a surprise the media was going to be there. Heck, I contacted campaign manager Chris George to find out where the campaign team was meeting and he even invited me out. The Citizen, the CBC, the Community Voice, they were all there and you can bet it was George who gave them the deets.
And it was George who told that same media he invited out, Fullerton would not be talking to the media.
The other media were smarter than I and left, and I stuck around for two hours. I implored George, saying we had always been fair with our coverage of Fullerton. It was of no use, I left for home 45 minutes away extremely frustrated and I never reached out to Fullerton for a comment again.
I mentioned earlier I felt she grew to hate the job. One of the reasons I feel that way (I have no clue, I don't know her personally at all), is because of something a former assistant of hers told me years ago. I knew her assistant from outside the political world and she mentioned to me Fullerton had a tough time with the abuse she faced on Twitter. It got to her, but she couldn't ignore it.
And social media is brutal towards politicians. Two years after her first election, Fullerton was being called a mass murderer multiple times a day. And worse. I saw the Tweets, I read them. The hate and vitriol on her social media channels, must have been overwhelming, if they bothered her before the pandemic. For those reading this and thinking she deserved it, I disagree. No one does. But not only that, I'm not the type of partisan who thinks Ontario's long-term care home system crumbled in exactly two years, starting the second she took office. We have underfunded these 50, 60, and more-year-old homes for decades and multiple governments and multiple elections.
But I also heard she wasn't happy with things she read about herself in the pages of West Carleton Online. During the 2019 flood extreme flooding, many in the West Carleton felt the MPP was missing. She definitely did come out. I saw her there we chatted. But many felt she didn't consider it a priority. I heard it from many including Coun. Eli El-Chantiry who was quoted wondering where the MPP was during the crisis. It was eventually relayed back to me Fullerton was not happy with those comments, and for some reason, blamed the messenger. Those are rumours of course, in a job filled with rumours.
Anyway, I think this negativity, deserved or undeserved, wore on her. She slowly disappeared from the public life, bit-by-bit, until today, when she decided to disappear from it completely.
We did reach out to Dr. Merrilee Fullerton following her resignation for a separate article, but did not hear back.
A very quick look at our top five stories for January and February.
January
February