Valley Bud blooms in Carp
By Jake Davies - West Carleton Online
CARP – One of Carp's newest businesses and a first for West Carleton, is the dream of two lifelong residents.
Partners Jamie Smith and Kurtis Holmes officially opened West Carleton's first cannabis shop Valley Bud (433 Donald B. Munro Dr.) on Dec. 3, 2022.
"We decided to open in the hectic holiday season," Smith told West Carleton Online from the shop yesterday (Jan. 11).
Smith's mom grew up on Panmure Road, before moving to Dunrobin where Smith was raised. Holmes is a lifelong Vydon Acres resident. The couple now live with their two children in the home he was raised in, while his father now has a house next door.
"We just always stayed in the Ottawa Valley," Smith said. "We love it here. Now we're raising our kids in the house he grew up in. We really like the Valley."
Together, Smith and Holmes' experience lies in both the cannabis and business world, but this is the first time they've started their own business.
Smith has a background in graphic design and marketing. She also worked at Tweed, a large-scale cannabis operation in Smith Falls, for about six years before being laid off with hundreds of other employees as the company downsized and reorganized a few years ago. Holmes worked as a small business financial consultant.
The idea surfaced during the early days of the COVID-19 pandemic.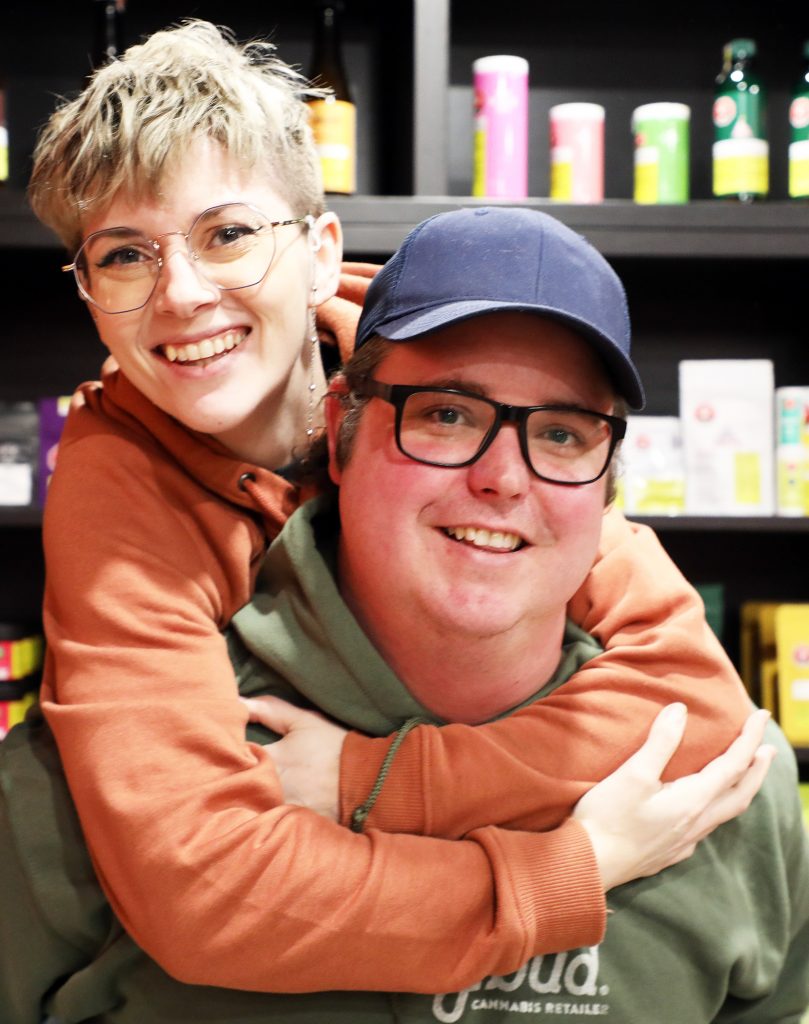 "About half-way through 2020 we were thinking of the idea," Holmes said. "There wasn't a store in Arnprior, in Carleton Place, in the Valley yet."
In August of 2021, the couple looked at the building which was in the process of being sold. The pair had to wait for that process to finalize before moving in and renovating.
"We wanted something that was small business, welcoming, affordable and looking really cool while doing it," Smith said.
The store features a table made of a boom log salvaged from the Ottawa River. The counter was made with wood prepared by Carp arborist and kiln operator Capital Timber Co.
"Being a graphic designer and being in corporate so long I was ecstatic to have a giant project where I got to make decisions," Smith said. "I designed everything from the logo to the layout of the store and chose every paint colour in between. Many 3-D mock-ups were created. We did have some very supportive friends and family help during the process; priming walls, building many, many shelves, researching who sells green couches and we are very grateful to them for their time, energy and efforts. We eventually want to get to a place where every accessory we sell is made or finished locally. We also do our best to make or finish products in store such as our hoodies which are all hand stamped in store and we have some accessories coming soon. We're always looking for local artists and artisans looking to showcase their amazing creations or collaborate with us."
While working on those projects, the pair also had to go through the many certification and regulatory processes required to operate a cannabis store.
Understanding their community is a key part of the business plan as well.
"There's really no way to advertise," Holmes said. "There can be no people, no animals, no lifestyle images in marketing. As strict as the regulations are, they're still very vague."
Being across from a senior residence, Valley Bud stocks a number of CBD products. CBD is extracted from the cannabis plant and sold in gummies, oils, supplements and extracts. CBD does not produce the 'high' sensation associated with cannabis but still maintains many of the same medical benefits as THC.
Along with edibles and drinks, Valley Bud stocks items you might not initially associate with a cannabis shop such as skin creams and bath salts and a complete wellness section as well as "ready to consume" products.
"We're trying to keep our quality at a certain level, while staying affordable," Smith said. "We're from the community. At the end of the day, this store isn't for us, it's for the customers."
Holmes says the feedback from the community since opening has been positive.
"People seem to be glad they don't have to go to Kanata," Holmes said. "People who don't use have even stopped by to have a look and see what we're about and I don't think anyone has left not satisfied."
Holmes says they have a wide variety of age ranges starting at the legal age of 19 right up to seniors. The stigma of cannabis is subsiding.
The couple are already looking at expanded services including providing delivery, but there are "more hoops to jump through."
Training and certification is required; certification to carry more than 30 grams at a time is necessary; a safe must be installed in the delivery vehicle; and of course background checks.
To visit Valley Bud's website, click here.