Davies: Community heroes
By Jake Davies - West Carleton Online
It's been a couple weeks of fear in West Carleton, and that fear has been accompanied by a couple weeks of heroism.
There were two major examples of this I personally witnessed this month. One was heavily covered by the media, including me, and the other didn't make a blip in the media at all, although both involved the mobilization of large groups of community volunteers very quickly.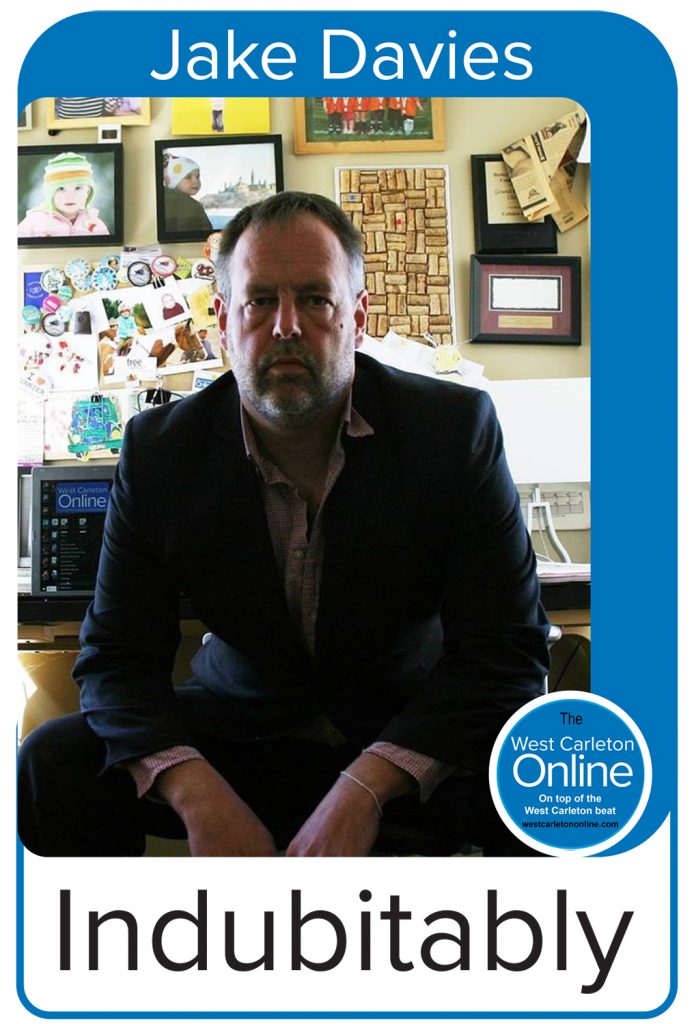 West Carleton politicians and officials held a flood preparation meeting on April 14; the community hit Flood Warning status on April 17; and by April18 (if not earlier), homeowners, friends, families, and even strangers were doing the back-breaking work of filling, transporting, and building sandbag walls.
See West Carleton Online's complete coverage dating back to March 4, of the 2023 Freshet so far by clicking here.
This year's flood was left to the municipal government and those aforementioned volunteers to handle. No visits from the premier or prime minister this time. MP Jenna Sudds did come out to support the effort at some point, although we didn't personally run in to her. We no longer have an MPP to come out and witness.
So, it was up to Coun. Clarke Kelly, on the ground and on-site with his staff, every day. We didn't once reach out to the councillor before heading out to do our own coverage, but we ran in to him three days in a row, at three different locations. It was up to city staff who stocked sand-filling stations across the community, and the city, as well as filling and delivering sandbags themselves. And the biggest force preparing for this year's flood were the homeowners and the West Carleton community.
There was definitely a number of individuals and organizations from outside the community that came by. Once again Christian Aid Ministries Canada came to our rescue. As local volunteer firefighter and Dunrobin flood relief volunteer Paul Asmis told us a week ago, "unfortunately, we have them on speed dial."
We met a man from Perth who drove out by himself just to help sandbag. A handful of City of Ottawa councillors brought their teams to West Carleton to help including David Hill, Wilson Lo and Sean Devine.
But who we met most at every danger spot we visited were local community members. Friends, family and neighbours helping with the effort. Local businesses like Capital Framers, owned by Dunrobin's Alex Lawson, who paid for his team to fill sandbags on April 18. Malwood and the Foley family provided large flatbed trucks and a driver to help deliver sandbags. We know there were many others, too.
Students at West Carleton Secondary School filled more than 9,000 sandbags in one day.
Constance Bay, Fitzroy Harbour and Dunrobin restaurants including Harbour Pizza, The Point Dining Lounge, The Lighthouse Restaurant, the Royal Canadian Legion, Branch 616 and the Heart and Soul Café, all offering or providing food for those volunteering their time, and those dealing with the flooding of their homes.
Of course, you can't talk about disaster response in West Carleton and not mention the group of volunteers that lead and coordinate the volunteer effort each and every natural disaster since 2017 – West Carleton Disaster Relief (WCDR). The nimble, rapid response organization is completely made up of volunteers within the community. By Day One of the response, led by WCDR flood response director Constance Bay's Heather Lucente, the group had their on-site headquarters set up in Constance Bay within hours of the call, and was coordinating sandbaggers and food within minutes after that. Their years of experience on full display in the early going of this freshet. Lucente told us she phoned work and called in flood for the day.
The so far end result being, and we heard from many homeowners over our weeks of coverage, "we got ahead of it."
Unfortunately, that remains to be seen. West Carleton and the lower Ottawa River are still under Flood Warning status. There was 50 millimetres of rain expected over the weekend, and the latest forecast is for the river to raise another 10 to 15 centimetres above the current 2023 peak.
The other self-mobilization of volunteers happened in Arnprior, April 20. There's not a story to be found in the media, probably because it happened very quickly, and was over that same night.
And probably perhaps, because the media doesn't respond to emergencies like it used to.
There is very little 'boots-on-the-ground' reporting done anymore. It's easier to re-Tweet a police report. To ask someone to send a photo. It's a lot cheaper too. The only reason I knew about this volunteer response is because I witnessed it first-hand.
In the early evening of April 20, a mom posted on a popular Arnprior community Facebook page her eight-year-old son had not returned home yet. She laughed it off at the time.
An hour later she posted Isaac still had not returned home. And then again, an hour after that. She then reported him missing to police.
The boy lived not far away from my home and was thought to be somewhere in the area. A little while later, two girls about my daughter's age were biking down our street, calling out for the boy and telling him he wasn't in trouble. They told me they had some ideas, but family wasn't sure where he was yet.
When the sun went down, my daughter and I went for a walk around the block. Our own road, a neighbourhood road, had never been so busy. Cars and pick-ups driving up and down, slowly, hazard lights on. It was like that on every road in the neighbourhood. We saw one police car and dozens of other vehicles.
There were people walking the streets, flashlights out. Isaac's name rung out throughout the neighbourhood.
My daughter and I walked behind the school near our house. There were no less then six people with flashlights searching the area. I'm sure it was the same at all the greenspaces in the neighbourhood.
There were what had to be hundreds of people, out searching for Isaac. With no coordination, no organization, just doing what they could to find a lost eight-year-old boy.
While that community Facebook page filled with judgement and opinion, in the real world, hundreds of people were looking for someone they didn't know with the only goal to reunite him with his mom.
The story ended happily with the Ontario Provincial Police reporting Isaac was found shortly after 10 p.m. The rumour my daughter shared with me after school the next day is he was found sleeping on a porch.
It never made the news (or it hasn't yet). Spending more than 20 years in the media makes me somewhat question it really happened, because I didn't read about it the next day, or even 10 days later for that matter.
But whether it makes the news or not, my years of experience has also taught me, in the real world, away from the politics, the editorial opinions and the conjecture, people are always ready to help any way they can.
To view past Indubitably columns by West Carleton Online publisher Jake Davies, click here.
Top 10 stories for March
In March we had 19,422 pageviews. A lot of local news, Internet news, sports news, political news, and for the first time in West Carleton Online history, one of my columns made the Top 10 most viewed stories in March. Perhaps that's why I was able to complete this one almost on time. Perhaps that's why this month it's a Top 10 list instead of a Top 5. Regardless:
WC Internet company NorthWind closing (March 3, 321 pageviews): West Carleton's own NorthWind Wireless closed after 17 years on March 10. The Internet service provider was owned by several Constance Bay residents who just wanted to provide Internet service to a community that had little and was very challenging to serve.
2.Carp Fair Ladies Night tickets on sale Feb. 10 (Feb. 5, 292 pageviews): We broke down the popularity of this story in our post-event coverage of this year's Ladies Night. But what do those stats tell us? They tell us Ottawa Valley women love to dress up and party.
MPP Fullerton resigns from politics (March 24, 233 pageviews): It was sudden, possibly unexpected, but was it a surprise? Check out story Number 6 for our opinion.
Corkery's Duhn leading Canada's best Junior B team (March 2, 220 pageviews): It wasn't to be for this year's Arnprior Packers losing to Perth (currently playing in the EHJHL championship) in the second round of the playoffs, but what a run and an historic regular season.
C Bay garage training champion fighters (March 7, 200 pageviews): Not only great fighters, but great people too.
Davies: On Fullerton (March 25, 193 pageviews): Some agreed and some disagreed on pretty much the only opinion column written on the outgoing MPP in the media. But more people clicked on this column than ever before. You've created a monster.
WC, Renfrew County part of $13 million rural high-speed Internet announcement (March 13, 187 pageviews): Our second Internet story to hit the Top 10 this month. Pageviews absolutely guide our editorial team when deciding what issues to cover. Coincidentally, the last public appearance of MPP Dr. Merrilee Fullerton as well.
Diefenbunker star of new slasher flick (March 10, 176 pageviews): A fun little story about a low-budget horror flick filmed in the Diefenbunker. Fun fact, the film industry generates a fair amount of income for the Cold War museum.
Dunrobin Social new community hub (March 17, 134 pageviews): Just a community volunteer who came up with her own idea to volunteer at. A coffee clutch.
WC farmers sharing Harvest Boxes (March 14, 134 pageviews): A business idea and perhaps a potential solution to the food desert West Carleton lives in despite being a home for agriculture.