Corkery's Duhn leading Canada's best Junior B team
By Jake Davies - West Carleton Online
ARNPRIOR – Canada's best Junior B hockey team is based in Arnprior, and Corkery's Jake Duhn will be leading the team through the playoffs starting March 5 as the team's historic season continues.
Duhn, 20, is the Packers' captain, and in his fourth and final season on a team that is re-writing the franchise's 80-year regular season record books on it's way to the Eastern Ontario Junior Hockey League (EOJHL) playoffs.
Duhn took some time out of last night's practice at the Nick Smith Centre to speak with West Carleton Online about this year's incredible run and the work left to be done, starting Sunday (March 5) night in Arnprior.
Duhn grew up in Corkery, right near the community centre, playing hockey in the West Carleton Minor Hockey Association with the Crusaders. When he reached major bantam age, Duhn was a member of the AAA Ottawa Valley Titans. After that he played U18 in Pembroke, and then returned to the Crusaders.
But for the last four years, Duhn has been an Arnprior Packer through and through.
This year, Duhn, a right winger, played 39 EOJHL regular season games scoring 10 goals and adding 31 assists, finishing fourth in team scoring.
In four seasons, (keep in mind one season was completely wiped out by COVID and another shortened), Duhn has played 134 games for the Packers including 11 playoff games. In that time, Duhn has racked up 89 points and 25 goals. Duhn, at 6'3" and 220 pounds, brings a physical element to the team as well as his leadership skills.
"We had two years, with COVID, it was tough," Duhn told West Carleton Online. "In my first year (2019-2020) we had a good team, but we were cut short in the playoffs because of COVID, and we never got back."
The team played three playoff games before the season ended. The following year (2020-2021) was much worse, as the EOJHL season was cancelled and Duhn and his teammates participated in EOJHL developmental scrimmage action (the league called it). Duhn only played nine games.
But last year the league returned, mostly, to normal. And in the current 2022-2023 season, the Packers have been dominant. The Packers set a team record for most wins (37-5-0) in a regular season, and have, on a couple of times throughout the season, been named the best junior B team in Canada.
Despite the accolades, the Packers' record was only good enough for second in the EOJHL Richardson Division, finishing one point behind the Perth Blue Wings (37-4-1), whose one overtime loss was enough to take the regular season championship.
"It's good," Duhn said of this year's accomplishments. "Obviously we have a really good team. I think we could have done better. We had a few tough losses we probably should have won. We ended up with a winning record against every team in our division."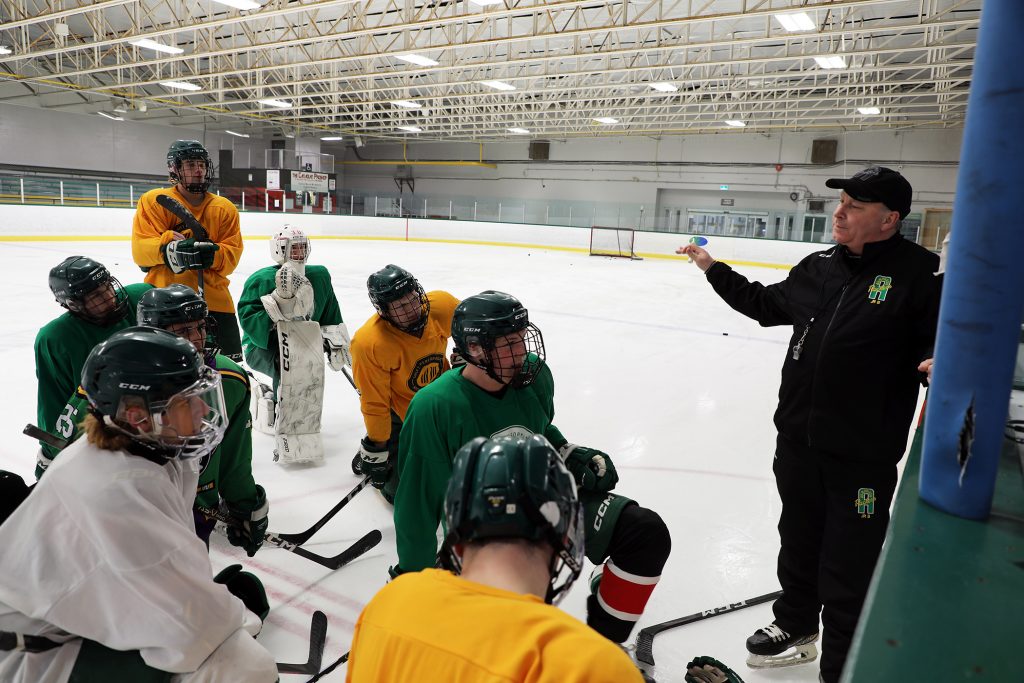 The Packers had the top scoring player in the EOJHL with Braeside's Nolan McGregror racking up 101 regular season points (43 G, 58 A) in only 38 games. But Duhn says the team is deep up and down the roster.
"Depth, we have four good lines," he said. "I don't know how many players finished the season averaging more than a point a game (the answer is eight). We have two great goalies too."
Sixteen-year-old Jaden Cholette played 20 games for the Packers with 18 wins, a 2.71 goals against average, and two shutouts. He was also drafted in the Ontario Hockey League by the London Knights. Starting goalie Jett Miller, 20, had a 19-3 record with an incredible 0.933 save percentage and 2.14 GAA.
"Jett's a veteran and he's a really good goalie too," Duhn said. "Our team is stacked, honestly."
And the fans have noticed as well. The Packers play in the Bert Hall Arena in Arnprior's Nick Smith Centre, and Packer games have been popular for the community this year.
"With the new owners (led by Shift Performance CEO Mike Ho who bought the team in May 2022), they've been able to bring a lot of people in to games this year," Duhn said. "Obviously it helps our team is winning most of our home games. We have always had a good turnout for playoff games, so I'm curious to see what it will look like this year."
The playoffs start this Sunday (March 5) in Arnprior. The regular season ended for the Packers on Feb. 24 with a 10-2 win over the Whitewater Kings. The Packers practice twice a week on Mondays and Wednesdays and are now gearing up for what they hope will be a long playoff run.
"We've started to focus on a more winning system that we can replicate game in and game out," Duhn said of Packers playoff preparations.
Despite the regular season success, the playoffs will not be a cakewalk. The Packers seem to be on a collision course to face Perth led by Lleyton McLean and his 51 goals and 92 points for the Barkley Cup championship trophy. Duhn says the team is confident about its chances.
"We are the only team that beat Perth in its home rink there," Duhn said. "They beat us twice there and we beat them once."
But that one time was the last time they faced Perth, a 6-1 win at the Perth and District Community Centre on Feb. 18 in front of roughly 230 Perth fans.
"We used this system and we beat them 6-1," Duhn said. "So we're focusing on systems and making sure we're dialed in for the playoffs and having a good run."
Duhn says his role is to bring a physical presence to the team.
"Just be a physical, two-way player," he said. "Try to help out defensively and lay some big hits. That's pretty much the jumping off point. Keep it pretty simple."
Duhn was a defenceman for most of his hockey career before moving up to the wing with the Packers.
"I played defence up until last year," he said. "I was always a pretty offensive-minded defenceman. I just wanted to get some more points, so I asked the coaches if I could play forward."
It's a move that seems to have paid off for Duhn and the team.
Away from hockey, Duhn is taking an electrician apprenticeship which keeps him working full time when not playing hockey for Kev-Tec Electrical Inc. based out of Kinburn.
While this will be Duhn's last season with the Packers, he is not focused on that perspective yet – there's playoff hockey to be played still.
"It's been a lot of hockey over the, however many years it's been," Duhn said. "Just giving it one last run and seeing what we can make out of it."
Duhn comes from a hockey family with three older brothers. His oldest brother Nick played for the Carleton University Ravens hockey team (U Sports). Cameron used to play for the Packers for three years and is also an associate coach with the AA U18 Ottawa Valley Silver Seven. Cameron has a twin named Curtis.
"Lots of hours on the Corkery outdoor rink," Duhn said of time growing up in West Carleton.
Duhn isn't the only West Carleton native playing on the Packers during its historic season. Dunrobin's Jonathan McMillan is a defenceman with the team, playing 32 regular season games this year scoring a goal and nine assists.
This is the second full season with the Packers for 'Jono' as he is known on the team. West Carleton Online certainly hoped to chat with McMillan too, but the 6'2", 215-pound defenceman was unable to attend the Wednesday (March 1) practice as he is also a City of Ottawa volunteer firefighter at the Dunrobin fire hall. Wednesday evenings are generally training nights for Ottawa firefighters.
But Duhn was happy to share what McMillan brings to the Packers each and every game.
"Just a simple game on D," he said. "A big body. Very physical. He's a good player but he also brings a lot to the room. Everybody loves Jono. He adds a lot to the team, for sure. Just his voice in the room."
Packers coach Barry Cape says the two West Carleton players are key on a team that has everyone chipping in this season.
"I think it's the most wins we've ever had," Cape told West Carleton Online from the penalty box while simultaneously directing drills on the ice. "For a 42-game season, it is for sure the most wins for a Packers team."
Cape says the players deserve the credit for this year's success.
"The players mostly," he said. "They're really the ones who do this. Over the last four years, we've kind of been building up to this moment. And this year we bolstered the line-up a little bit for sure. A lot of hard work by these guys for sure. There's a lot of talent here."
Cape said he had an idea at the beginning of the season the team would be good, but he did not know how good.
"I didn't know we'd be one of the best junior B teams in Canada," Cape said. "I knew we'd be one of the best teams in our division for sure. We have 10 20-year-olds. So that right there is a lot. Our number one goalie Jett is a 20-year-old. Goaltending is key and we have a young 16-year-old who is just as good. For me, goaltending is your number one priority, and we have two really good ones right there. You've probably seen our offence and the number of goals we score, so you combine those two things and you're pretty unstoppable."
Last year, the Packers defeated the Whitewater Kings in the first round of the 2021-2022 EOJHL playoffs before being eliminated by Perth in the divisional semi-finals.
This is sort of an all-in year for the Packers. The team will lose all 10 of those 20-year-olds at the end of the season and will need to restock for the 2023-2024 season. But that's a problem for next year.
Right now, Cape is keeping his focus on the EOJHL playoffs and what he expects will eventually be a battle against the Perth Blue Wings.
"Perth is the big competition for sure," Cape said. "They have outstanding goaltending as well. They're a strong team. Athens is strong, Smith Falls too. So, they're the Top Four (including the Packers). We'll battle it out in the semi-finals. But Perth is definitely the Number One team over the last 10 years. Perth is always at the top, and you kind of set your standards there and push for that."
Despite all that knowledge of the competition, Cape says the focus at practice in the lead-up to the EOJHL playoffs is the Packers and improving play.
"We're working on our defensive structure," he said. "It's hard to focus on something when you don't know exactly who your opponent is in the first round. So, we're kind of focusing on what we do best and what our strengths are right now. When we find out who we're playing against we can adjust and work on those things. It's going to be a tight timeline though, because we play on Sunday night."
Perth and the Packers earned byes in to the divisional EOJHL semi-finals and are awaiting the end of the wild card round to find out who they will play in round two of the Barkley Cup playoffs. Either way, the Packers will be hosting the first game of the divisional semi-finals Sunday evening.