Arnprior Packers not done by a long shot
By Jake Davies - West Carleton Online
ARNPRIOR – They're down 2-0 to the mighty Perth Blue Wings, but Arnprior Packers assistant captain, Dunrobin's Johnathan McMillan, says the team is full of confidence and not done by a long shot in the hunt for the Barkley Cup.
On Wednesday (March 22) night, a packed Bert Hall Arena was treated to almost two full games of hockey as the Packers and Blue Wings battled for more than five periods with Perth winning 4-3 on its 50th shot of the game at the 102:41-minute mark of the game.
The Packers battled back from a 2-0 deficit, and then a 3-1 deficit, with Finn Almstedt scoring with 1:28 seconds left in regulation resulting in the longest game McMillan, who is also a Dunrobin volunteer firefighter, has ever played.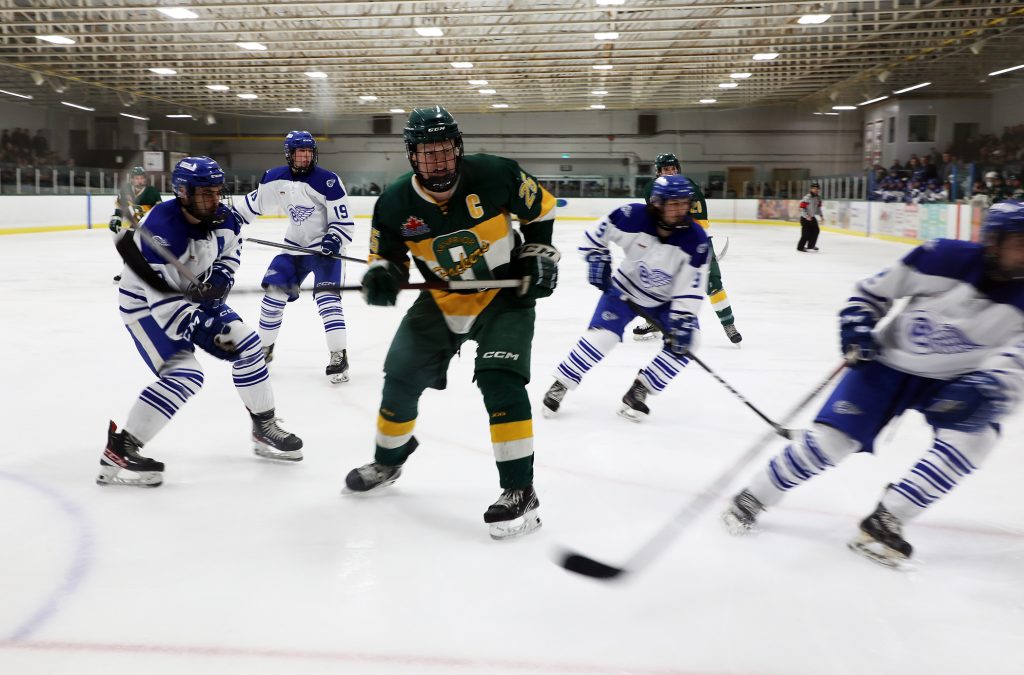 "No I have not," McMillan told West Carleton Online yesterday (March 23) when asked if he ever played a longer game. "That's the longest game I've ever played in. Two games packed in to one. Lots of emotion, especially when we scored that tying goal."
Unfortunately, it wasn't a story book ending for the Packers, despite firing 70 shots at Perth's Brady McEwan.
Both teams have been ranked in the top five, occasionally holding the number one spot, of junior B teams in Canada. It's a dream match-up for the Eastern Ontario Junior Hockey League (EOJHL).
"It's quite the showdown," McMillan said. "We kind of knew right from the start of the season."
The Packers won the regular season battle 4-2 and was the only team to beat Perth in its own rink this season.
But the tables have turned a bit with Perth taking the first game of the series 3-1 and of course Wednesday's marathon.
But McMillan and a history lesson points out, it's nowhere near over yet.
"We faced Perth last year in the playoffs," he said. "We were up 2-0. They took the series. We definitely don't feel like anything is out of reach. Everyone on the team has been through adversity at one point or another through their hockey career. Nothing's out of reach and we have an amazing group who will battle through anything. It's leading up to be quite the series."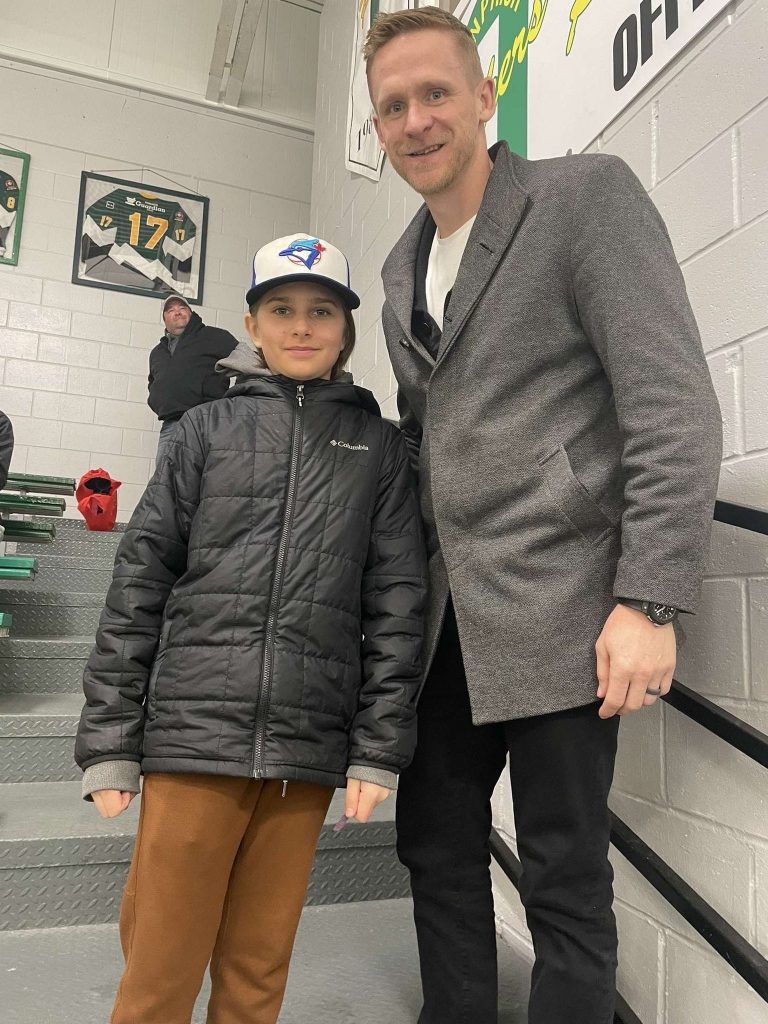 McMillan, 20, said the Packers grew together throughout the season. This is McMillan's third year as a Packer (although the first year barely counts, interrupted by COVID) so he has "one more run" next year. After the 2021-2022 season ended, there were a lot of graduating players who left the team and it meant this season, at the early going, was a learning year. Learning about each other.
"We didn't know how we were going to be," McMillan said. "A few games in to the season we knew were going to be good. We had a lot of great rookies join the team, and a lot of solid veterans returning. Everyone's buddies. It's an amazing team to be part of. I couldn't be more proud. We have an amazing coaching staff. Coach Barry (Cape) has carried that team through a lot. Chris (Byrne), John (McLean), Al (Daggett) and all the staff. It's a solid group."
And for those who attended the game, several hundred (there are no attendance numbers available), witnessed a very physical battle. Both the Blue Wings and the Packers are very big, physical teams.
"We've got some big bodies and we like to show our physical side," McMillan said.
McMillan is one of those big bodies. Listed at 6'2" and 215 pounds, McMillan finished the regular season with one goal and nine assists and 46 penalty minutes in 32 games.
McMillan says the Packers are also feeling the love from their fans. Almost every seat was filled, and the boards were also encircled by fans and the team feels it.
"There is a lot of emotion on the bench and in the crowd," he said. "It felt like the place was going to erupt at every scoring chance. It felt amazing. And all the kids giving us fist bumps as we left and entered the ice. It was awesome."
And Wednesday's game featured one fan who brought a lot of hockey cred with him to the rink. Tampa Bay Lightning forward Corey Perry who won a Stanley Cup in 2007 with the Anaheim Ducks (beating the Ottawa Senators) and played in the last three Stanley Cups, was in the Nick Smith Centre for the Packers game. He has played in 17 Stanley Cup playoff games in his long career scoring six goals and adding six assists. It was a bit of a surprise for almost all the Packers players.
"We were texting before the game, getting everyone hyped up and someone said he was coming," McMillan said. "We asked him how he knew. He said he was texting with Corey. We thought he was joking. Corey walked in to the locker room with a big smile on his face and pumped us up with some wise words."
And despite having to face the Senators Thursday (March 22), Perry stayed to the very end.
"I asked Corey if he ever played in a game that long," McMillan said. "There was a pause, and then with a chuckle he said no, six periods is quite a long game."
McMillan joins two other West Carleton natives on this year's Packers' team. Packers captain Jake Duhn is from Corkery, and left wing Ryan Pilon is a Dunrobin native who now calls South March home.
Game three of the EOJHL best-of-seven division finals goes tonight in Perth at 7:30 p.m. Game four will be back in Arnprior Saturday, March 25 at 7:30 p.m.