Do or die weekend for Rivermen
By Jake Davies - West Carleton Online
GANANOQUE – It's do-or-die from here on out for the Arnprior Rivermen in round two of the Eastern Ontario Super Hockey League (EOSHL) playoffs.
The Rivermen are down 2-0 in their best of five series with the powerhouse Gananoque Islanders, a team that has had the Rivermen's number for two seasons.
The Islanders took the first game of the series 5-3 Friday, Feb. 24 and came out event stronger in Arnprior on Feb. 25, winning 5-1.
In Gananoque, team owner, Galetta's Adrian Moyes scored the Rivermen's first goal of round two on the power play, tying the first game of the second round up at one goal apiece.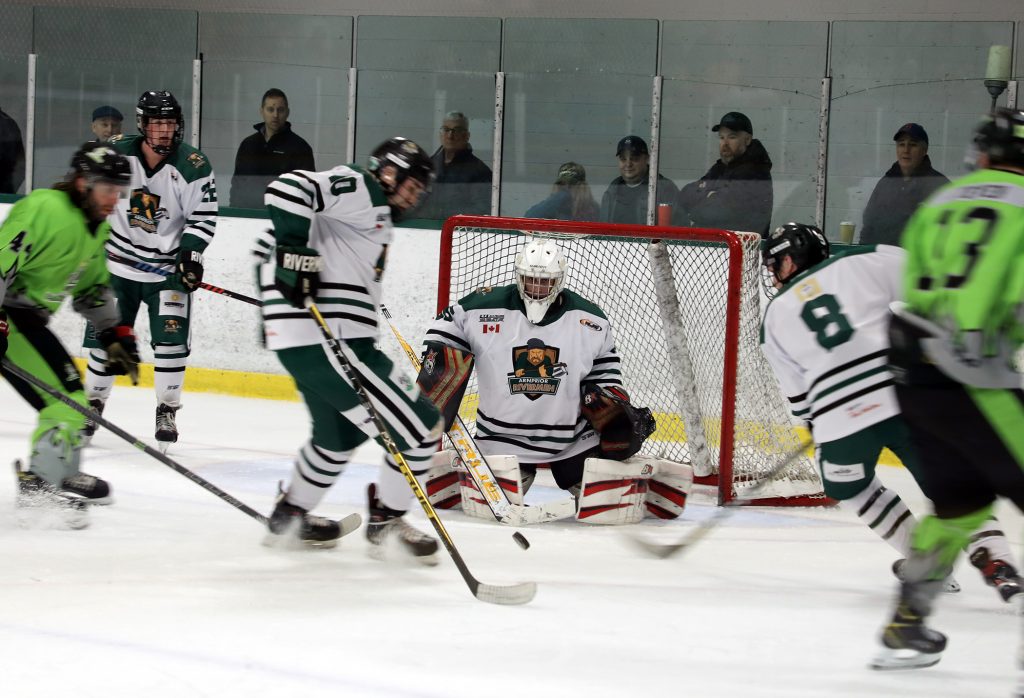 Gananoque would score two goals and the Rivermen would be down 3-1 going in to the third period. A pair of Pecks would tie the game up for the Rivermen. Carter and Ryan Peck would each score within a minute of each other.
Gananoque would get the winning goal from Cody Smith and Ryan Verbeek's second of the game (and third point) would seal it for the Islanders.
The next day (Feb. 25), back in Arnprior, Gananoque would prove to be terrible guests, scoring four straight goals, Verbeek adding two more giving him four in the series, before the Rivermen would get their first goal of the game.
Ryan Peck would get his second of the series just past halfway through the second period. Gananoque would add one more for the 5-1 win after a scoreless third period.
An announced crowd of 172 were in attendance at the Rivermen's round two playoff game.
Tomorrow (March 3), the Rivermen travel to Gananoque looking for the first of three wins they need to advance to round three of the EOSHL playoffs. If the Rivermen win on the road, the team returns to Arnprior and the Nick Smith Centre Saturday, March 3 for a 4:30 p.m. face-off.
If the Rivermen lose any of the next three games, it will be the second time in two years the Islanders have knocked the Rivermen out of the playoff.