Carp's Meristem opens private sauna, tub
By Jake Davies - West Carleton Online
CARP – A place to get away form the kids, or you can even bring them, either way you'll be relaxing your mind and body in Ottawa's newest private sauna and tub located right in Carp.
Meristem Massage Therapy's Amy Courtney has expanded her services at her Carp-based business at 3722 Carp Rd to include hydrotherapy.
Over the last nine months Courtney has renovated a large space at her business, installing a dry cedar sauna and the deepest available soaking tub for clients to use for heat treatments; hot/cold contrast therapy or just for the opportunity to relax.
The private space, which also has a shower room, can be rented by the hour or half-hour.
Courtney is a Californian who transplanted to the Kinburn with her family in 2017. She spent 21 years working a farm in Santa Cruz, CA, before buying a farm in Kinburn. She says private saunas were quite popular in California.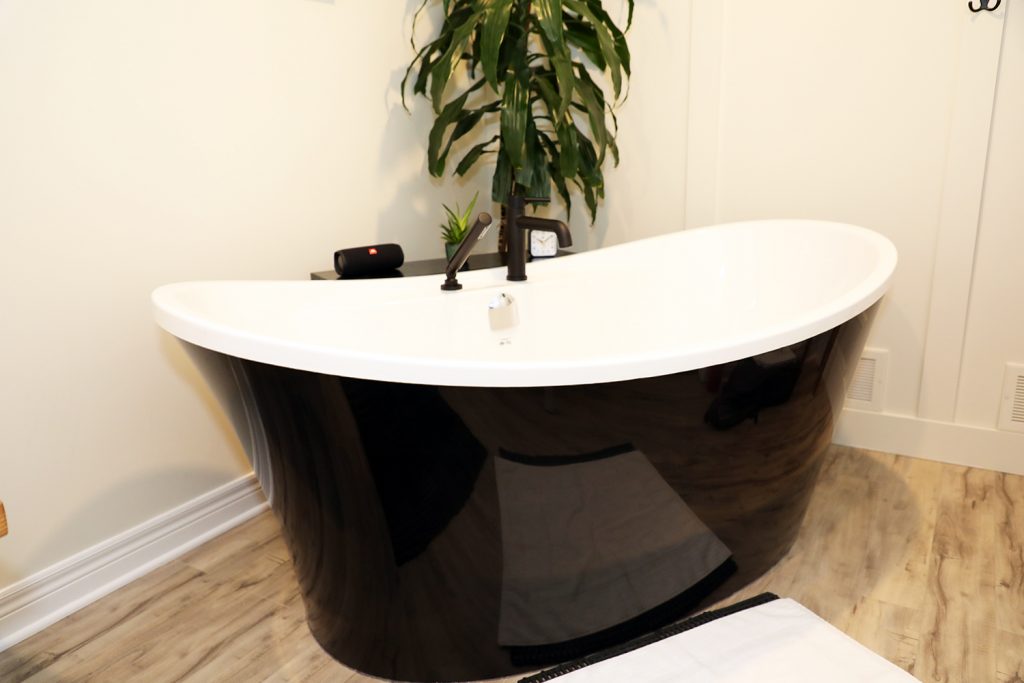 "It's something I really enjoy using and wanted for myself and thought, why not make it part of the business?" Courtney told West Carleton Online Wednesday (Jan. 4). "When I lived in California this is something people used regularly. This is a really common service offered in California and something people make part of their regular routine."
Courtney said she couldn't find a similar service in Ottawa when she started researching the project.
"It's good, regular healthcare people enjoy and want to do," she said. "It feels good for the aches and pains, the circulatory, respiratory and nervous systems. It's good for the skin, for sleep. What's not to love? There's a reason the northern cultures figured it out. It hasn't really taken off in Canada, but we're going to turn that around."
The sauna was custom made to fit the space, and because of that has both a wider door, and wider glass than the standard model. Courtney says the sauna is built for two adults, but could fit children in with the two adults, and is encouraging those interested to bring the family out during the weekend hours.
The sauna can heat up to 150 degrees Fahrenheit (65 Celsius).
"It's a nice, dry heat," Courtney said. "You can pour some water on the rocks for a nice, hot steam blast."
The tub is big, and one of the deepest available.
"It's the deepest soaking tub on the market," Courtney said. "It's your own tub, your own water and you can do what you want. Hot or cold. There's Epsom salts. There's a shower feature. There's lots of ways you can enjoy it. I want people to use it as part of their regular healthcare, but it's also a great one-off date night, or apres ski or apres skating."
There is a separate shower in an adjoining room as well.
Clients can book the private room which includes the sauna, soaking tub and shower room by the hour and half hour through Meristem's online booking system found here.
The sauna and tub are in addition to Courtney's Meristem Massage Therapy business just across the hall. Courtney has trained and practiced massage therapy and bodywork since 2005. When she moved to Canada, she registered with the College of Massage Therapists of Ontario so she could practice in Canada.
Courtney graduated from Sutherland-Chan in Toronto and also studied with Upledger and Esalen Institutes in the U.S.
"I have experience working in a range of modalities, including deep tissue, myofascial release, trigger point therapy, craniosacral therapy and reiki," Courtney said. "I adapt the pressure and pace of my touch to each treatment, giving time for your body to adjust and noticing its most subtle shifts."
To visit the Meristem Massage Therapy website, click here.