Davies: Disappearing issues
By Jake Davies - West Carleton Online
Summer vacation is over. I was shocked to find out the last column I wrote was April 30. Oopsies. Instead of taking responsibility for the missed columns, I'm going to reframe it as a dire warning to readers of what life could be like without community journalism.
But imagine it with important issues.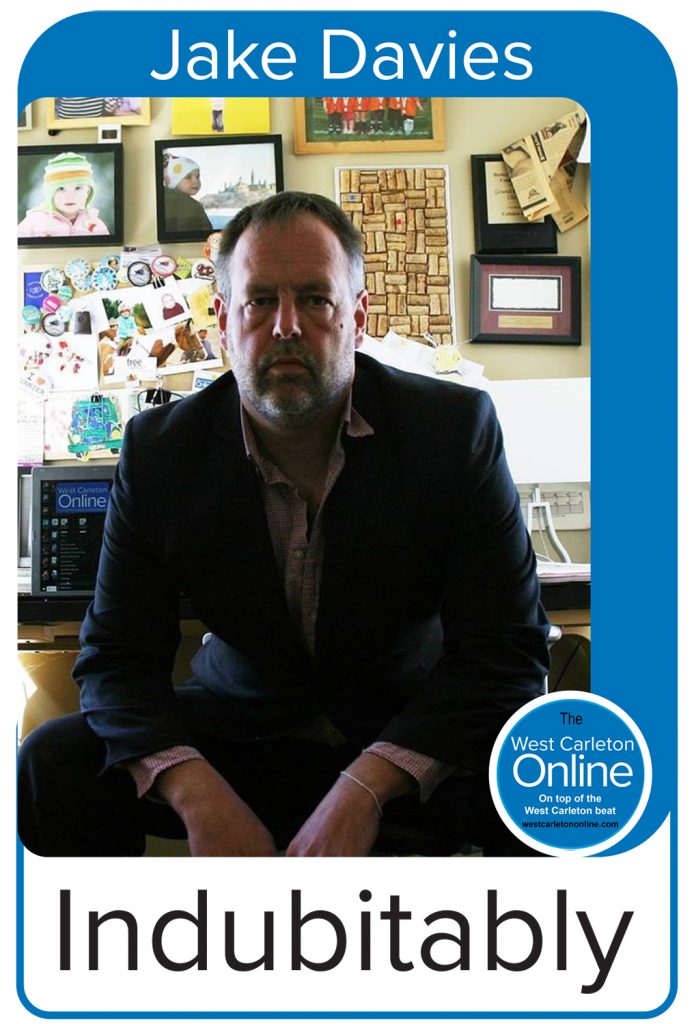 Postmedia reported a $36.7 million loss for the six months before Feb. 28, compared to loss a of $26.5 million a year earlier.
advertising revenue dropped by $5.9 million or 47 per cent, and circulation revenue declined by $5.1 million or 6.3 per cent.
Earlier this year it was announced Postmedia was in merger talks with Toronto Star owner NordStar, but the talks were terminated before any deal was signed.
Locally, Torstar is the parent company of Metroland Media which owns and operates several area local community papers such as the Arnprior Chronicle-Guide. Last June, most of the Ottawa Valley editorial staff linked to Metroland papers received Voluntary Departure Program letters.
It is expected Metroland will close several more community newspapers over the next little while and the Ottawa Valley is certainly in the crosshairs. Hey, don't look at us, we love being a monopoly. Just wish we chose an industry that paid better.
All these little media outlets that cover the little stories at the municipal level that can quickly grow to provincial and federal-level stories are disappearing. All these little stories, are how the 'big names' in media find their next big story. Those big names that are still around anyway.
We at West Carleton Online find ourselves squarely in the small community media outlet category.
We're quietly seeing major stories related to healthcare, politics and democracy unfold all around us, right here in West Carleton, but it's all quiet on the media front (except at West Carleton Online we hope).
Our healthcare system is in shambles and how are we feeling it directly right here in West Carleton?
Every weekend a small-town emergency department is closing overnight at a hospital that serves West Carleton residents. Sometimes during the week too. Have a look at our coverage on these closures over the last year and more. Literal pages of stories of the Carleton Place, Almonte and Arnprior emergency departments closing overnight. And the reality is, we missed publishing some of the closures.
When a hospital announces a closure, they exclusively do it the day it is closing. So, occasionally, we find out too late about the closure to make it worth publishing a story.
One of the worst offenders, the Carleton Place hospital, broke ground on a brand new emergency department just last fall.
If you read each story carefully (and don't), you will see the same notes over and over. It's a staffing issue. You will literally read the exact same quote from the exact same person in each announcement. The president of both the Almonte and Carleton Place hospitals (the same person) knows this issue concerns the community, and it is a last resort. But it's become a last resort every weekend. It seems like a pattern. It seems like it is done in concert with the other hospitals. It seems like they are unitedly working on the problem by rotating emergency department service around the Valley. It seems like it's not a problem to hospital administrators but a solution to funding issues.
Tell someone suffering an unknown health emergency, not to worry, there's another small-town emergency room that is open and it is only a 25-minute ambulance ride away from the one that is closed. Of course, there is a good chance that ambulance might be stuck in an Ottawa hospital emergency department parking lot as the big city deals with that healthcare issue.
It is clear, blame the provincial government or the health administrators that run these facilities, but it appears this is the cash-saving model moving forward. Quietly announce an emergency room department is closing overnight, just a few hours before it happens and move on. The city newspapers, that still have local reporters, don't have the will to cover it, and nobody important reads the media outlets that are covering the issue.
Imagine if it was the Queensway-Carleton, Ottawa, or Civic announcing, hours before it happened, they were closing their emergency department for the evening because they can't find anyone to work the shift.
I'm sure if we did read that announcement, there would be a subsequent funding announcement made shortly after.
A healthcare issue this big, you'd think would be a major election issue, especially for a provincial by-election in a riding affected by the issue, like the one scheduled for Kanata-Carleton in two days (July 27).
For the first time in West Carleton history, the community is taking part in a by-election, after Dr. Merrilee Fullerton resigned mid-term last March. I wonder how many West Carleton residents know it's going on?
A disturbing trend in West Carleton politics seems to be a real lack of engagement. By the politicians. This by-election will be known as the door-knock campaign.
Only one of the four candidates was part of a nomination process. The other three were appointed by their parties.
Here, we pride ourselves in our Kanata-Carleton political coverage. But I've never covered a by-election before, and I don't even really know how. If I had to grade West Carleton Online's coverage of this by-election, based on our past election coverage, I think it would be a fail.
We reached out to all four candidates and were able to interview three of them. We did speak to the Green Candidate and made plans for an interview. We were called by his team prior to it and told he couldn't do that day and they would reschedule, and we never heard back.
Those profile stories we did write don't tell the whole story though. They are an opportunity for the candidate to introduce themselves to the West Carleton community. There's no debate. There's no records challenged. They give us some background, tell us why they got in to politics and tell us what they think the issues in the riding are. It's their opportunity, and in the past, all that other coverage would come later.
Also missing this campaign is a public debate.
Kanata hosted one on July 13, and the headline that came out of it was the Conservative candidate was a no-show.
It was the same tactic Fullerton used in 2022 when she won her second term and then quit roughly nine months later. In fact, the Kanata no-show led directly to West Carleton organizers giving up on hosting an all-candidates debate of their own where the focus is always West Carleton issues.
Those events are where media members and the public get to see the candidates in a slightly higher pressure situation than door-knocking where they must answer questions, even those questions they don't like. It's the perfect dry run for someone who wants to be a politician. But, this time around we'll have to guess who has those skills.
While healthcare has certainly, I assume, been a top issue in the by-election, I have yet to hear one candidate say on the record they will put an end to emergency department closures. These are the questions that come up during an all-candidates debate. I don't know if they come up during a door-knocking. Perhaps because I've never had a politician knock on my door.
If you aren't lucky enough to have all four candidates knock on your door during the campaign, and I'm pretty sure that includes everybody, how do you know where they stand on local issues like, oh say, small hospital emergency department closures?
Top 5 stories
For the last year Google Analytics has been updating their statistic gathering system. We had until July 1 to upgrade. Which we did. In the end, Google did not hold up their end of the bargain, and did not "seamlessly" bring the data pre-July 1 to the new format.
Our Top 5 stories of the month are always generated by our readers based on the stories they click on. I honestly think I'm more interested in these stats than the readers, but the short if it is, we will not be sharing the Top 5 stories from the last three months, because we don't have that data.
But that segment will be back next column (whenever that might be), whether you like it or not.
To view past Indubitably columns by West Carleton Online publisher Jake Davies, click here.