Davies: The plight of paper
By Jake Davies - West Carleton Online
The latter part (so far) of the 21st century has been very challenging for the newspaper industry.
That's no secret and the residents of West Carleton are as aware of this as anyone – in this century alone, only 21 years in, four West Carleton-focused community newspapers have closed.
For those of you who still subscribe to The Ottawa Sun or The Ottawa Citizen, two days ago on June 9 you saw an unusual front page, basically identical on the two papers. A full-page open letter to Prime Minister Justin Trudeau written by Jamie Irving, the chair of News Media Canada (see photo).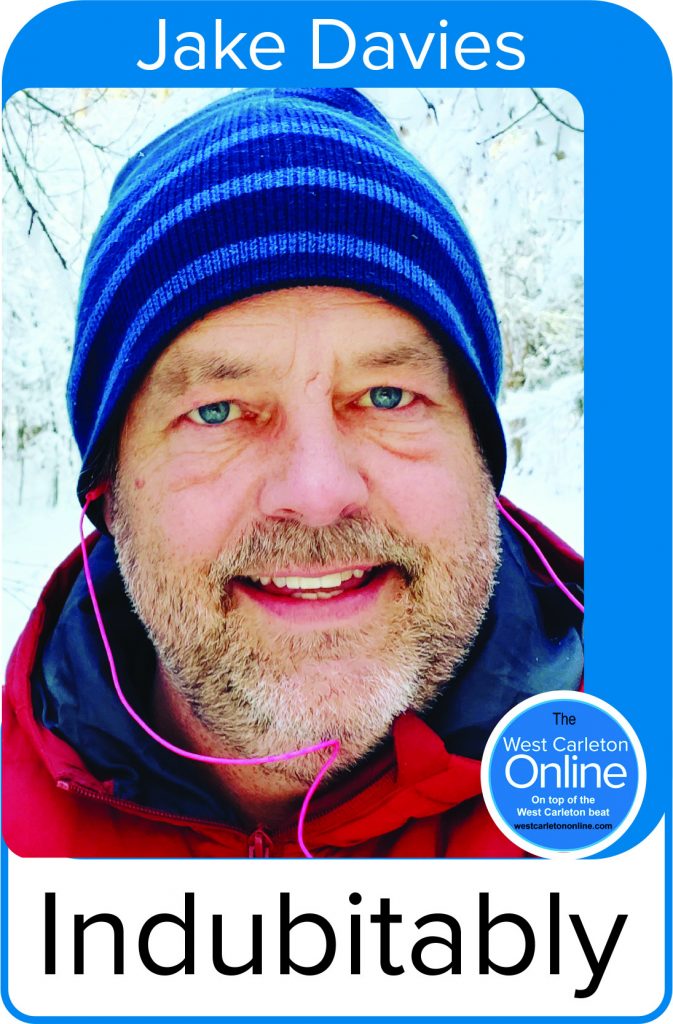 The letter starts out by stating it is a coming together of media outlets from every region in Canada. Obviously, that's not exactly true as no one contacted us, and dollars to donuts there are hundreds of other media outlets that were not contacted either. Which is great, because we couldn't agree less with the meat of the message. The new media is not the legacy media, floundering in the new world, believing it is entitled to profit no matter what business decisions it makes.
Sure, it's true Google and Facebook own (not 'divert') 80 per cent of all online advertising revenue in Canada. The two powerhouses have indeed dominated the digital advertising market in recent years. Irving claims those two businesses "are distributing the work of professional journalists across the country without compensation."
Actually, at least in terms of Facebook, it's not the business that is distributing the work of journalists, it's the users of Facebook. You and me. I do it all the time. Mostly West Carleton Online stories. Sometimes, others I find interesting. Facebook's an incredibly useful tool to raise awareness of my business and the type of work we're doing at West Carleton Online.
But much to the chagrin of non-subscribers, I can and do control access to the content. As a subscriber-based media outlet, we do indeed have a paywall. So, when someone sees one of our stories on Facebook (that doesn't fall under our COVID-19 community service policy which provides free access to all COVID-19 related stories – and we thank our subscribers for allowing us to do that for going on 15 months) they can click on it, but unless they are a subscriber, they can't read it. We respect those who have committed their hard-earned dollars to supporting community journalism.
Well, the Ottawa Sun and Citizen are both allegedly subscriber-based as well. They can do the exact same thing. They actively choose not to. Why? Because like all media outlets in the digital age, those clicks are super-important. It's linked to advertising. For those of you who have advertised in a newspaper in the last 20 years, you know it is extremely expensive. Before the West Carleton Community Voice closed last winter, a quarter-page ad in their tiny newspaper cost more than $300. For one ad. Advertisers didn't get to pick where that ad went. It might be buried in the back with a bunch of other ads and some generic copy of a bland story. Or you might get lucky, and it goes on page two. You won't know until you read the paper.
On top of that, no one at the newspaper can tell you how many people even saw your ad. For a small West Carleton business, purchasing an ad in a paper is more of a risky gamble than a business investment.
So, the two Ottawa daily newspapers are caught in a Catch 22 situation. It costs a lot of money to produce and distribute a newspaper. When I researched the project in 2016, it was $8,000 a week to print 10,000 20-page papers and $8,000 a week for Canada Post to deliver them. $16,000 every week to do just those two things (in 2016 dollars). That doesn't include related costs to that process – a truck to transport, a building to store, a person to manage (at least). It doesn't include the cost of an editorial department or a sales department. I can't imagine what it must cost a newspaper to do that every day for an allegedly much larger audience.
So, in a desperate attempt to increase advertising revenue, The Sun and The Citizen continually give their product away for free in order to accumulate them clicks and show prospective ad purchasers how much reach they have. They regularly use Facebook and Google to achieve those goals. All of a sudden Irving's claims seem a little hypocritical.
But it's a Catch 22, because if all these stories are free on the Internet, why on earth would anyone pay for a subscription? It's a hole Post Media has dug itself.
The hypocrisy of the letter doesn't end there though.
Irving writes "let's be clear: Canadian news media are not looking for new funding, or new taxes or new user fees."
I should hope not. They've already been given hundreds of millions of dollars from the Canadian taxpayer. Despite being part of the 'free market' Post Media and Torstar were huge recipients of the Liberals' pledge to roll out nearly $600 million in subsidies to select news media outlets in the government's 2019 budget.
The initiative, aimed at supporting Canada's journalism sector, was initially announced during the November 2018 fiscal update, and expanded upon in the federal budget presented last March.
Canadaland, a media outlet specializing in covering the media industry, reported in July 2019 Postmedia was expecting between $8 and 10 million per year from the media bailout "based on current staffing levels."
Torstar was expected to receive about $6 million in annual subsidies. West Carleton Online is expected to receive $0 from the media bailout.
Meanwhile Post Media, positioning itself as a leader of the effort to save Canadian news, has done nothing but close newspapers since 2017.
I'm sure you remember that date. I know I do. That's the year the West Carleton Review was shuttered by Post Media along with several other Ottawa-area community newspapers. That's when I started work on launching West Carleton Online.
In 2016, the company sought to restructure its compensation plans and reduce spending by as much as 20 per cent, after reporting a net loss of $99.4 million compared with a $54.1 million net loss in the same period a year earlier. This resulted in 90 newsroom staff losing their jobs.
On Nov. 27, 2017, Post Media and Torstar announced a transaction in which Post Media sold seven dailies, eight community papers, and the Toronto and Vancouver 24 Hours papers to Torstar, in exchange for 22 community papers (including the Review) and the Ottawa and Winnipeg versions of Metro. Thirty-six of the 42 newspapers were closed just days after the transaction.
In March 2018, the Competition Bureau issued a court filing accusing the two companies of structuring the deal with no-compete clauses in an effort to reduce competition in the newspaper industry, in violation of the Competition Act. The Competition Bureau made headlines when it raided the companies' offices for evidence, and later when it ordered company executives to testify under oath.
Early in 2021 the Competition Bureau shelved the three-year criminal conspiracy investigation in to the deal despite descriptions of documents made public last February indicating Post Media and Torstar each knew the other would simultaneously close the swapped newspapers.
In emails, executives at Torstar referenced discussions with Post Media on "who will terminate whose staff" and which would make "closure announcements," The Tyee reported last March.
I can tell you firsthand, it was Post Media who told us we were terminated after gaining control of Metroland's Ottawa-based community newspapers and it happened the day after the deal was made. I had offered to pick up a co-worker that day, a reporter familiar to West Carleton, Jessica Cunha, on the way in to work, so we had the luxury of being laid off together in the same room.
In 2018 Post Media closed another 10 small papers across the country including the Pembroke Daily Observer.
So, even with little knowledge on the industry, it doesn't take a genius to understand continually closing your product, and/or giving it away for free can't be good for business.
Irving goes on to demand the prime minister introduce legislation to "break the Google/Facebook stranglehold on news before the summer recess."
Irving, in true media hyperbole (but absolutely meant to be taken literally), writes "the fate of news media in Canada depends on it. In no small way, so too does the fate of our democracy."
By the way, the one company that owns both The Ottawa Sun and The Ottawa Citizen isn't even Canadian. Post Media is currently 66 per cent owned by an American media conglomerate (​Chatham Asset Management).
Our take is times change and the free market adapts. There are still many ways for journalism to survive and prosper, but perhaps not in newspaper form, which might actually be good new for the environment due to all the resources used to produce and deliver a paper product. The media industry needs to return to its roots to survive. It needs a return to small business and return to subscriber-powered revenue. That in turn, will return the media to the Fourth Estate power it used to be, representing the community it serves, not the interests of its advertisers or possibly even the government of the day that provides it with its multi-million dollar bailouts. Let the public decide which media survives, not the government.
Our Top 5 stories for April and May
In the month of April, we have 7,068 users peruse 21,124 pages on West Carleton Online. Our Top Five stories for April include:
In the month of May, we had 5,985 users peruse 18,295 pages on West Carleton Online. Our Top Five stories for May include: