Davies: Online News Act hurts
By Jake Davies - West Carleton Online
As we wake up to the news former American President Donald Trump has been indicted for the fourth time, once again over his attempts to stay in power after he lost the 2020 election, we are starting to see something return to politics, and hopefully the media as well (heck, even society if I'm being greedy), that has been missing for far too long.
Accountability. It doesn't matter to me if it's a right wing or left-wing politician or media outlet, it's high time these public organizations begin to be held accountable for the words they say.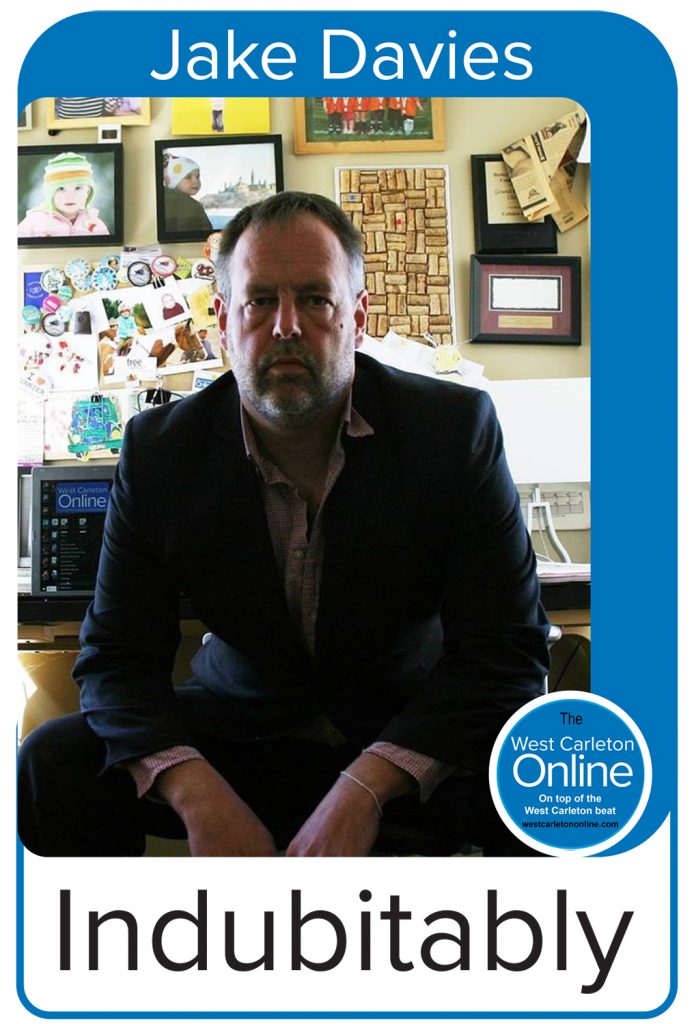 The latest indictment issued last night (Aug. 14) have some of the most sweeping allegations against Trump yet, with a grand jury accusing him and some of his former top advisors of organizing a "criminal enterprise," to reverse the election results in Georgia.
Before all you left wing and right wing partisans cry I am pro- or anti-Trump in your typical foul language, I don't care if he wins or loses (but with 91 felony counts staring him in the face, it don't look great), just that he and his cronies are held accountable for the words they said that led to the many actions that followed including an attempted overthrow (if somewhat pitiful) of the American government. That is the true point of free speech. You are allowed to say what you want, but if what you want to say proves to be false and harmful, you are responsible for what you said and the repercussions that come along with it. Free speech is not a get out of jail card to say whatever you want with no responsibility, no accountability and no fact. Free speech is an opportunity for you to stand behind your words, not hide behind them.
As for Trump, he has always been a horrible human being since the first day he arrived on the scene.
But this isn't a Trump column. It's a Facebook column and an Online News Act column.
For those who remember our once vibrant, active and free West Carleton Online Facebook page, it was a place where the community could come and get a small snippet of all the work we do.
Every day we would post a few photos taken in the community, share a bit of info about the photos and story, and usually an unattributed quote from one of the interview subjects. We would then boldly announce the story was contained within a paywall, and interested parties could pay the ridiculously low price of $50 a year for what we claimed was the best community journalism outfit in the Ottawa area (and beyond as far as we're concerned).
Our Facebook page, in about a year, became the largest and most active Facebook group page in West Carleton. Now it's a ghost town. To be honest, we can't even access the page, let alone post on it. Even if we did post on it, Facebook would tell us our post wasn't visible in Canada. A lot of time and unpaid work went in to it, and now it doesn't even really exist and we had absolutely zero say in that outcome.
While Facebook didn't generate much revenue for us, losing it hurts. It was a fabulous tool for creating awareness of our work. We used it as a marketing tool, with the plan being if we show non-subscribers all the cool things we report on – from local issues to national issues focused on West Carleton and everything in between – we might convince a few of our followers to buy a subscription. The truth is, we had many more followers on Facebook that we ever had actual subscribers to West Carleton Online. Our Facebook page was a happening place.
But with the passing of the Online News Act, that's all gone now. The federal government in its pissing match with 'Big Social Media' under the guise Facebook is 'stealing' news from mainstream media, has taken that away from us, and it hurts. A lot.
And absolutely no one involved in the battle bothered to ask us our thoughts on this.
But we shared them anyway. Way back in June of 2021, I was officially on the record as saying I have no problem with Facebook and Google's practices despite their dominance of the online advertising market. What Postmedia and Torstar and the other "major media players" were saying about the issue, just wasn't true. Facebook and Google weren't stealing news from the media, the media was freely giving it to them. Without re-writing that 2021 column, those media companies chose to give their product away for free. All of these so-called subscriber-based media outlets (same as us), intentionally did not paywall their product. They gave it away for free, with the hope all those Facebook users would click and read their stories with the goal they would be able to use the collected data to attract advertisers.
It didn't work, advertising numbers continue to plummet in print edition newspapers and not only that, subscriptions started to decline faster too, because why on earth would someone pay for something when the company producing the product is giving it away for free to everyone else?
This was something we never did (except on special occasions). We kept our paywall up and if you wanted to read our hard work, you had to pay a fee (the cheapest annual subscription fee on the Internet). We were comfortable with that, and because of that, we were comfortable with Facebook users (and us) sharing our work all over the Internet any way they wanted.
Desperate media outlet managers at these inflated media companies saw this issue as an easy money grab. Heck, they had the federal government in their corner. Facebook and Google are worth billions, so surely they wouldn't mind giving some of that money to the flagging media industry. But guess what? Facebook and Google didn't blink. They said, 'hey, no problem, we just won't post your news stories anymore.'
And now all of us, those who played by the rules, and those who didn't, are facing the consequences. And those consequences hurt.
West Carleton Online is already seeing a decline in pageviews. Our subscribers are still loyal. They still seem to enjoy our product. They read our stories and click on our Daily Headlines email literally seconds after it arrives in their inbox. The pageview clicks produced through our Daily Headlines email are higher than ever. But, aside from our subscribers, attracting new customers has become and will continue to be a challenge as long as we have the Online News Act as it is presented today.
The flip side, ironically enough, is by banning legitimate, attributed news from Facebook means there will undoubtedly be a legitimate rise in "fake news" on the internet For the people who get almost all of their news from their Facebook feed (which is a considerable number of people these days), the news they get will no longer be attributed, if they get any news at all.
At West Carleton Online, every news story we post, there is a name and/or organization attributed to it. It's not us making up the news, we are just the messengers. Our interview subjects know, if they are on the record with us, what they say will be attributed to them. We don't publish stories with anonymous sources. That doesn't necessarily make what those interview subjects say a fact. We publish opinion and op-pieces all the time. What it means though, is for every fact, opinion or idea given in the pages of West Carleton Online, there is a named person or organization standing behind those words. People still lie under those conditions, but it absolutely puts their reputation at stake.
Those stakes don't exist on Facebook. People say whatever they want, provide no evidence, and pass it on as a truth (which it may be), then move on with no responsibility to the words they published. As you know, that happens constantly on Facebook, literally all the time. Libel, slander, hate and lies run rampant on Facebook, and now, you won't even be able to find news there. Certainly nothing local.
So, now when you read a Facebook post on the Dunrobin plaza, you may actually believe it is the air pressure building up in the empty mall that is breaking all those windows, forcing it to be boarded up. You might believe the construction delays at the Corkery Community Centre are due to a municipal election conspiracy. Heck, you might even believe that undated, out of context photo showing how low the Ottawa River is above the Timiskaming dam is proof positive, flooding in West Carleton is related exclusively to computer operated dam control and human error.
When we allow free access to stories on climate emergencies in our community, as we did for the 2018 tornado, the COVID-19 pandemic, 2019 extreme flooding and 2023 extreme flooding (which generated thousands and thousands of pageviews in the West Carleton community), we will have no way of alerting the community they can access this very important information and coverage without a subscription.
Meanwhile. unlike Postmedia and Torstor, two of the major voices behind the Online News Act, we don't receive millions of dollars from the federal government each year to help keep us afloat. In fact we receive zero grant dollars from any government. If we want to survive, we have to have a strong business plan and make our own money. The Online News Act will be a big challenge towards the success of our revenue plan.
We had a business plan that kept costs low for our customers (we have never once raised our prices for subscriptions or advertising in our five-year history despite record-breaking inflation) and, if our goals were met, would provide a viable and cost-effective local media outlet for the West Carleton community that would be sustainable over the long haul. Now, we're unsure what the future looks like.
And the reality is, for those who have been watching, West Carleton Online's end would also more than likely mean the end of community news coverage in West Carleton.
So, a good editorial always ends with a call to action (something rarely seen in modern day journalism). If you enjoy West Carleton Online and appreciate community journalism, please share this free access story with your friends and community members. Please encourage your friends and neighbours to sign up for our free Daily Headlines email and please encourage your friends and neighbours to subscribe to West Carleton Online. We want to be community owned, and with community support, we can be the hub for West Carleton news Facebook can't and will never be.
To read all of West Carleton Online publisher Jake Davies' Indubitably column, click here.
Top 5 stories from July
It is an event listing (which are free to everyone) that leads West Carleton Online in pageviews for the month of July – not including our homepage and obituaries page. The Carp Fair Drive-In Bingo event listing attracted 823 pageviews in July. No word of a lie, every year we receive multiple calls about Carp Fair Drive-In Bingo from people across the City of Ottawa. When people search for info on the popular event, they usually find it through us. Other Events Listing hits this month include Concerts in the Park (671 pageviews) and the Carp Shootout Men's Fastball Tournament (347 pageviews).
And here are our Top 5 most viewed stories in July:
Carp Fair Drive-In Bingo returns Wednesdays in July (445 pageviews, published June 22): More proof-positive that community journalism is an economic driver for the community.
1818 Farm and Cidery taking shape (319 pageviews, published July 12): Our number two story comes from our business section promoting a small farm halfway through their plans to become West Carleton's newest agri-tourism location. Is it coincidence our top two stories, and our events listings rank so highly this month? Or is it proof community journalism not only provides local information and stories to its community but can also generate revenue and be an economic engine for businesses and organizations found within said community. You decide, our mind is already made up.
Bryson swings on biggest stage (254 pageviews, published July 24): The story of a local (Dunrobin) professional golfer working his way up through the industry and getting a chance to perform at his home course, in front of his home fans, at the biggest tournament of his career.
Carp Shootout attracting top talent (220 pageviews, published July 19): And now a story promoting a community event reaches Number 4 in July, perhaps attracting out-of-town fastball fans to the area to invest some of their hard-earned sheckels in the West Carleton community while attending a West Carleton event. We sure hope our political leaders are paying attention to this valuable, pun intended, Top 5 list.
McCrimmon wins provincial by-election (220 pageviews, July 28): Where did you go to find out who won the provincial by-election for Kanata-Carleton held July 27? Who aside from us even covered the lead-up to and the results of the by-election? While our coverage in our opinion was sub-par compared to our own past election coverage, we still managed to interview the three main candidates while providing coverage on the by-election in general. Also, keep in mind that pageviews number was attained with only three days left in the month.