Bryson swings on biggest stage
By Jake Davies - West Carleton Online
DUNROBIN – Dunrobin native Jake Bryson's two-day effort in last week's Professional Golfers' Association (PGA) Tour Canada event was his biggest stage yet in his young professional career, and it happened on his home track.
Bryson, 23, playing under a tournament exemption, competed in the Commissionaires Ottawa Open held at Eagle Creek Golf and Country Club near Dunrobin last week (July 20 to 23). The PGA Tour Canada event is part of the Fortinet Cup series, and the tour is helping develop the next crop of PGA superstars.
Unfortunately for Bryson he was doing this interview in the Eagle Creek clubhouse with West Carleton Online as the championship contenders were finishing the fourth and final round of the four-day tournament.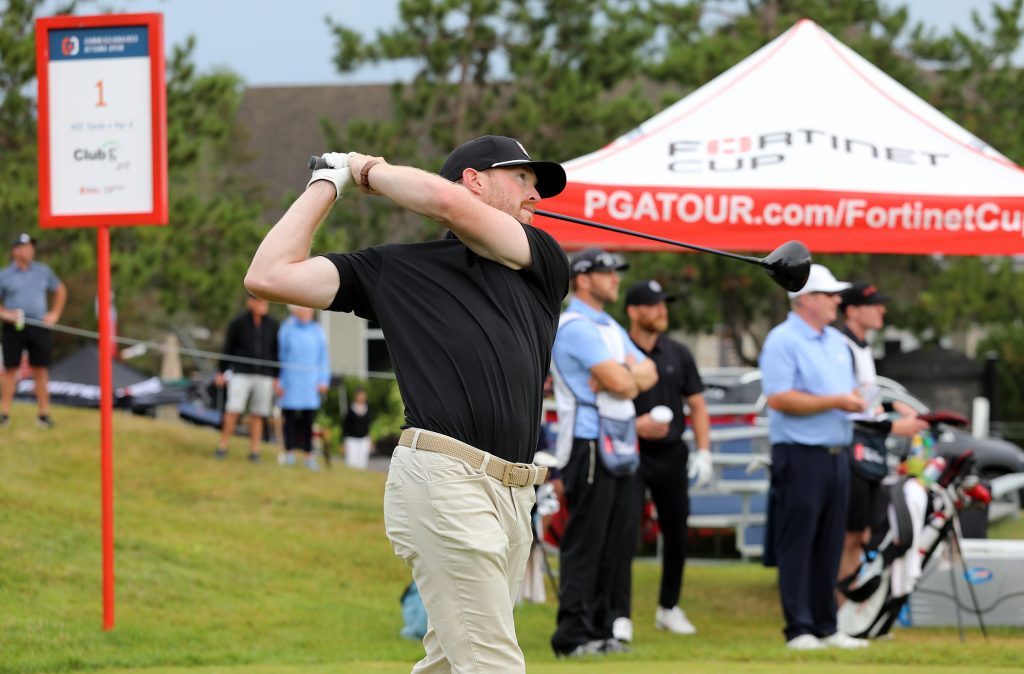 Bryson shot a 75-74 over his two rounds for seven over par and didn't make the cut to the final two rounds. He says the Commissionaires Ottawa Open is the biggest tournament he's played in both his amateur and young professional career.
"Absolutely Number One, no doubt about it," Bryson told West Carleton Online Sunday (July 23) afternoon. "The 2016 U.S. Junior Nationals is Number Two. That was the last time I played before a crowd until now. It was literally a dream of mine to play in a championship here. The field here is international."
It was a dream Bryson could have while playing the course, growing up just around the corner.
"I've spent half my life here," Bryson said. "I've logged more than 1,000 rounds here. I used to bribe my bus driver to drop me off here with drumming magazines. I used to bike here with my clubs on my back. This place is pretty special to me."
Although, Bryson says he got his start at Rideauview Golf Club where his grandmother was a member.
As a young Dunrobin boy, Bryson also played hockey and lacrosse. He joined the Kevin Haime Junior Golf Program around 10. Around 12, Bryson broke his ankle and would miss hockey and lacrosse tryouts. So, he started playing junior tournaments. And he started winning them.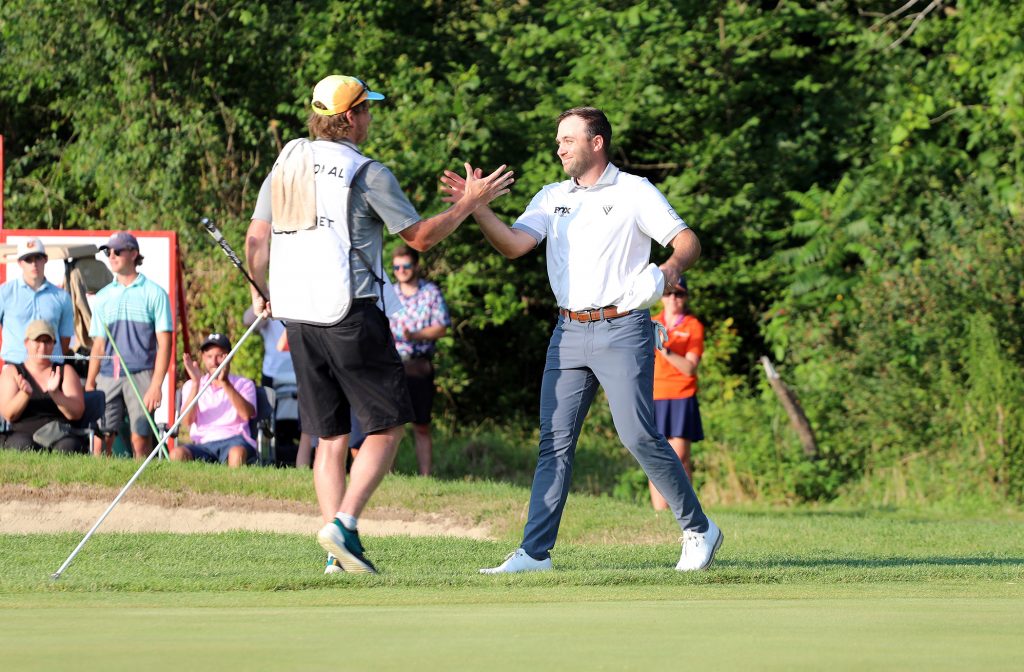 At 14, he quit hockey and attended a Golf Ontario scholarship seminar that outlined what a career in golf meant.
"I knew I could compete pretty early," Bryson said. "I played golf full time every summer. One hundred rounds here, easy. More than 150 a few summers. At 14 or 15, I decided let's see how far I can take this thing."
Bryson started competing at bigger and bigger tournaments. He tallied nine career junior tournament wins including the CJGA Nike Junior Championship, Quebec Provincial Championship, Canadian Amateur qualifier, and the Team Ontario Cup. He competed at the U.S. Junior Nationals as a sophomore in high school.
After high school he joined the Utah Valley University Wolverines golf team while he attended the school for four years up to the 2021-2022 school year.
Bryson officially turned professional last August (2022), and has played in four tournaments this season, three as part of the East Coast Professional League (ECPL) and has been "lucky to bring home a cheque each week."
Bryson finished T6 ($1,050) at the Quinte Classic in Belleville May 9-10; T6 at the St-Georges Classic ($1,050) in St. George, QC, June 26-27; and T11 at the Bromont Championship July 11-12.
In 2022, he had a T2 at the ECPT Players Championship at La Portage Golf Club and three other Top 10 finishes.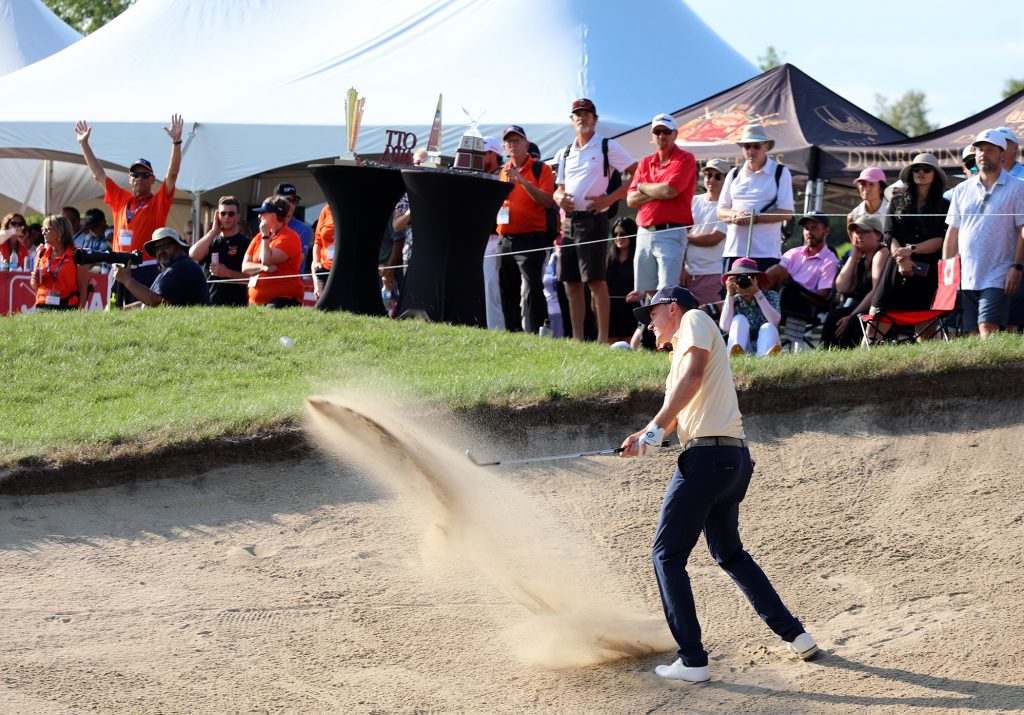 At the Commissionaires Ottawa Open, Bryson was in the last grouping on both Thursday and Friday, partnered with Ottawa golf legend Brad Fritsch who played a season on the PGA Tour and Ottawa Senators fan-favourite Claude Giroux, a hockey superstar with a passion for golf. West Carleton Online followed the group for the first couple of holes on Thursday (July 20), and the first nine holes on Friday (July 21).
Professional golf is slow. Players routinely wait 10 to 15 minutes on the tee before being able to swing. Waiting on the fairway is also a regular occurrence. It takes a lot of mental strength to focus so precisely after such a long wait between every shot.
"It goes by so fast when you're playing," Bryson said. "The pace is pretty slow, but that's professional golf. This is not a hobby for anyone. Everyone here, this is their livelihood and it really can come down to a shot or two, not just for a tournament, but your whole season. Yeah, people take their time."
Part of the reason, time sped up for Bryson, especially for this tournament, might have been nerves. Despite playing with an NHL superstar, and a local golf legend, it was Bryson who elicited the loudest cheers. His friends, his family, the Eagle Creek membership and the West Carleton community, got to see their boy in action when the stakes were at their highest, and got behind him.
"There were so many people I knew," Bryson said. "The guys rallied around me. It was pretty awesome. I was so nervous. I didn't eat for four days. My friends said, 'there's no pressure, have fun.' They could have said that 1,000 times. The nerves and pressure took their toll until the back nine. I was finally able to breathe and look around."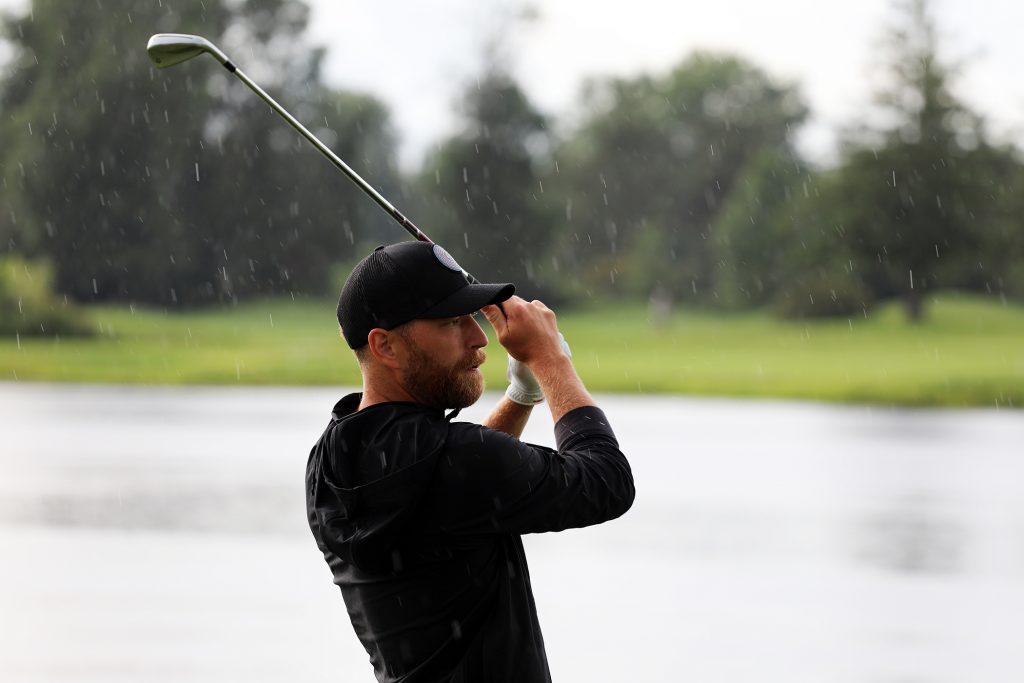 And that breathing helped. Bryson birdied the first three holes of the back nine on Friday finishing the last quarter of his tournament at -2.
Bryson said being able to play with two athletes who have found success at the highest level was a great opportunity as well. Not only did he play the first two days with Giroux and Fritsch (neither made the cut), but Bryson also played a practice round with them earlier in the week.
"To be able to show them around the golf course," Bryson said. "I really had to keep my cool. We had a great time. They offered me incredible career advice and to have them on my team, I'm very grateful."
Bryson says playing in a PGA Tour Canada event at Eagle Creek can benefit a player more than just a cheque at the end of the tournament.
"Some around here thought I was just a good local player," Bryson said. "Now they've seen me and the shots I can manage. They now know what I can do and have really stepped up. I've also now got other tournaments reaching out to me for this season."
And Bryson, who is now living at Pinto Valley Ranch near Fitzroy Harbour, already has a busy final stretch of the 2023 golf season including the Machinex Open in Princeville, QC. Aug. 11-12, the Canada Cup in Victoriaville, QC, and the ECPT Championship in Montreal Aug. 28-29.
"It's busy," Bryson said. "Right through to the end of August."
And then there will be the effort to qualify for Q School, a series of tournaments where top finishers can earn their PGA card.
After that, Bryson expects he will take about two months off from golf.
"I like an off-season," Bryson said. "Get in the gym. Reset."
MacDonald wins first PGA Tour Canada event
As far as the Commissionaires Ottawa Open is concerned, the tournament was won by Canadian Stuart MacDonald, a Vancouver resident who will take home $36,000 for his efforts and 500 points in the Fortinet Cup series.
It took MacDonald four extra holes to secure the championship after the four rounds ended with MacDonald, Devon Bling and Luke Schniederjans all finishing at -19.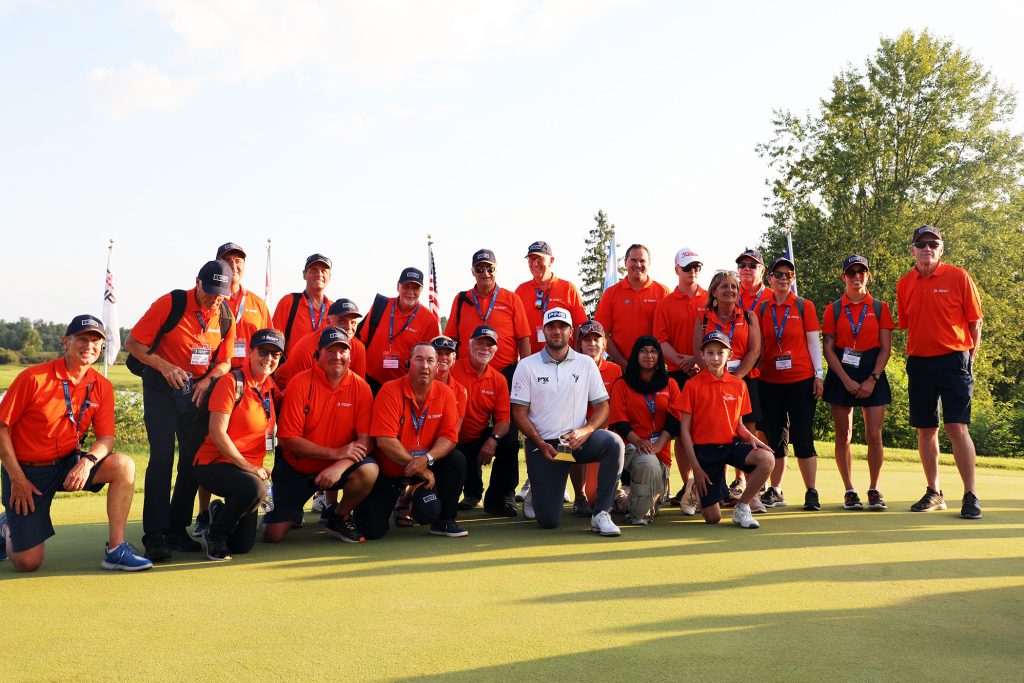 The threesome would play Eagle Creek's famous Hole 18 again in a sudden-death tiebreaker. Schniederjans would be eliminated after putting his second shot in the water. Bling and MacDonald would need three more holes to decide the winner, playing 18 two more times and Hole 9 once.
Back on Hole 18, MacDonald would birdie it as he did every time during the extra round, while Bling would not be able to sink his 12-foot birdie putt.
"I'm a little more nervous now than I was on 18," MacDonald told the crowd during his championship speech.
"Which time?" the crowd joked back.
"Thrilled to be here obviously," MacDonald said. "This is my first win in a PGA Tour Canada event. It feels really special. It's a great course, great venue. The course is in amazing shape. I want to say all the volunteers have been so helpful this week. I'm thrilled."
Organizers said there were more than 300 volunteers helping run the tournament over the week.
MacDonald said he thoroughly enjoyed playing Eagle Creek.
"It's a great set-up," he said. "Exciting set-up. It requires quite a lot of different golf shots. A lot of variety. You can hit drivers off the tee. Three woods, two irons, four irons. The greens were amazing. They held up all week."
When asked what his favourite hole was, MacDonald didn't waste a second saying "!8."
During the week, MacDonald birdied Hole 18 five times, eagled it once and parred it the other time of the seven times he played it during the tournament.
This year, the Commissionaires Ottawa Open was year one of a three-year agreement between PGA Tour Canada and Eagle Creek Golf and Country Club which will host the open again next year.