Carp's Falls: 'You give what you can'
By Jake Davies - West Carleton Online
CARP – It wasn't a farming background that got Carp's Neil Falls involved in the 12-year process to become 2021 Agriculture President of the Carp Fair – it was a background in community service.
Falls is a life-long Carp resident (who did not grow up on a farm) going back six generations on his father's side. He turned 40-years-old last Friday (May 8) and is getting ready for a big year with a lot on his plate.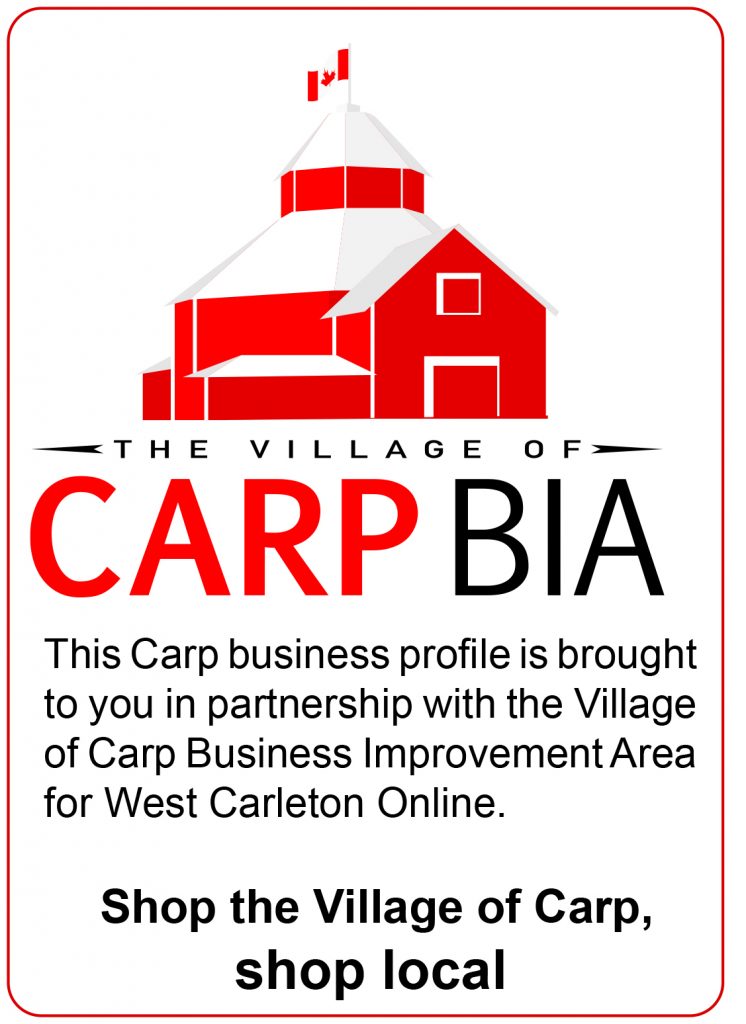 Falls volunteer schedule is pretty full. Not only is he co-president of the 2021 Carp Fair; he is a volunteer board member on the Village of Carp Business Improvement Area (BIA); and a volunteer board member of the National Capital Heavy Construction Association (NCHCA). He was also a key member in the project to build the West Carleton War Memorial in Carp and a scout leader before the pandemic hit.
"Between all that, it takes pretty much all of my free time," Falls told West Carleton Online at the Carp Fairgrounds last Monday (May 11). "I do all of them, all for different reasons."
Falls' none free time is spent working as the Eastern Ontario safety manager for Aecon Group Inc.
Falls' mother Sue Falls was a longtime Carp Agricultural Society board member. It was one of the things that inspired his dedication to his community.
"That mentality and drive has always been in our family," he said. "It's a character trait."
Falls is the oldest of three siblings with brother Darren and sister Leah.
"The three of us grew up with our aunt and uncle Glenn and Wendy Falls in the area," Falls said. "I haven't missed one Carp Fair yet. I was always a local that was very excited to go to the fair. There's something for everybody and it was always a highlight of the fall. You would go see family and friends. The whole community was there."
Roughly 12 years ago, well-known Carp community leader Wendy Deugo got Falls involved in the fair as he helped out with parking.
"I lived with my now wife Jody and was volunteering up here with parking and seeing what the directors did," Falls said. "Remembering my mom and the people I met through her. I didn't know it was going to happen so quick, but now I'm 12 years in and taking my turn as president."
The experience has been life affirming.
"Being part of the fair was something our family did," Falls said. "It was always around me that you give what you can to your community. And now that I have kids it's an important message to pass down."
Falls daughter is Paisley, 10, and son Wyatt, 6.
Although not a business owner, Falls eventually was recruited on to the Village of Carp BIA.
"I was brought to a meeting to backfill one of the other managers and then he never attended another meeting," Falls jokes. "My time with the BIA has been good. I've got to know a lot of the local businesses and become friends with the owners."
BIA executive director Jennifer Stewart credits Falls with last year's Light up the Village initiative, a project to beautify the community during the Christmas season and also attract shoppers to the Carp area during the challenging economic times faced during the pandemic.
"We were looking at different ways for promoting our town," Falls said. "It's nice to be able to promote the community you grew up in and share it with others. It feels good to show others what your community is proud of. It's very easy to promote this community and it's a nice feeling."
For the BIA, when the pandemic is over, the work will begin. The board will have to lead the charge in recovery as the business community works to rebound from the devastating challenges the pandemic has brought upon the local economy.
"That's right, it's almost like we'll be starting from scratch," Falls said. "But all the infrastructure is already here. It's just a matter of reminding people we have attractions and it's worthwhile to visit. With the end of COVID, we'll see people get back in to some routine and people working to grow their businesses. I want to see growth because it's good for the community. But I want to see my children enjoy that sense of community that I enjoyed growing up."