WCFHT vaccinations ramp way up
By Jake Davies - West Carleton Online
CARP – By 11 a.m. last Saturday (April 24), the West Carleton Family Health Team (WCFHT) had already vaccinated more community members that morning than they had the entire weekend before as the clinic ramps up its efforts in the local fight against COVID-19.
It was the third day in the last eight the WCFHT was offering the AstraZeneca Oxford COVID-19 vaccination through invitation-only appointments held outdoors in the parking lot of the Carp-area clinic.
Last week West Carleton Online spoke to WCFHT executive director Chris LeBouthillier and arm jab recipient, Constance Bay's Debra O'Driscoll, as the WCFHT hosted its first vaccination clinic.
On Saturday, we spoke to those sticking the needles in arms as the clinic had significantly picked up the pace, inoculation six people every five minutes. It was a big day as the WCFHT vaccinated 525 people – all drive-through style.
"We're looking at doing more than 500 today," arm-jabber Dr. Michelle Lawler told West Carleton Online Saturday afternoon from the parking lot. "We're being very careful to offer vaccinations following all the public health guidelines."
Lawler says it's been rewarding work.
"They're pretty happy," Lawler said of those receiving the shots. "They're taking selfies. We actually have a selfie sign. It's been a real psychological boost to our staff after what has been a very long year."
Last week LeBouthillier told West Carleton Online the WCFHT received 1,000 doses of the AstraZeneca vaccine through Ottawa Public Health. By the end of Saturday, it is expected almost all of those doses were administered. The WCFHT staff can't wait to get their hands on more.
"We're hoping to do a number of more clinics depending on staff availability," Lawler said. "We've also been able to vaccinate some of our older patients who don't want to go to the big clinics."
Lawler has been with the WCFHT since 2003 as a family doctor. She also works in the obstetrics department at the Queensway Carleton Hospital.
Lawler, and several staff on hand give WCFHT registered nurse Julie Bradford a lot of the credit for the organization, set-up and operation of the drive-through vaccination clinic.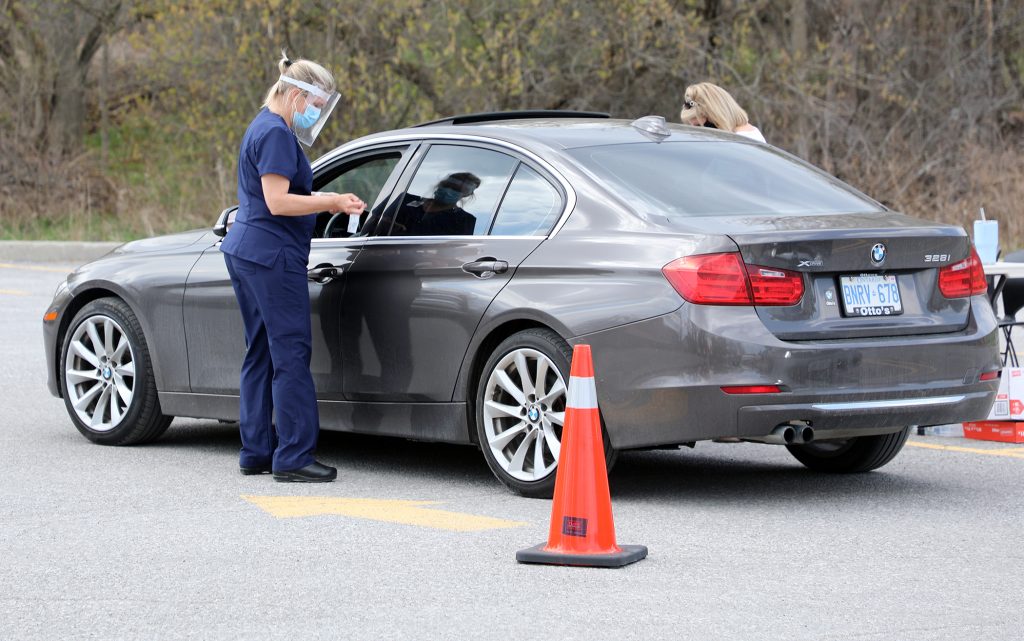 "There's lots of action here today," Bradford told West Carleton Online. "Last weekend was kind of a dry run so we could familiarize ourselves with the COVAX system (the system used to register and track vaccination recipients). Now we really want to ramp up. We will re-assess on Monday (April 26) to see what the numbers are and what numbers work for us."
Either way, Bradford is happy to see the clinic up and running.
"We feel obligated, as healthcare professionals, to get as many people inoculated as possible," she said. "To help build up that herd immunity."
And Mother Nature has been helping. So far, all three days clinics have been held have featured beautiful, warm, sunny weather. Almost.
"We wrapped up an hour early last Sunday before the skies opened up," Bradford said.
She too is noticing the positive effect the vaccinations are having on the West Carleton community.
"People are so happy," Bradford said. "It's close to home, in their own car. They feel safter and we think we're prepared if there are any reactions."
Bradford says there are about 12 to 16 WCFHT members working each day of the clinic with two to three volunteers assisting with directions and other "non-patient contact" tasks.
Bradford hopes, with access to more vaccine, the WCFHT will "really buckle down over the next four weeks."
The WCFHT has one more clinic organized for May 5 and that it is "fully booked already." Bradford expects the WCFHT will host more clinics in the coming weeks, but no official dates have been worked out yet.