Davies: Tractorgate
By Jake Davies - West Carleton Online
From 2007 to 2009 I was the editor of the Cobden Sun. Much like West Carleton Online, I was also the reporter, the photographer, the graphic designer, and the layout dude.
The territory was very similar to West Carleton too. Whitewater Region was made up of tiny little villages like Cobden, Beachburg, Foresters Falls, Westmeath and Micksburg, spread over a large swath of ground. If this media outlet was named Whitewater Online, it too would have multiple fastball stories in the Top Five stories of the month.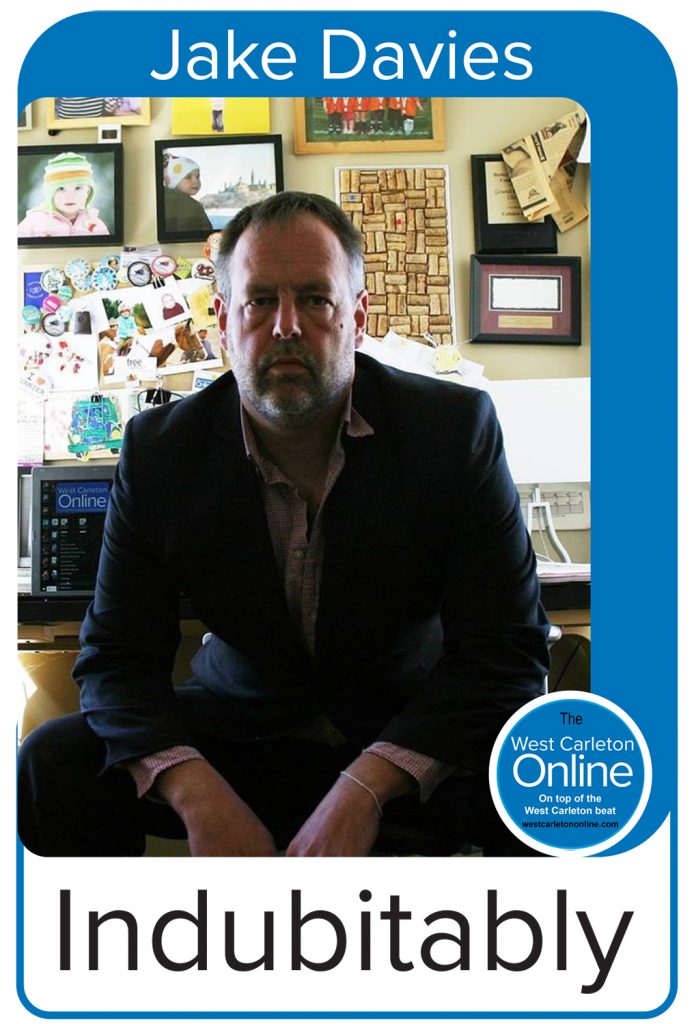 It was much smaller than West Carleton though, with a population of 7,009 as of 2016.
It was a lower-tier municipality, one of 17 in Renfrew County. Why am I telling you about my time in Whitewater Region? So, I can set the mood for yet another election column. This will be election column number three in a row from me. I used to have a sense of humour. Assuming the feds can keep it together for another couple of months, I promise it will be my last one for a bit.
But, like a good politician, don't hold me to it.
My time at the Cobden Sun was marked by one truly incredible story. It took years to unfold, and the finale came long after I had moved on from the area. It's absolutely bonkers, it is absolutely about politics and elections, and it's absolutely true. It is the parable behind former colleague Peter 'Hungry Like' DeWolf's oft-said, oft-repeated here, statement we get the government we deserve. Rest in peace.
The story starts somewhere in 2008, I think. Those who were there, referred to it as 'Tractorgate.' As a reporter, we are honour-bound to add 'gate' to any story involving political shenanigans.
At the time I was there, the mayor of Whitewater Region was Donald Rathwell. A lovely man. During a council meeting, then-roads superintendent Hal Johnson, who once served a term on council in the '80s, was recommending Whitewater Region council sell two older tractors to help offset the cost of purchasing a new one.
Believe it or not, it's pretty commonplace for council to seek advice and take it from their staff. So, council voted to sell the two tractors, if memory serves me correctly, one for $4,000 and one for $5,000.
A Whitewater Region farm equipment store bought them up. The township then bought a brand-new tractor to serve its needs. While I did grow up on a farm, I was pretty young at the time, and while I could drive a tractor, I knew nothing about them, what they cost, how long they last, what a horsepower is.
But many in Whitewater Region did know that. And many of them started dropping by the Cobden Sun's teeny-tiny, one office, one bathroom building on Crawford Street just a one-minute walk to the municipal building on Main Street where council held its regular council meetings.
More than one resident dropped by to tell me tractors don't lose their value. Those tractors were worth, maybe twice what the township sold them for. Something was up.
The community of Whitewater Region was on fire – and not in the good way the kids mean when they use the term.
I dutifully wrote a few stories on the issue. It didn't go away, and council started looking more closely at the transaction.
What council found out was, yes, the tractors were way underpriced. What they also found out was the farm equipment store had sold the two tractors almost immediately after receiving them.
It turns out it was the roads superintendent Johnson, who had bought them from the dealership.
Why haven't I mentioned the farm equipment dealership by name? Well, they reacted immediately, sending a lawyer's letter to the township and the Cobden Sun saying they did nothing wrong, and any claims to the contrary would face immediate action.
Council initiated actions that would remove Johnson from his position as the township roads superintendent. Johnson resigned. In the 2009 election, Rathwell didn't seek re-election, running for reeve instead. Beachburg pharmacy owner and a councillor the term prior, Jim Labow was elected Whitewater Region mayor.
I eventually moved on to a managing editor position with the EMC chain of community newspapers in Ottawa in 2010. Shortly after that, like many papers I have worked at over the years, the EMC closed, and I took a job in Pembroke with the Renfrew County District School Board, right next door to Whitewater Region. Around, 2011(-ish) while working in Pembroke, I picked up on the next chapter of the story. Johnson was suing the township for wrongful dismissal over Tractorgate. The township would settle out of court. Certainly, a weird ending to a uniquely rural political story.
But hold on, there's one more chapter. In a twist crazier than any M. Night Shyamalan movie, On Oct. 27, 2014, the residents of Whitewater Region voted Hal Johnson as their new mayor.
Shortly, after that election, I ran in to a Cobden resident I knew from my time as the community's only reporter. He was definitely one of the ones who came to the Cobden Sun with dire concerns over the price of tractors. I asked him how the community could vote Johnson in. He looked at me and with kind of a shrug told me, "we needed a change."
What does that story have to do with the upcoming Oct. 24 election? Not much. But I will let my all-time favourite politician (sorry, Eli, you're up there though, buddy) sum up. When I was at the Cobden Sun, I also covered Whitewater's neighbours Admaston-Bromley Township. Their mayor was the very long serving Rae Ann-Briscoe. She was the type of mayor who, in her home, had three things beside her favourite chair. A rotary telephone, a stack of newspapers and an ashtray. One truism she once told me (long before Tractorgate) that has stayed with me, this long anyways, was "even when the voters are wrong, they're right."
August's Top Five stories
August is often a slow news month, but not in 2022. Often August is when people head to the cottage. Community events are scarce, and politicians are quiet. But not this year. I chalk it up to the re-emergence after two years of COVID living. People are ready to wake up. So, not only were my weekends packed with events, West Carleton Online had some very nice numbers in August. West Carleton Online enjoyed 22,007 pageviews and here are our Top Five stories from August.
1. Fastball championship ready for Carp (498 pageviews, published March 17): We've figured this one out thanks to close statistical observation. It's not the first time a story from another month has made the Top Five of the month being dissected. Our guess on the reason is, it was about an event that would happen in August, and people wanted research, googling the event and finding us on the top of the google page.
2. Canada's best fastball players in Carp next week (435 pageviews, published July 26): As the event drew closer, so did the stories almost matching up to the correct month.
3. Dunrobin's Lamarche rescues three from Ottawa River (297 pageviews, published Aug. 3): We love hero stories and so do you.
4. McEwen's first book ode to Dunrobin (284 pageviews, published Aug. 22): We loved meeting first time novelist Jim McEwen. The Dunrobin native's keen observational skills came through, not only in his book, but in our interview.
5. Dunrobin's Drain withdraws from Ward 5 race (227 pageviews, published Aug. 15): Interesting the first 2022 municipal election story to make our Top Five was about a candidate leaving the race.
Here's six and seven to make up for the two stories not published in August:
6. Eldon's market opening a foodie's dream (214 pageviews, published Aug. 8): A cure for climate change, local food, and renowned local doctor Barry Bruce in heavy metal leather and spiked bracelets – we don't know how that story didn't finish higher.
7. Crown Point's Kelly to run for Ward 5 (189 pageviews, published July 20): The first 2022 municipal election candidate we covered was still racking up pageviews two weeks after the story originally came out.