McEwen's first book ode to Dunrobin
By Jake Davies - West Carleton Online
DUNROBIN – Award-winning writer, Dunrobin's Jim McEwen's first novel is a critically acclaimed ode to Ottawa Valley and his West Carleton home, thinly veiled as a fictional community.
Fearnoch, is described as an "insightful and illuminating debut about the decline of rural Canada and the meaning of community."
Fearnoch is described as an undistinguished Ottawa Valley farming hamlet in its twilight. The deterioration of the once fruitful way of life in the small town is explored through the lives and trajectories of its inhabitants, specifically four main characters.
McEwen was born and raised just outside the Village of Dunrobin on Woodkilton Road. McEwen, just days back from tree planting in northern British Colombia, sat down with West Carleton Online on Tuesday, Aug. 16 to talk about his first novel, his inspiration, and the place he calls home.
McEwen says he started working on the book in 2018. While not officially launched, Fearnoch was finally published last July.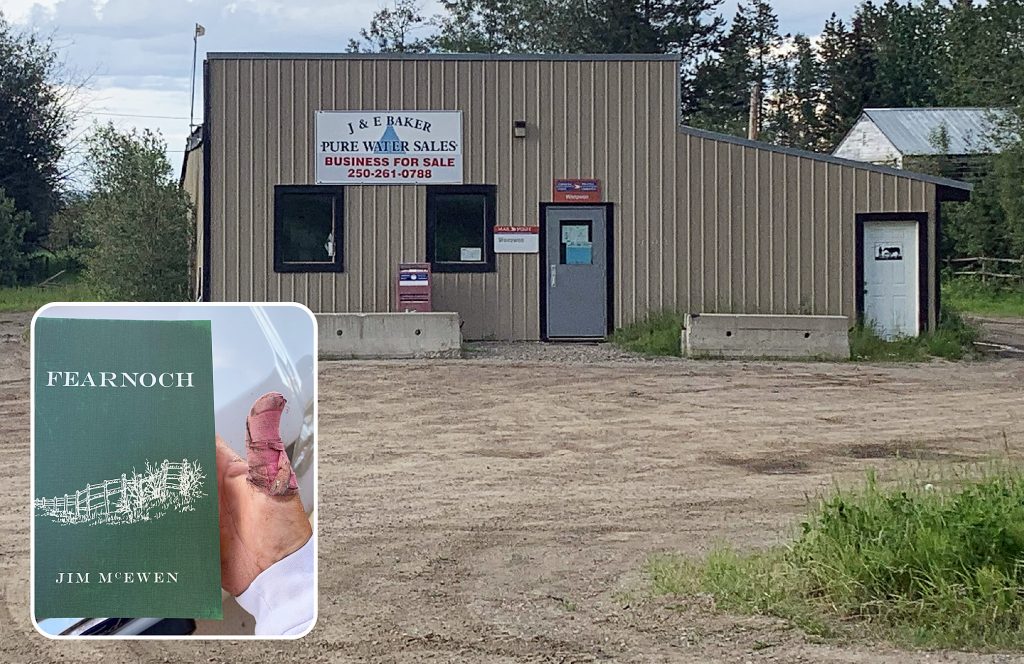 "You look at it so closely, for so long, you stop seeing the forest," McEwen said of his book. "Fearnoch is pretty much Dunrobin, but I took some liberties. There's some Carp and some Constance Bay in it. I still worry someone will take offense."
McEwen says a lot of what's in the book came straight from his home community.
"Almost everything I just stole," he only kind of jokes. "Everyone, whether they know it or not, can be very quotable. Things I've witnessed I think are sad, funny, sweet, I tried to steal them."
McEwen himself did not grow up on a farm, but the farm theme is prevalent throughout the novel and McEwen wanted to portray the lifestyle accurately.
"I tried to go in to the history a bit," McEwen said. "I spoke to a few old-timers and read some old history books on Carleton County and Torbolton Township.
Those old-timers include long-time farmers and community members who love their history such as George Kennedy (who wrote two columns for us on local Dunrobin history) and David Carroll.
"The more you go in to it, the more complicated it got," McEwen said. "I could have set the novel anywhere. Whether Toronto or here, every place is special in some way to the people there. George has such beautiful turn of phrases. David was very helpful. Just the way he spoke, his kindness, his hard-working ways. He was polite, but he had his eyes on things than needed to be done. If we all had a little more gratitude and humility. I think some of the people in my life still have that, mom and dad."
Despite growing up in the community, working on the book was a learning experience. The death of the family farm plays a big role in the story.
"I realized there was so much about the community I didn't know," McEwen said. "Farming is a big theme in the book for one character. That is something I hope I didn't show my ignorance of. Farmers are hard-working and self-reliant. The more I looked in to it, the more I realized I didn't know. It's not just growing crops or raising livestock. From equipment repair to watching the markets, there's a million little things they are doing. I hope I showed respect and love for it. The story is made up, but it has to be real too."
McEwen is a graduate of Memorial University's Creative Writing Master's program and has published work in Riddle Fence and the Telegram. McEwen was honoured with the Cuffer Prize (the Cuffer Prize celebrates short fiction in Newfoundland and Labrador) in 2015 and the Leaside Fiction Contest (for previously unpublished fiction) in 2019. Fearnoch is McEwen's first novel.
"I wanted to try writing in the third-person, because I had always done first person," McEwen said. "I always wanted to write a book, but I was very scared. And probably lazy. Putting that out there. What if I'm terrible? It's a lonely life. Writing comes when it comes. Sometimes it trickles out. There was lots of pacing around. Especially during COVID. I think I lost my mind. I would spend an entire day looking over three sentences. I didn't know what was going on in the world, I was getting more socially awkward every day. I'm hoping people like it so I can get out in the world and see people again."
McEwen said the first draft took a year. He finished it at a park in Kamloops, BC. He had eight per cent left on his laptop battery.
"I had to run to Timmy's to email it," McEwen said. "The whole thing has taken about four years."
Newfoundland's Breakwater Books publishing house liked the book. Their substantive editor read it, then the copy editor and then the layout editor.
"I was very lucky to have wonderful editors," McEwen said.
The story revolves around four main characters and "too many minor characters," he said.
"I was comfortable here growing up," McEwen said. "I loved it, and it deserves to be in a book. I may have leaned in to the Ottawa Valley trope a bit too much. I hope everyone can enjoy it. The Ottawa Valley is a beautiful place and I think I exploited that."
While Dunrobin and the Ottawa Valley are the backdrop of the story, in a way Fearnoch is the fifth main character.
"The four main characters are involved in an action that ramps up and up and up until, hopefully, they set aside their grievances," McEwen said. "Biologically, I think humans just need to fight, even if there's nothing wrong."
The book was finally printed on July 6. McEwen received his first copies by mail while tree planting in British Columbia, not far from the Alaskan border.
"I was in Wonowon, BC, waiting for my box of books," McEwen said. "It was quite a moment. The response from people I hadn't seen for decades was overwhelmingly positive."
And so is the response from several of his peers.
"Jim McEwen's writing is packed with frankness, humour, fury, and heart, leaving the reader gutted and full at the same time," author Bridget Canning wrote. "This book is a new Canadian classic."
He also received high praise from writers Benjamin Hertwig, Mark Anthony Jarman and Alexander McLeod.
"That was wonderful," McEwen said. "Sometimes your confidence can go up and down. It really helps having someone pumping my tires. They didn't have to do that. They took the time to support me, and it means so much. At some point you have to find a way to be confident in it."
Now McEwen's job is to promote it.
"I have to get this book out there," he said. "I am running out of friends and family to buy it. I'm really touched at the response I've been getting, and I hope people like it everywhere, but I hope the West Carleton community can accept things I might have got wrong and hopefully be proud and clear-eyed about a community I think looks really good in a book. There's a lot of character here."
Fearnoch, is available at several local bookstores including White Pine Books in Arnprior, Mill Street Books in Almonte and the last time McEwen checked, there were some copies left at Chapters in Kanata. You can also order it through Amazon, Indigo or through the publisher at Breakwater Books by clicking here.
McEwen will be hosting an author event at the Dunrobin Community Centre (1151 Thomas A. Dolan Pkwy.) on Friday, Aug. 26 from 3 p.m. to midnight. He will do a reading from the book around 6:30 p.m. and there will be some copies available for purchase. Bring your copy and McEwen would be honoured to sign it. Refreshments will be served.