Davies: The Silly Season
By Jake Davies - West Carleton Online
We touched on this in a 2019 column, but as it happens every year, it bears repeating, West Carleton Online and all media outlets are now firmly entrenched in the Silly Season.
A long-time former colleague, reporter and nemesis Peter 'Big Trouble for Big Business' DeWolf referred to it all the time. Often as an excuse to not write a story he wanted no part of, but also as a time of year when media outlets are thirsty for news.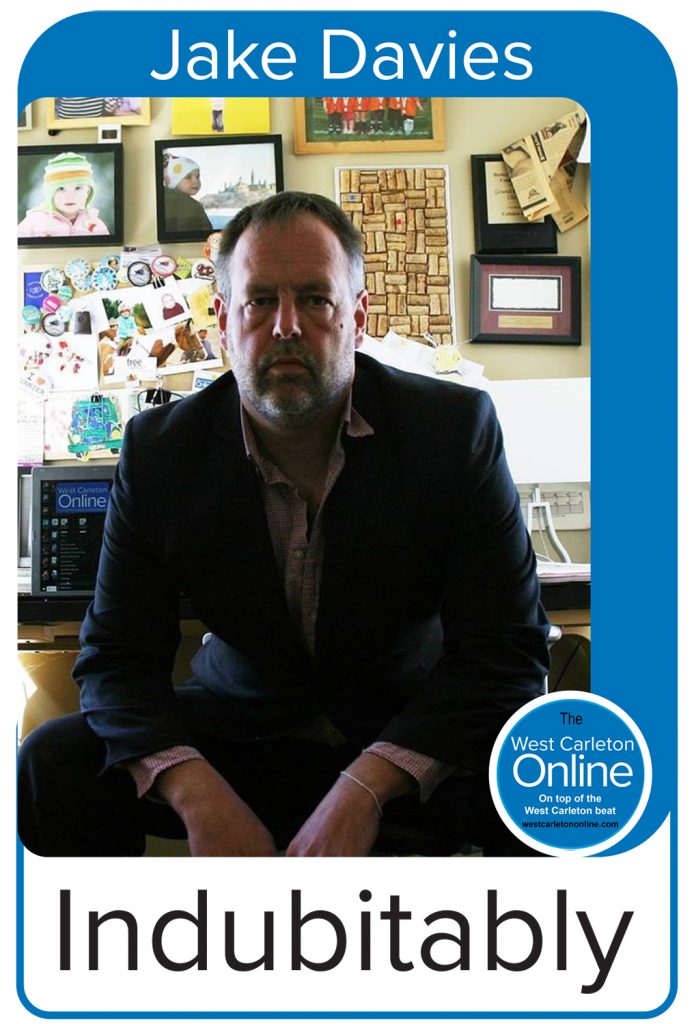 Summer is a time when politicians, community leaders, event organizers and news-makers take vacations or head to the cottage. News would come in at a trickle during the summer months, but the weekly deadline was unwavering. So, anything goes. It was like Fox News of yesteryear.
You have a cat that kind of looks kind of like a B-list actor? Run with it. You don't like paying taxes? I smell a scoop! It's hot out? Stop the presses.
Anything and everything was news. Every year DeWolf wrote a column about the Silly Season, mostly just cutting and pasting the previous year's column with a couple updated sentences.
And I'm happy to continue the tradition of the black-coffee drinking, cigarette smoking journalism legend we lost Oct. 4, 2016 at the criminally young age of 63. His reporter's lifestyle and work ethic were not conducive to a long life.
The Silly Season is here. West Carleton Online in a short amount of time (under five years) has established a tradition of publishing more West Carleton news than any other media outlet before us. How do we know that? Well, this publisher basically worked at every other West Carleton media outlet; competed against it; or at the very least, perused through it.
So, we have had a bigger, as we call it in the news business, newshole to fill than any other previous West Carleton media outlet. Perhaps you've noticed our Silly Season-type news, while skimming 'ditch primer' stories; admiring headlines filled with hyperbole like 'Galetta's historic skyline;' or reading think-pieces such as 'Keep pets cool when temperatures soar.'
It's slim pickings out there. But thank God this summer there's an election campaign.
We get, based on the spring provincial election just past (June 2) and the ensuing historic low turnout, absolutely no one cares. Our story on Fullerton's election win is evidence of that, finishing 32nd in our Google Analytics tracking of story views in the month of June (see our top five below). We wrote about that very risk in our last column titled Democracy's biggest threat published a full week before the actual election.
That's why we tricked you with all this preamble about the Silly Season. We tricked you into thinking this wasn't going to be a column about politics. But it is.
West Carleton Online doesn't learn from its data metrics and provincial statistics documenting the apathy ravaging Canadian politics at this time. I mean how else can you explain our publisher writing back-to-back columns on Canadian politics? It's lunacy, it makes no sense, it's the Silly Season. Well, you're halfway through now, you might as well slog on to the end.
Politics can be wild and crazy and entertaining to read. In 2000, in the very early days of my journalism career, I was witness to a sea-change in political ideology in Renfrew-Nipissing-Pembroke. The proposed gun registry swept out the ruling Liberal Party which had dominated the riding since 1979 with popular MP Len Hopkins followed by MP Hec Clouthier who had won in 1997. In 2000, the proposed gun registry was not popular with the Renfrew County community. Those who covered politics in Renfrew County know the Renfrew County hunt and game club was one of he traditional organizations that hosted all-candidates debates in that riding. Then-Alliance Party member Cheryl Gallant won that election and has dominated in seven more elections since, including the last one.
Gallant and Clouthier famously did not get along. In May, 2002 DeWolf had the thrill of covering the famous car chase along Hwy. 17 in a case of he-said-she-said between the two candidates. It started with a minor conflict at the Arnprior Tim Hortons, and continued down the highway in a weird, slow-speed, medium-speed car chase between the two, including lots of horn honking, light-flashing and fist-waving, ended when an OPP member, weapon drawn, pulled Clouthier over near Renfrew. Both of them spoke to DeWolf, both claiming they feared for their life during the chase, and they didn't know why the other was chasing them. After a brief investigation, no charges were ever laid.
Flashback, to the last provincial election. I was covering Kanata-Carleton, obviously. For the first time in as long as I can remember, there were no all-candidates debates. Mostly because sitting MPP Dr. Merrilee Fullerton refused to accept any invites.
Election night also provided a first for this reporter who has covered every single election at every single level since 2000. Election Night (June 2) was challenging to cover for both personal and professional reasons. In West Carleton Online's news coverage of the election, I promised I would share those experiences in a future opinion piece. They were partly personal, so it was unfair to include them in a news story.
The night of the election, (June 2) I was also coaching my daughter's Arnprior McNab-Braeside United Soccer U12 team. As reporters do every election, roughly a week in advance, I was collecting the addresses of where all the candidates would be on election night. All the candidates shared that information with us with the full knowledge, as is the practice of election coverage, win or lose they would have to talk to the press. Fullerton campaign manager Chris George replied with an address in Kanata and told us to come on over.
To make it work, literally one minute after the final whistle of the game I was coaching, I was ushering my daughter back in to my car, dropping her off without even a celebratory ice cream following our best game of the season, and racing off to Kanata, during record high gas prices, to catch the action. It was no surprise who was going to win that night.
Not soon after her arrival and victory speech, Fullerton did something I had never seen in 20+ years of elections coverage – she refused to speak to the media. I have covered elections in ridings all over Ottawa and the Ottawa Valley. I've covered every single political party. I've covered Conservatives Gallant, MP Norm Sterling, MPP Jack MacLaren and MPP John Yakabuski. I've covered winners and losers in all those elections. Not once have I ever seen a politician (win or lose) not speak to the media in that time. For good reason – it's their job as public servants.
I stuck around for several hours. I told George we have always treated Fullerton fairly in our news coverage. George, the same person who invited me to spend my late evening way out in Kanata said, and I quote, "if I let you talk to her, I have to let all the media talk to her."
I was dumbfounded. Of course you do, that's her job. Like the independent media, the MPP represents everyone – not only those who voted for her, but those who voted against her as well. Even those who didn't vote at all.
It was an interesting stance from an MPP who continually claims in her newsletter she's just a phone call away. She wouldn't even talk to West Carleton's only reporter just a foot away. And it puts West Carleton Online in a tough position. Our readers don't care if we have a beef with the MPP or not. They want to know what's happening in the riding at the provincial level and it's our job to provide that information whether we like, dislike or are disinterested in the sitting MPP. How else can we claim to provide the best political coverage of the Kanata-Carleton riding, as we do, if we don't cover all the politicians and all the parties?
The current campaign is a municipal one. Always my favourite to cover because there is no party politics; all the action is right in West Carleton-March (Ward 5); and all the candidates are connected to the community.
Enough of the past, let's look to the future and Oct. 24. We've got some mystery brewing in West Carleton. Ward 5 is the only ward in the city of 24 that has only a single declared candidate that isn't the incumbent. We spoke with Ward 5 candidate Clarke Kelly last week. He as much as admitted he has his work cut out for him if Coun. Eli El-Chantiry runs again.
While El-Chantiry officially removed himself from the mayor's race late last month, he says he has yet to decide if he will run for council. He officially told West Carleton Online at that time he would make a decision after Canada Day. We haven't spoke to him since then. No fault of either, we missed him at the Concerts in the Park kick-off and we missed him at Carp Fair bingo. We're confident he'll tell us when he decides. Were confident we think we already know.
We know, there are community members who think this outlet is in bed with the councillor. Some bravely tell it to our face behind fake Twitter accounts (that's how you know you have arrived as a media outlet). I've known El-Chantiry for just more than 20 years beginning before his election win in 2003. I've encountered El-Chantiry 1,000s of times in those two decades. I've written hundreds of stories for a number of media outlets with his name mentioned in them. He is an advertiser on West Carleton Online as is MP Jenna Sudds and occasionally MPP Fullerton who has provided a little more than a year of advertising revenue to us during her time in office.
Of course you develop a relationship with a person with those shared statistics. But I have only ever been in his home once in that time period. In 2003, when he held his election campaign party there. I had to choose where to go between the two favoured candidates in the 2003 election, which also included Dunrobin's Adele Muldoon. I guessed right in an election El-Chantiry won by less than 30 votes.
El-Chantiry has never been in my house, and I doubt he even knows where it is. He has never attended a personal milestone of mine in those 20-plus years.
My best guess is El-Chantiry will run. For those who have covered Ward 5 over the decades, they know El-Chantiry is never first to declare his candidacy. I think he likes to know who he's running against first.
West Carleton still has that small-town feel. There's roughly 9,500 residences and roughly 27,000 residents. It's the least populous ward in the city.
Incumbents always have a huge advantage in any election. People know what they're getting for better or worse. In a small community I feel that advantage is only heightened. It's a tremendous job to knock off someone with that kind of experience and that kind of face recognition, and an election campaign comes with risk and a financial cost. El-Chantiry has won four other elections since 2003 and not one was remotely close.
El-Chantiry still seems to love the job. He still attends every single meeting, he still goes to almost every single event and he still seems to love politics.
He claims he needs a break soon, pointing out he has been working every year since he turned 15 some 50 years ago. But our inside scoop, comes from his wife Maha.
"What else is he going to do?" she told us roughly a year ago.
June's top stories
The dog days of summer even reach Internet media outlets. Our pageviews for June reached 17,492, a couple thousand below our monthly average and that includes May when many residents of West Carleton were without Internet service for days while dealing with the fallout of the May 21 derecho.
Here are West Carleton Online's Top Five stories for June:
1. Dunrobin's Convery identified as Calabogie storm victim (published May 28, 323 pageviews): those pagecounts in parenthesis only represent June numbers. In total the tragic story received 1,298 pagviews as a popular West Carleton man was mourned by his community.
2. Weather experts say June 16 may bring 'likely tornado threat' (Published June 15, 218 pageviews): We were ravaged by a tornado in 2018. Just weeks earlier we were heavily damaged by a derecho. All of May and June was filled with severe thunderstorm warning. Ladies and gentlemen West Carleton now has a storm season.
3. Canada Day in West Carleton (published June 28, 204 pageviews): After those depressing top two stories it's no surprise West Carletonites were looking for an excuse to party. The local upcoming events story included a mention of Dunrobin's own celebration – the first at the community centre since the 2018 tornado.
4. Buy the Village Green goes out with donations (published June 8, 172 pageviews): A story 15 years in the telling, provides a somewhat happy ending for a project and group of people who hoped to protect some greenspace in downtown Carp they just couldn't raise enough money to do.
5. Popular WC teacher Wilson turns 80 (published June 7, 142 pageviews): When you teach an entire community, you can expect to have a long guest list at your 80th birthday. Bring books!
The next five most popular stories include the new owner of the Galetta Livestock Sales barn; a profile on NHL'er and Carp business owner Calvin de Haan; a Carp neighbourhood street party; the Dunrobin fire hall pancake breakfast; and El-Chantiry announcing he would not run for mayor.
All of those stories were reported on and written exclusively for West Carleton Online's subscribers and not available anywhere else or covered by any other media outlet. If you already enjoy West Carleton Online as a subscriber, tell your friends. If you haven't yet subscribed, consider supporting Ottawa's best community journalism for only $50 a year.