Davies: Democracy's biggest threat
By Jake Davies - West Carleton Online
To quote Anna Oldenburg, "for the first time in forever" there will be no public all-candidates meeting held in West Carleton, focused on West Carleton, during an election campaign at any level of government.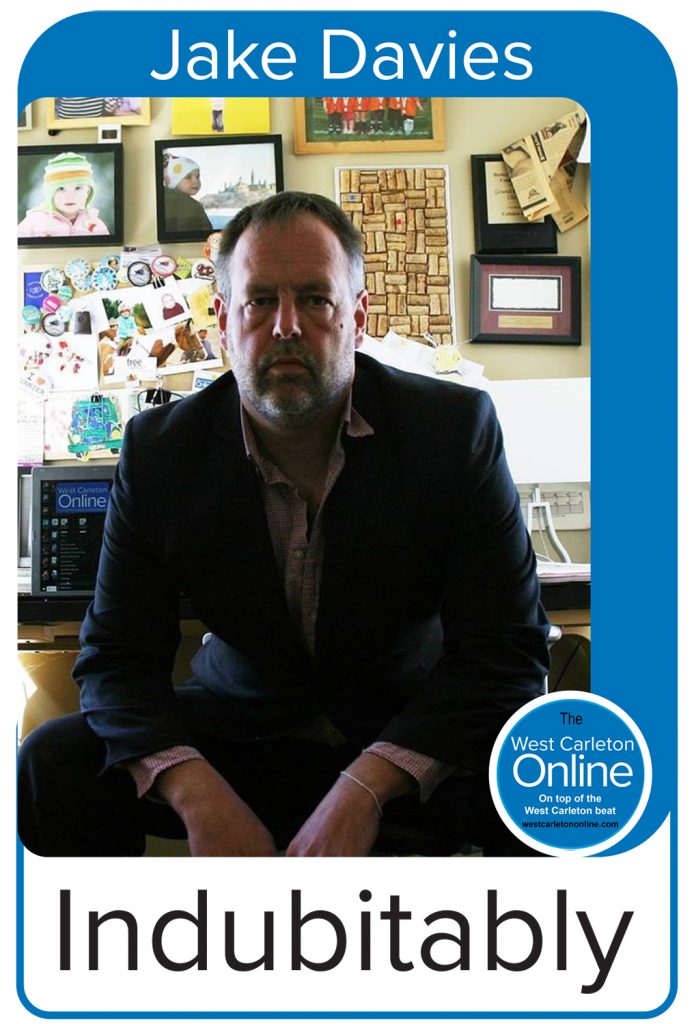 The greatest threat to democracy Canadians face is not mask mandates; it's not terrorism, domestic or otherwise; it's not mega-corporations. It's apathy.
I'm not a statistician nor a historian, but in the 20-odd years I've been covering West Carleton, covering all three levels of government, I do not remember an election where there wasn't one single all-candidates debate held in West Carleton. I bet we can go back decades prior to 2000 to find out when that streak started. It ends in 2022.
Even during the COVID election, the Huntley Community Association (HCA) and their hard-working volunteers managed to jury-rig an online debate, while not an ideal format, it certainly was the effort needed to ensure at least one campaign stop on the election tour involved an event organized by the community, not by the politicians themselves. It was the best anyone could do in outstanding circumstances.
This provincial election, the HCA was in the midst of organizing one, but incredible circumstances arose (again), a devastating derecho swept through West Carleton May 21 depriving much of the population of electricity and Internet service – key factors in hosting an online debate.
But even before May 21, just days before the scheduled event, organizers told West Carleton Online only two of the candidates had confirmed their attendance.
So, the HCA chose to cancel the event to focus on other priorities.
The Arnprior chapter of the Ontario Federation of Agriculture (OFA) also regularly hosted all-candidates' debates at the Kinburn Community Centre in the past. It was another opportunity, and one of very, very few for local voters to get the candidates and their party's perspectives on agricultural concerns. While the OFA's 2019 federal Kanata-Carleton debate is famous for Conservative candidate Justina McCaffrey's absolutely horrendous performance, the star of the show might well have been that Spatula of Power.
The OFA decided not to host a debate for the 2021 federal election due to the ongoing pandemic. West Carleton Online contacted the OFA and one other contact associated with the OFA a couple of weeks ago to see if they would be hosting a debate this year, but did not hear back.
In 22 years, I have covered at least one, usually two or three, all-candidates meetings per election at all three levels of governance. I even hosted one for Valley Heritage Radio in 2008. I've covered elections and debates, not only in Kanata-Carleton (and the various other formations of the riding), but in Ottawa Centre, Orleans, Renfrew-Nipissing- Pembroke ridings as well. Municipally, I've covered pretty much every ward in Ottawa, Renfrew County, Admaston-Bromley, Whitewater Region, Arnprior, Renfrew, Carleton Place and Lanark County to name a few.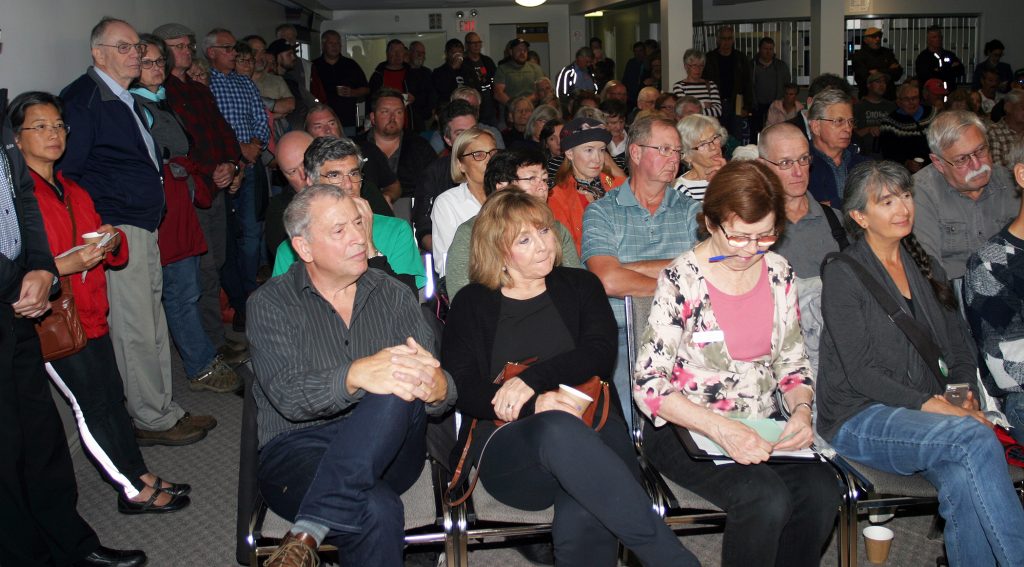 Not this provincial election though.
And I haven't heard a peep about it. No outrage. No convoy on Parliament Hill. Not even a strongly worded email. Nobody seems to care. Nobody seems to care our politicians are not attending community organized all-candidates meetings. These are the only campaign events candidates attend, especially incumbents, that they didn't organize themselves.
Professional sports teams have known this for years. They have spent millions researching it. They know, the one thing worse than anger for any sports franchise business is apathy. Sports team executives would rather read pages and pages of angry Facebook posts about their losing team, because that is still better than searching for public commentary on their sports team and finding nothing at all.
The less politicans need to rely on voters to find employment, the less reason they have to appeal to all of them. It's much easier to appeal to the voters who form in to small, let's say lobbying, groups; who go directly to the politician; and promise their support for a portion of the cost it takes to support all the voters. Especially when you are unsure which of those voters are going to bother to vote at all.
Do I have a vested interest in these events? Sure. But so do you. We are seeing the trend grow of the ruling party making themselves less and less available to the public during elections. Especially the Conservatives this time around. It's not just in Kanata-Carleton, it's province-wide. Conservative candidates are 'politely declining' to attend these public opportunities across Ontario. It is absolutely a strategy – if you don't say anything, you can't possibly say anything wrong. And it appears to be working.
I would say, to much disagreement I'm sure, MPP Fullerton has been slightly more available to this media outlet than some other Conservative candidates have been to the media outlets trying to cover them.
She sat down with us for a long conversation on Jan. 21 when she announced she would be running again.
Much to my surprise, her campaign team even provided a comment as to why the MPP would not be attending the HCA's event.
They said she is focusing on her door-to-door campaign. While statistics show door-to-door is the most effective campaign tool, it is an activity not exactly as wide-reaching as it may sound. For the most part, candidates themselves rarely knock on doors that don't contain party supporters. That information is easily available to every candidate. The other doors are knocked on by campaign volunteers who then take the abuse and check off the box on their list. Doors known to contain other party loyalists, usually just get a pamphlet stuck in the mailbox. I can tell you, from Lowertown, to Nepean, to Renfrew, to Arnprior, I have never once had a political candidate in any election knock on my door, unless they did it super quietly. I have found a couple pamphlets in my mailbox. Sometimes, I found them on my way out the door.
The only real public campaign event Fullerton has attended in West Carleton was a funding announcement for the Carp Fair on April 21. Those are obviously no-brainers to attend. It's bad form to bite the hand that feeds you. And of course, this fits in to my statement above of candidates only attending events they themselves organized.
Fullerton has stopped Tweeting. While Twitter isn't well used in West Carleton, it is a public forum. Not one of value, but public all the same. The last time the MPP posted a Tweet that came from her was on April 30 when she recommended people support local businesses. Not even a 'thoughts and prayers' type Tweet following the May 21 storm that affected many of her constituents.
Since April 30, Fullerton has just been re-tweeting other organizations' messages to her more than 9,500 followers on a semi-regular basis. All cards on the table, Fullerton advertised on West Carleton Online for the last year, but did not renew her contract a couple months ago. She is the only candidate not advertising on our site during this campaign. Although she is advertising in other media.
So, why are these public all-candidates meetings important, despite allegedly only reaching a small group of people? The Carp Mess Hall can only hold around 100 people. The Kinburn Community Centre can squeeze in a couple hundred. The other West Carleton locations used in past campaigns hold less than Kinburn but a little more than Carp.
The people who do show up for these meetings are the highly engaged voting public. Perhaps even undecided. These events reach many more people thanks to media coverage who have few other opportunities to cover candidate publicly. We've even seen CTV, The Citizen, sometimes CBC, at some West Carleton-based debates in the past.
It's an opportunity for candidates to show their ability (or sometimes inability) to lead; to answer questions under duress; to deal with negativity; and to be the political subject matter experts they claim they are.
It is important.
But now the fear is, with the strategy of planned disengagement seemingly working for the Conservatives, will this become the model for future campaigns from all our future ruling political parties? If it ain't broke, don't fix it.
If no one protests, if voter turnout remains the same, and the ruling party continues its reign, we will lose our democracy bit by bit, very quietly indeed. Political parties have long moved on from explaining how their platforms will do what they claim they will do. When a party promises huge spending or huge savings, we rarely get the how anymore.
So West Carleton will go through the provincial election campaign without the opportunity to address the candidates in public, on issues unique to them. Residents will not get to see all the candidates together on one stage at the same time to compare and contrast. Political candidates will not attend one community-organized election event in West Carleton this campaign.
And we (or any other media we track) have not published one word of public anger towards this issue. We haven't received one Letter to the Editor on the lack of public discourse. Not even one off-the-record email about these troubling events.
West Carleton hasn't gone through one calendar year without a major environmental or health disaster since 2017. Two floods, one tornado, one pandemic lasting two years and officially still counting, and now the May 21 derecho. And what do all these events require for us to get through these life-changing incidents as unscathed as possible? Strong political leadership. We need more financial, social and emotional support from our governments than we ever have, and we need to know how it will affect our pocket books down the road.
If we no longer hold our politicians accountable, not through angry words and protests, but through the most boring, yet most effective method available – our vote, I guess we no longer need the public discourse our community volunteers provide through the organization of these all-candidate debates. I disagree. It's time again we set the agenda for our politicians, not the other way around.
A long-time colleague of mine, the late, great Peter DeWolf, was always fond of saying we get the government we deserve. It we continue to accept the silence from our political leaders, we are telling them hey, you do you, and we'll just deal with the fallout as it comes our way.
West Carleton Online's Top Five monthly stories
It's been three months since the monthly column Indubitably has been published. Here is a streamlined look at the Top Five West Carleton Online stories published in March, April and May:
March (16,890 total pageviews)
April (14,846 total pageviews)
May (up to May 30 – 18,945 pageviews)