Dr. Etches: COVID-19 climbing in the community
Special to WC Online
OTTAWA – Ottawa's chief medica officer of health Dr. Vera Etches, is concerned about the current COVID-19 wave, noting high levels in wastewater testing.
"Thank you, Ottawa, for your ongoing support and efforts as we tackle yet another wave of COVID-19 in our community," Etches released in a statement today (July 21). "Today, the province announced children aged six months to under five years will be able to book appointments for the paediatric COVID-19 vaccine as of Thursday next week (July 28) and immunocompromised youth aged 12 to 17 are now eligible for a second booster. We welcome this news, another great step forward in protecting our community and minimizing the impacts of COVID-19 on families, particularly during this latest resurgence."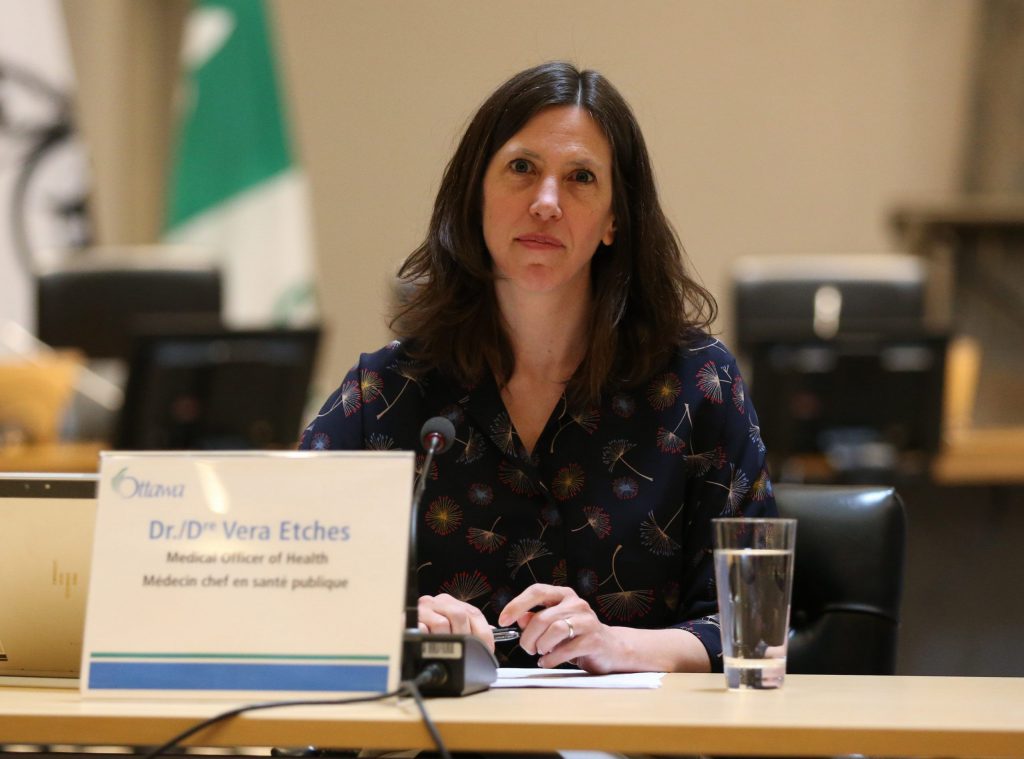 City staff are reporting increased levels of COVID-19 in City of Ottawa wastewater.
"I am concerned about this current wave," Etches said. "We are noting very high levels of COVID-19 in our wastewater and week after week this has been increasing. Our test percent positivity is also very high and increasing and our COVID-19 hospitalizations and confirmed outbreaks are both increasing as well."
This is indicative that the level of COVID-19 is very high in Ottawa right now, higher than the January Omicron wave.
"We know that Omicron and its sub-variants are much more transmissible," Etches said. "We also need to remember we cannot rely on immunity alone to protect us. The newer Omicron sub-variants are different, and even people who previously had COVID-19 earlier this year could be susceptible to reinfection."
Etches says, now is the time to reassess and adapt our behaviours to the levels of COVID-19 in the community.
"This is an important skill we will all need as we head into the fall," Etches said. "Wearing masks indoors and outdoors in crowded spaces, staying home when sick, getting booster doses, and minimizing contacts during periods of high transmission in the community are all behaviours that will help us, our families, and our loved ones. Individual actions help influence community impact. For Ottawa residents who continue to use layers of protection, thank you for leading by example. We all need to continue to assess our risk and the risk of those around us, particularly during this resurgence."
The pandemic is far from over.
"The warm weather has brought some much-needed respite from those hectic winter months, but now is not the time to let our guard down," Etches said. "Despite not seeing rates of severe illness and hospitalizations climbing as quickly as with previous waves, we need to remain mindful of the effects of COVID-19 on older adults, those with chronic health conditions, those who remain unvaccinated, and those who are immunocompromised."
Among older adults, those aged 60 and over remain at high risk for severe illness and complications from COVID-19, yet more than 25,000 Ottawa residents over the age of 60 have yet to access their third dose (first booster), and more than 88,000 still require their fourth dose (second booster).
Nearly 900,000 Ottawa residents have received two doses of a COVID-19 vaccine, and nearly 600,000 have received their booster dose.
"I thank you for doing your part to help protect the community and in the face of Omicron and its sub-variants, we know two doses are not enough," Etches said. "Now is the time to get your booster dose if you have yet to do so. Now is also the time to reach out to friends and loved ones who are not yet vaccinated or boosted. Talk to them about why you chose to get your shots. Talk to them about why it is important for them to get theirs. Show them you care. If they have any questions, our nurses are always just a phone call away. If they have barriers preventing them from accessing their vaccines, we can all help. Offer them a ride or help them to book an appointment at your local pharmacy. If people you know are not wearing their masks, lead by example. Encourage them to bring their masks with them when going out. You never know if the people you meet will be at higher risk."
The pandemic has had, and continues to have, significant impacts on the business community.
"We all continue to have a collective responsibility to reduce the transmission of COVID-19 in our respective environments, including at local businesses where people may be at risk," Etches said.
Ottawa Public Health continues to strongly recommend everyone wear a mask indoors and outdoors if distancing could become challenging or is not possible.
"Many businesses continue to require, encourage and welcome mask use to reduce risks for both staff and customers, and, based on the current situation, others may choose to reintroduce masking policies in their place of business at this time," Etches said. "Businesses can also lead by example and encourage small actions that can make a big impact."
This includes keeping physical distancing reminders in place and posting signage in their store fronts to let customers know that measures are in place to help reduce their risks when inside, like welcoming mask use, ongoing use of barriers, visual hand hygiene reminders, providing hand sanitizer on-site, and supporting and encouraging employees to get vaccinated and get boosted, and stay home when they are not well.
"Together we can make a difference on the impact of COVID-19 in our community," Etches said. "The decisions we make today will help us all tomorrow."