Renfrew native Stewart a force in Carp
By Jake Davies - West Carleton Online
CARP – Renfrew native Jennifer Stewart has put her stamp on Carp since moving here in 2016, raising her family, headquartering her several business interests, and volunteering her precious little free time here in the community she now calls home.
Stewart is the founder and chief executive officer of Syntax Strategic, a strategic communication and public affairs firm working for clients across the country which has created seven-figure revenue numbers annually the last two years. Last November, Stewart opened Carp's newest yoga studio with partner Vanessa Sorgard. Stewart is currently renovating two business properties along Donald B. Munro Drive through the village. She is also a co-host and executive producer along with Catherine Clark of the popular podcast The Honest Talk which focuses on long-form interviews with several of Canada's female leaders in a variety of fields.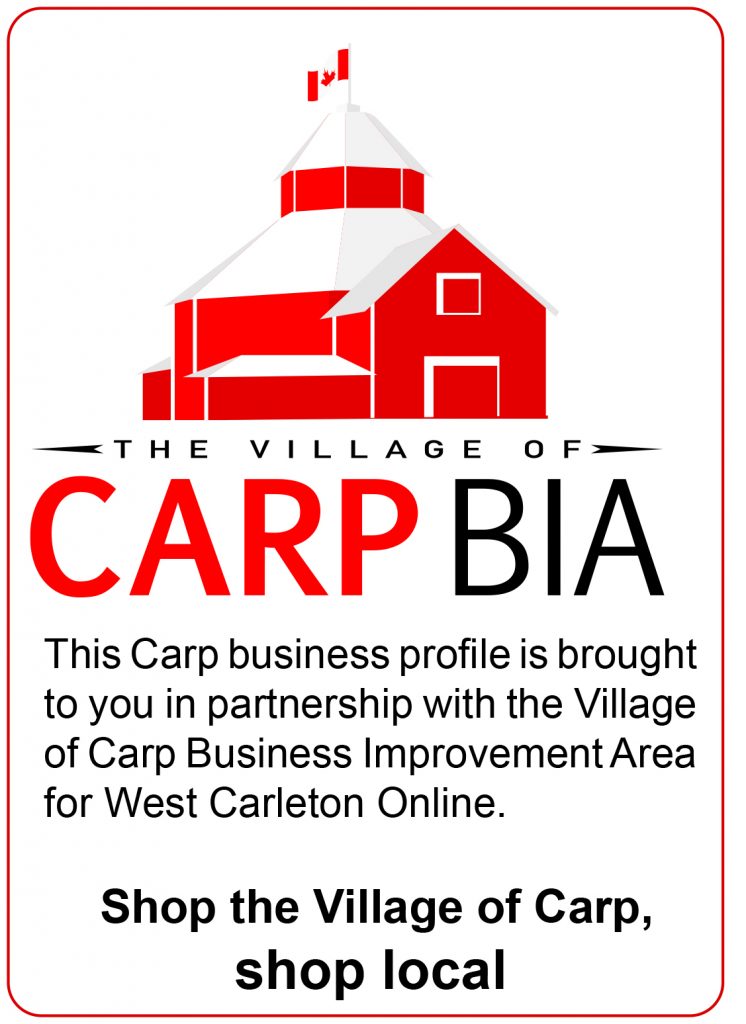 The active volunteer is the board chair of the Village of Carp Business Improvement Area (BIA). And in the meantime, Stewart is a very active mom to her children Wilson, 9, and Maxwell Grace, 7, who has never missed a field trip, and doesn't plan to.
Stewart's husband Kevin, a retired member of the Canadian Forces, operates Ottawa Valley Grain Products, Carp's oldest business.
"Carp feels like home," Stewart told West Carleton Online over lunch at Carp's Juke Joint Soul Kitchen Friday, Aug. 13. "I want to give back to this community. I want to contribute."
At 36, Stewart started fast, worked hard and moved forward without fear.
"Both my parents were business owners," Stewart said. "I was never intimidated to do my own thing."
Stewart studied journalism at Carleton University, and soon after school found herself in Huntsville working for the local newspaper. While working in Huntsville, Stewart discovered the mayor at the time also had a communications firm in Toronto. He persuaded Stewart to make the move.
I couldn't even contact my husband," Stewart said. "He was in Kandahar. I always wanted to be behind the scenes, and I loved writing."
At 25 she left that job and started her own business Syntax Strategic. Stewart says the company just started growing organically from there.
"I had a baby and I had to hire," she said. "At the age of 30 I had six staff and two children. I love it. It was my dream."
It was natural for Stewart, because that's how she grew up.
"My mom (Jane Wilson) was a lawyer and judge with four kids," Stewart said. "Her office was downtown on Raglan Street. She was always home at 4:30 p.m. I believe you really make your own environment. We've got great trust in our employees. The office is our home base even though I can work from home. Our clients are very happy to come to Carp."
Although Stewart was not immune to hearing negativity about her decision to start a business and a family at under 30.
"What drives me is proving people wrong," Stewart said. "We now have 15 full time staff, all women. I pride myself in bringing women in and compensating them well. We have been successful by bringing in smarter people than me. I think I've developed Teflon. In my 20s, I was much more sensitive. But if all someone is going to do is criticize me, I have very little time for them. I've created my success on my own terms."
Although others have noticed her success as well. In 2017, Stewart was an Ottawa Business Journal's Forty Under 40 Award recipient and in 2019 named a Businesswoman of the Year finalist with the Women's Business Network of the National Capital Region.
The federal election call last week signalled the start of a very busy time for Syntax Strategic and Stewart. Many of her clients are watching the outcome very closely.
"We're non-partisan but a lot of our clients receive funding wholly from the government," Stewart said. "It's going to be a really busy time. I always advise our clients to be as transparent as possible. My clients ask, how do we spin this?' I say we don't. We want to be as honest as possible."
Stewart's role as a high-profile specialist in crisis communications, means during the election campaign Stewart regularly finds herself in front of the camera, speaking to broadcast media such as CTV, Global and CBC as an expert opinion.
"I try to be as neutral as possible," Stewart said. "I think how politicians communicate to Canadians determines their success."
Stewart's comfort in front of the microphone has led to one of her most recent projects The Honest Talk – a popular podcast focusing on Canada's female leaders in a variety of industries who are balancing their professional lives with their personal lives.
Stewart co-hosts and co-produces the podcast with good friend Catherine Clark. The roughly half-hour podcast is a deep dive in to the challenges and triumphs The Honest Talk's guests have faced and overcome on their way to becoming captains of industry.
For Stewart, the podcast was another opportunity to explore the unique challenges women face in the workplace.
"How do we bring women together and chat and support and redefine the workplace so they can thrive?" Stewart said.
The podcast launched roughly a year ago just as the COVID-19 pandemic was picking up steam in Canada and is now 32 episodes deep.
"We decided to go ahead, and it's been a highlight of COVID," Stewart said. "We've spoke to women I've admired from afar."
Some of those women include Globe and Mail parliamentary reporter Kirst Kirkup; MP Dr. Jane Philpot; three-time Olympic champion Marnie McBean; Newfoundland comedian Mary Walsh; former deputy leader of the official opposition Lisa Raitt to name a few of the 31 guests.
"You see these women on TV and you realize you have more in common with them than you thought," Stewart said. "It's a real unifier. we are interviewing women, but I think feminism is being driven by women and men. I am who I am because I have a supportive husband. We're very mindful of being open and pointing out it is not an individual race."
Stewart says the long-form interview format, allows the hosts to really delve into what makes their guests tick, and how they became some of the country's greatest leaders. Having the time to talk, often leads to surprising conversations.
"When we had Jane Philpot on, I was surprised how candid she was about the impact of losing a child," Stewart said. "Every one of the guests has had someone that has supported them. When I asked Jane about confronting the government, I asked her if that was hard. She said it was nothing compared to losing a child, and of course that made sense."
Exploring these challenging topics can only happen when there is the time to talk, as is the case with the long-form journalism of The Honest Talk.
"I think people crave it," Stewart said. "Getting to know someone individually, that they admire, or someone that has accomplished something incredible, it is storytelling and there is a desire for it."
Stewart says The Honest Talk, which recently signed a sponsorship partnership with RBC, is getting thousands of downloads per episode.
Stewart is also busy with her bricks and mortar businesses as well.
Squeezed in between lockdowns, Stewart launched the Village Yoga and Wellness Boutique with yogi Vanessa Sorgard last November (2020).
"I love yoga, I'm not a teacher," Stewart said. "I took a week vacation last year and spent the week imagining a studio. I brought the business acumen, and she brought the yoga expertise."
In 2021 Stewart is also renovating two business properties she operates. The former Chinese Garden Take-Out and the Pawsh Pets building, both located on Donald B. Munro Drive.
"I like that, in a small way, it makes the village a better place," Stewart said of the work.
Stewart has been a volunteer member of the Village of Carp BIA since 2017, shortly after moving to the community. Stewart has a long history of volunteering her expertise having previously spent time volunteering with the Women in Technology (WiT) Scholarship board, the Cancer Champions Breakfast Leadership Council, Kanata Food Cupboard, Women in Communications and Technology and the TedX Kanata committee.
"It's time well spent," Stewart said. "Mom and dad taught me if you're given something in life, you have to give back. The people on the BIA are friends. It's a really charming and unique community. Carp is a great place. I love the feel. You come in from the city and you feel an instant sense of relief. It feels friendly, like a community. And that's something I think a lot of places lack."
Stewart is pleased to see the community continue to grow, but is wary of unchecked development.
"It's grown from a sleepy community on the outskirts of the city, to a happening place," she said. "I think we have to manage growth now, so it continues to be the great community it is."