El-Chantiry: 'Councillor of the kitchen'
By Jake Davies - West Carleton Online
KANATA – It's getting hot in here.
Last Thursday (Nov. 24) evening, former Ward 5 councillor Eli El-Chantiry sat on a pretty, white leather chair, under the lights, and took it.
It was a highlight of the Dave Smith Youth Treatment Centre (DSYTC) Village of HOPE Roast and Toast of El-Chantiry and Mayor Jim Watson in what turned out to be an incredible fundraiser for the charity's efforts to pay for a now under construction youth treatement centre in Carp.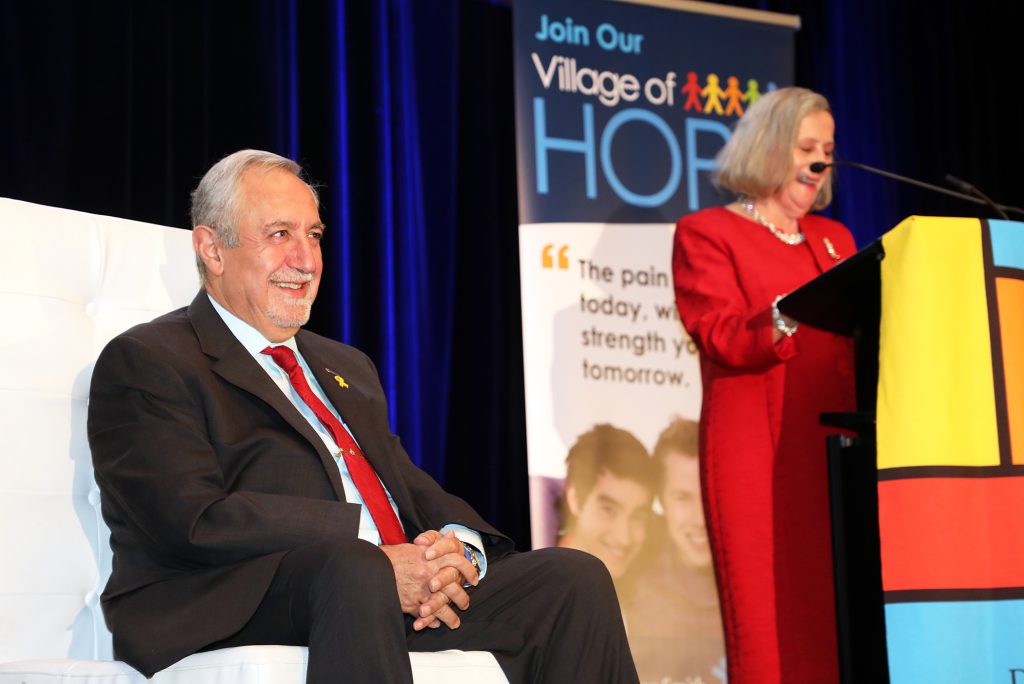 More than 250 people, including several recognized from West Carleton, filled the Brookstreet Hotel's ball room to enjoy an evening of laughter and pointed jabs helping raise more than $100,000 for the construction project.
The gala event included a four-course meal, a silent and live auction, the second of which West Carleton Online witnessed raised close to $10,000 in minutes with only a few items on the block.
Event organizer DSYTC's Cindy Manor spoke about her personal experience with the organiztion and founder Dave Smith. Her son Hunter is five years sober after a years long struggle following a brain injury that led to depression that led to drug addiction.
"I have a daughter-in-law who I love dearly, I have two grand-puppies, I love them, but most of all, it gave me my son back," she said. "I am so grateful Dave and Darlene stepped out to do this when no one else wanted to talk about addiction and mental health."
Manor speaks openly about her and her family's story because of the importance of creating awareness on the issue while eliminating the stigma that constantly surrounds mental health and addiction.
"When I mention COVID exacerbated things, the things we see in our children coming to our centre, 81 per cent of them are suicidal. That's a 17 per cent increase since COVID. That's alarming for me. Depression is at 100 per cent, that's a six per cent increase since COVID. Anxiety is up 79 per cent which is a 12 per cent increase. Trauma is at 95 per cent increase which is a 10 per cent increase. Our kids need our help. We need your help."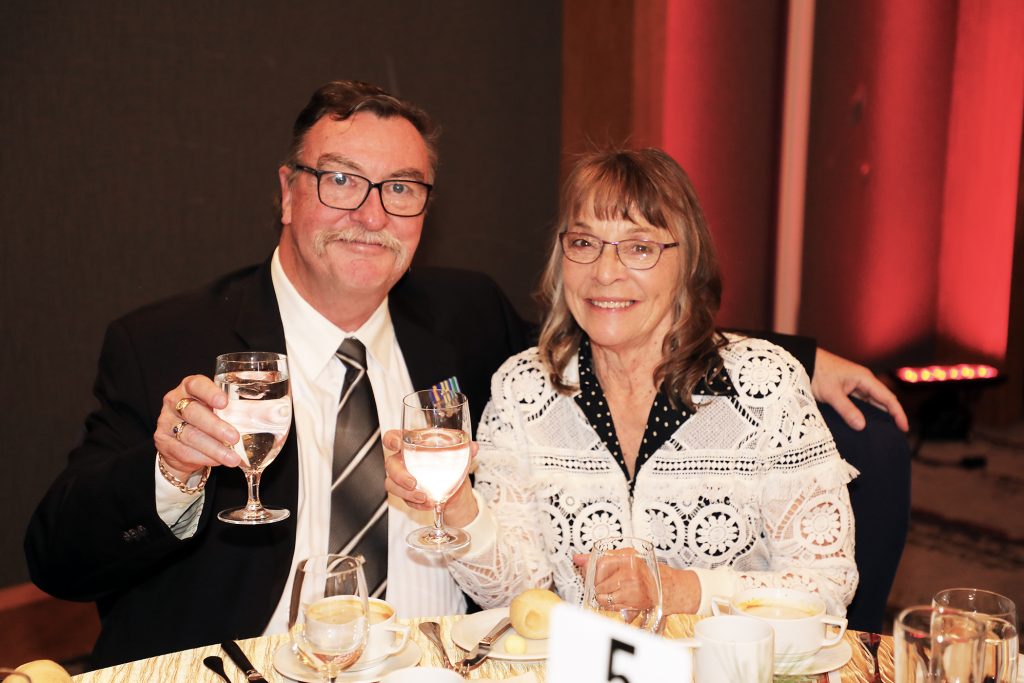 After dinner the roasting began with Eli the first to be placed on the white chair of attention.
Roasters did not hold back and the man on the hot seat wasn't the only one in the crosshairs.
Retired senator and former Ottawa police Chief Vernon White was the first to roast the 19-year politician, all the way from Finland in a video, no less.
"Most people know Eli is a Liberal, except for the thousands that voted for him in West Carleton," White said from the safety of a foreign country.
The Conservative leaning White and El-Chantiry have been long time friends since meeting in Ottawa.
"Thank you for being a wonderful advocate for the city and the country," White concluded.
The former senator stepped down just last September before moving from the Carp area.
Next up, was former councillor from the neighbouring ward in Stittsville and former alleged "Watson Club" member Scott Moffatt.
Moffatt joked about the extravagant lifestyle councillors lead, well, at least 15 of them, at City Hall, including private rooms at the Chateau Laurier.
"We're counting our unmarked bills that we get from developers," Moffatt said. "I love Eli. I only say mean things about people I love. You will never hear me say a mean-spiritied thing about Riley Brockington."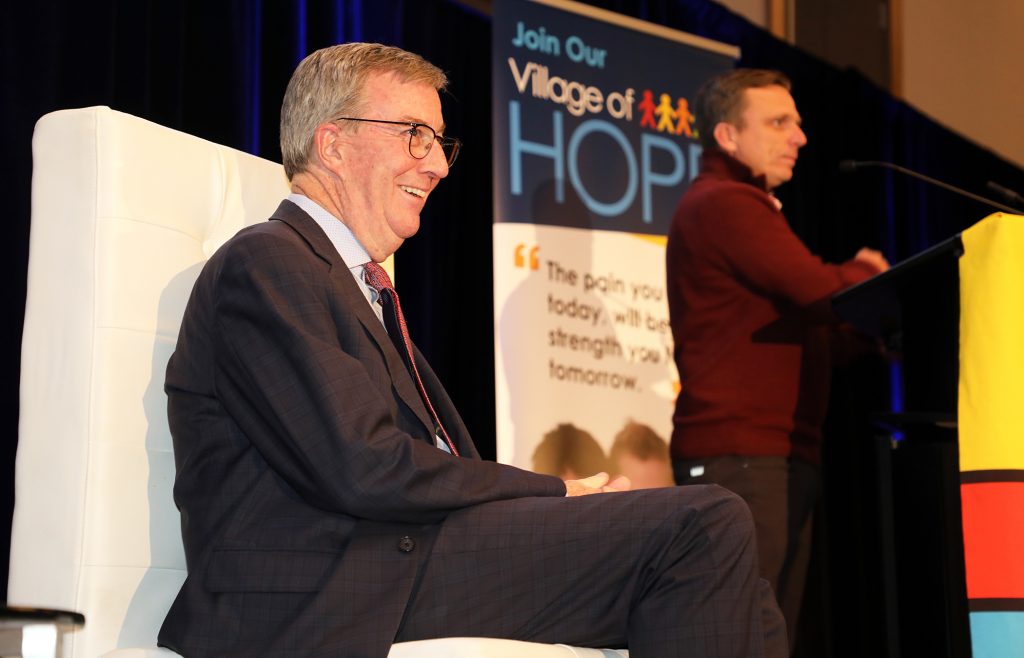 "I remember meeting Eli back in the 2010 election," Moffatt said. "I was still young, and you were older. I was running against someone equally as acient as Eli. Glenn Brooks."
Moffatt told Eli exactly how he was going to win the election and then told El-Chantiry what to do for the next 12 years.
Moffatt then unveiled the incredible conspiracy the so-called Freedom Convoy was created just to return El-Chantiry to the Ottawa Police Service Board chair position.
Then the roast got personal. Eli's wife took the podium. She spoke of the time she first met him.
"When I first met him I was not impressed at all," she said.
But Eli eventually wore her down.
"Every day you ask me how I look," Maha said. "What am I supposed to say? We took vows. I've told you you look great for 42 years. Forty-two years, isn't that wonderful? Who could resist such a man? He tells me he loves me every morning and every evening. That's because he knows the community likes me, more than they like him."
Maha pointed out since Eli left City Hall he has worked hard to become "councillor of the kitchen."
Maha said Eli wants an award for manning the barbecue at all the community events. He thinks it's rocket science to operate one.
"What's so difficult?" she said. "You turn it on, you put the meat on it, you flip it over once, you take it off."
But she did have some kind words for her husband after 19 years of public service.
"You my dear, have been a gift for this community," Maha said. "You have touched more lives in this community than you will ever understand."