Trip down El-Chantiry memory lane Jan. 14 a fundraiser
Special to WC Online
CONSTANCE BAY – Four Constance Bay-based volunteer community organizations are combining forces to present a retrospective of 19-year politician Eli El-Chantiry's impact in the community which also includes more than 12 years as owner of The Lighthouse Restaurant and Grocery.
"Join us on Saturday, Jan. 14, 2023 at 6:30 p.m. as we celebrate El-Chantiry's 33-and-a-third years of leadership, compassion, and generosity," Constance and Buckham's Bay Community Association (CBBCA) communications director Ana Helpin released in a statement yesterday (Dec. 14). "Since diving in to the Constance Bay community back in 1989 the causes and people Maha and Eli have supported is almost beyond imagination; on Jan. 14 we will pay homage and reflect on our two extraordinary citizens."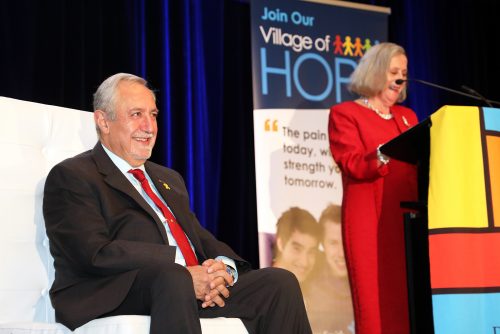 The evening is presented in collaboration with the Rural Root Theatre Company, Royal Canadian Legion Branch 616, the parishes of St Thomas & St Gabriel's, and the CBBCA.
"This will be a walk-about and mingle celebration evening of entertainments and light snacks; advance tickets are required but reserved seating is not available," Helpin said.
If you have a great photo, momento, or anecdote to share and/or are able to contribute an item to our silent auction please send us an email.
"All proceeds will support charities of Eli's choice," Helpin said. "Get your tickets in advance to enjoy a social evening and show your appreciation."
Tickets are only $20 each (just last month the going rate to roast the councillor was $200) for the fundraiser which will be held Saturday, Jan. 14, starting at 6:30 p.m. at the NorthWind Wireless Fibre Centre (262 Len Purcell Dr.).
Advance tickets are required with a donation of non-perishable food for the WC Food Access Centre or a gift of new underwear to Savvy Seconds. All proceeds will support charities serving West Carleton.