City working on reaching rural populations for COVID-19 assessments
By Jake Davies - West Carleton Online
WEST CARLETON – Ottawa Public Health (OPH) is still working on a plan to reach "vulnerable populations" including rural areas such as West Carleton chief medical officer of health Dr. Vera Etches said in today's (April 15) COVID-19 city update.
Her answer was in response to a question from West Carleton Online asking if there had been progress in the city's COVID-19 ability to assess rural residents following a March 16 inquiry by Coun. Eli El-Chantiry.
As the pandemic started to grow in the area following the March 11 reporting of Ottawa's first confirmed case of COVID-19, El-Chantiry wanted to know how OPH would serve his, and the city's other, rural area.
"I asked (general manager of Emergency Services) Anthony Di Monte if there is the possibility of a mobile testing unit to visit the rural areas," he said. "I don't want people from Kinburn to have to drive all the way to Brewer Arena. They might not be sick now but driving to a place with thousands of people might not be a good idea."
Today, West Carleton Online wanted to know if the city had moved forward on filling that need.
"The Ottawa Hospital is leading a response that includes considering how to get services out to all areas of the Champlain District including rural," Dr. Etches said. "So, our health system partners are working on increasing their ability to go out to the vulnerable populations who need testing, even in their homes. This is something that there is a number of different strategies being investigated whether its paramedics or family doctors. So, I think the best update would come from our health care partners who are planning to talk about this system of testing vulnerable populations, wherever they are, very soon. These are populations where we want to decrease the barriers."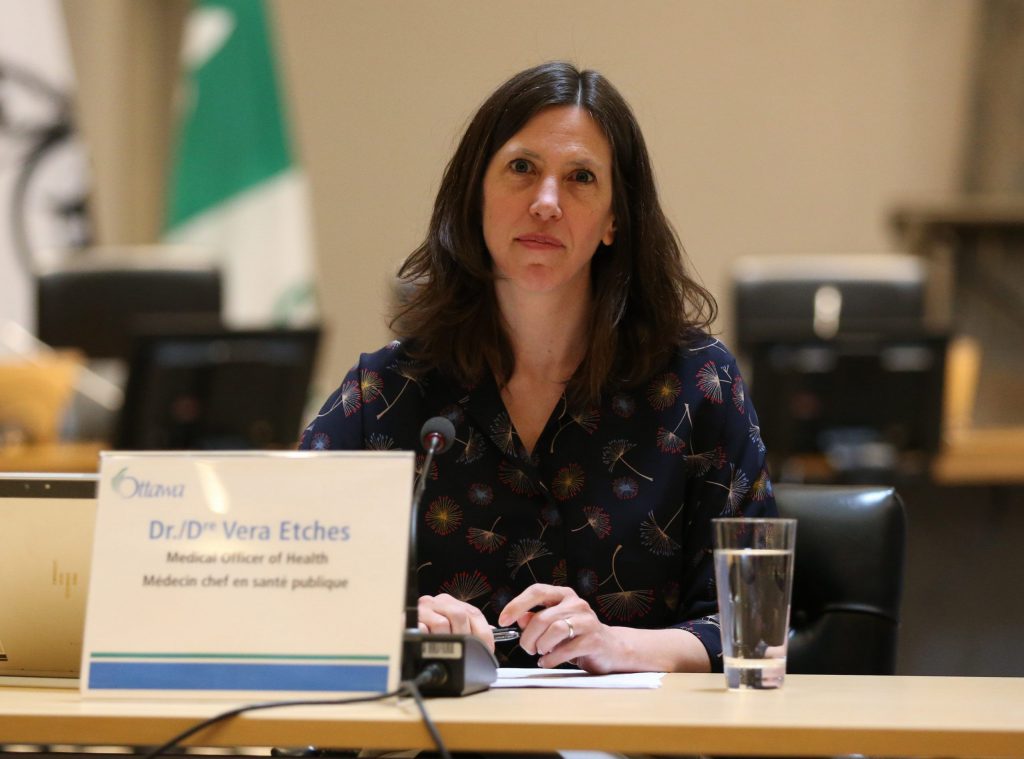 Etches also shared the most recent city numbers with the media taking part in the Zoom video conference call that also included Mayor Jim Watson, Emergency Services chair Coun. Keith Egli and general manager of Emergency Services Anthony Di Monte.
"As of 4 p.m. yesterday (April 14) there are 643 lab-confirmed cases," Etches said. "There were 24 new cases, 244 resolved cases, 41 patients in hospital and 18 in the Intensive Care Unit."
There was one new death bringing the total to 13. Eleven of the deaths involved victims more than 65-years-old.
Etches said the work the community is doing, especially in terms of physical distance, is working.
"It's been a month since I first asked people to restrict contact with others," she said. "This has been a major change for people. You are the reason why we are able to manage our health resources right now. The public, for the most part, has done an excellent job. It's working."
City health leaders also wanted to clear up some information on social gatherings as well. While gatherings of five or more are illegal, and the city is frowning on driveway parties, you can chat with your neighbours. You can have "a beer or a lemonade over the fence."
"You can talk to your neighbour as long as you keep the two-metre separation," Etches said. "You are doing your part. In fact, I would recommend you check up on your neighbour. We need to treat each interaction with people as a risk for transmission."
Etches warned there is still more work to do though.
"We're not over the peak of the curve yet," Etches. "There is some suggestion, when you look at the information, things are going well. Hospital and ICU admissions seem stable. We're still going up, but it's not a rapid increase."
Students won't be returning to classroom May 4
ONTARIO – Premier Doug Ford says he now doesn't expect students will be returning to the classroom on May 4 as previously indicated.
Ford made the announcement Tuesday (April 14), however, he said this does not mean the remainder of the school year has been cancelled.
Education Minister Stephen Lecce is expected to make a further announcement in the coming days.
An e-learning plan is currently in place for students which sets standards for different grade levels, ranging from five hours of work per week for Kindergarten to Grade 6 students and 10 hours of work per week for students in Grades 7 and 8.
The education minister said the plan will also require final report cards for all students and prioritize keeping them on track to graduate.
Agriculture minister says higher prices, less food on the way
CANADA – Agriculture Minister Marie-Claude Bibeau says Canadians could see higher prices and less variety of food on store shelves this year.
Bibeau's confident the country has enough food but acknowledges COVID-19 is creating challenges across the agricultural industry.
Labour shortages on farms and outbreaks of illness among employees at processing plants are two current issues affecting the food supply.
The federal government announced millions in new spending for farmers earlier this week, including money to help employers of temporary foreign workers and to increase the number of food inspectors.
Bibeau says more ways to help are being explored, including how to get students and others into farm jobs and increasing financial support direct to farms.
She says now that the government has put in place major financial assistance programs for most Canadians, the focus can shift to helping specific sectors, like agriculture, more directly.
Ottawa hotel industry hit hard by COVID-19
OTTAWA – Ottawa hotels are hurting the Ottawa-Gatineau Hotel Association (OGHA) says.
Many local hotels have shut down and others only operating at five per cent capacity.
"When you close borders and restrict travel, hotels' livelihood is dependent on movement and people requiring overnight accommodation," OGHA President Steve Ball released in a statement, adding that the sector has been "decimated."
His organization has just under 60 members, and roughly 30 have closed.
Ball estimates occupancy in the ByWard Market is "under five per cent, on average."
This has led to hotels employing a skeleton crew at most locations.
The OGHA employs roughly 6,000 people, and Ball says about 5,000 have been laid off.
Ball says there are still some hotels seeing business during the pandemic. Many are accommodating frontline healthcare workers who are self-isolating, and are prepared if health officials start requiring workers to self-isolate.
"Should we end up having that requirement, there are several hotels that can accommodate," Ball said.
He is optimistic once COVID-19 recedes, the hospitality industry will pick up steam.
"We're not dependent on a huge international market," Ball said. "We have a high domestic customer base and we've also got a lot of federal attractions, so it's our hope that once we get into the recovery phase, Ottawa will be in pretty good shape."
Country Haven now has 18 COVID-19 deaths
ALMONTE – Almonte Country Haven has lost two more of its residents due to COVID-19.
The outbreak at the long-term care home has now claimed 18 lives.
"All of us in the extended Almonte Country Haven family are grieving these losses," said home administrator Carolyn Della Foresta yesterday (April 14).
She explains the home's staff continues to have full access to the appropriate personal protective equipment (PPE), and it is in contact with provincial and local health authorities in order to provide them with the most up to date information. The long-term care home is also making sure to follow all health-related directives and protocols.
Seventy-five per cent of Montfort's LTC residents confirmed with COVID-19
VANIER – Three of four Montfort Long Term Care Centre residents have contracted COVID-19.
Chief medical officer with Revera Retirement Living Dr. Rhonda Collins says everyone who lives and works at the Montfort home was tested for the coronavirus when some residents started showing symptoms of respiratory illness last week.
The results came back on Saturday (April 11), confirming 24 of 32 residents in the home tested positive for COVID-19 – a third of which were asymptomatic at the time of being swabbed.
Three staff members also tested positive and are at home, in isolation. Staff members are screened for symptoms at the beginning and end of every shift.
Dr. Collins says staff at the home continue to monitor all residents for symptoms, including fever, twice daily.
"We are grateful to Ottawa Public Health for their proactive approach to testing," Collins released in a statement yesterday (April 14). "Knowing which residents have tested positive, and in which areas of the home they live, puts us in better position to isolate affected residents and provide them with appropriate care and support."
The Government of Ontario announced last week that testing of entire long-term care homes may be done in cases where a single resident or staff member has tested positive for COVID-19.
"We know this is a very frightening time for anyone who has a family member living at Montfort," Collins said. "We are working closely with public health experts to implement and comply with their directives, and we are very grateful for their support."
All staff providing care for residents in isolation (positive for COVID-19 or with respiratory symptoms) at the long-term care home must wear full personal protective equipment (PPE) which includes a mask, face shield, gloves and gown. All other staff in the home have been directed to wear surgical masks at all times.