Carp bassoonist aiming for Juilliard
By Jake Davies - West Carleton Online
CARP – The mystery of the instrument got Carp's Bobby Thompson interested in the bassoon, its beautiful sound has given him the desire to follow it to Juilliard.
Thompson, 18, received the incredible news a week ago that he was accepted to The Juilliard School in New York. The world-famous private school for the performing arts.
Thompson, who spent high school at Canterbury as well as the Interlochen Center for the Arts in Michigan, an arts boarding school in the U.S., is now back in Carp, trying to raise money with the plan to bring his bassoon to the prestigious school in the fall.
Thompson grew up in Carp attending Huntley Public School. He started playing the piano at eight. At 10 he attended the Ottawa Youth Orchestra Academy.
"They had a bassoon program for beginners," Thompson told West Carleton Online yesterday (May 5). "That was what the teacher knew."
Her name was Jo Ann Simpson and Thompson signed up.
"I think the first thing that drew me in was the mystery of the instrument," Thompson said. "Not many people played it. After that it was the fact it was like no other instrument, but you could still create beautiful music with it."
The bassoon is a long and heavy woodwind instrument that has been around since the baroque era. At 10, the instrument was almost taller than Thompson. Simpson taught Thompson more than just how to play the bassoon.
"Ms. Simpson gave me the tools I needed in order to not only succeed, but to grow and actually evaluate how I play and perform," he said. "She pushed me to work hard and to evaluate what proper practice meant, looking at each element of performing. After the hard work it was almost instantly gratifying. I think my teacher did the hardest part motivating me and keeping me interested."
Thompson also joined the Huntley Grade 4, 5 and 6 band and was the only bassoon player in the group. He remembers volunteer teacher Christine Heath.
"She was willing to put in the time to provide people the opportunity to do things," Thompson said. "I was the only bassoon player there and she invited me to join."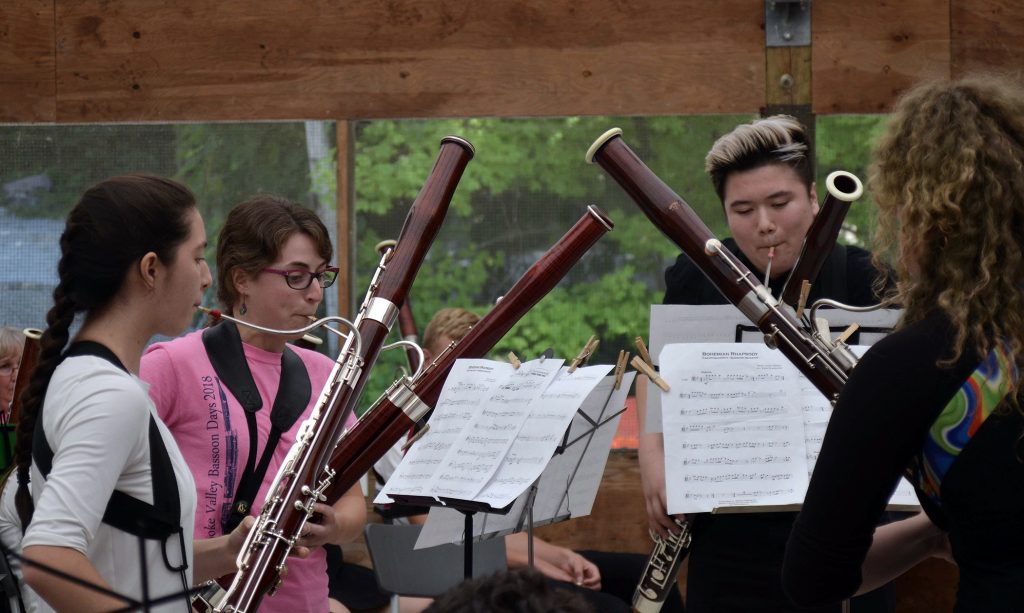 After Huntley, it was off to Canterbury High School – well known in Ottawa for its arts program. But first he had to audition – and there were three rounds of those.
"That was really the first time I realized music could be more than a hobby," Thompson said.
Carp had quite the contingent of Canterbury students.
"They even had a dedicated school bus that went to Carp," he said. "There was about seven of us. If you want to create art, that three-hour bus ride a day was worth it."
He excelled at Canterbury but wanted a new challenge for his final year and headed to boarding school in Michigan.
"It was very motivating," Thomson said. "It was a very competitive school. When I was there, I wasn't the hotshot anymore. It motivated me."
Unfortunately, the school year was cut short by the COVID-19 pandemic. And that was what brought Thompson back home to Carp. School was cancelled for the year.
But Thompson looked forward. He sent video auditions to five post-secondary schools. He then had a live audition for Juilliard on March 2. His mother flew down to watch.
On April 1 he found out he was on the waitlist. He was also accepted to the Manhattan School of Music. It ended up Thompson would not have to rely on his fallback plan.
"I wasn't expecting anything," Thompson said. "They reached out to me about a week ago to tell me I was accepted. I think it will be a very good, motivating, tough, super-competitive environment. I think if you are in a comfortable space, that's not the space for you."
But the challenge isn't over yet. Tuition to Juilliard is almost $50,000 US. Thompson was offered a $30,000 scholarship but will still need more to attend. So, he set up a Gofundme page to try to raise some money.
He just launched it last week and donors have already committed more than $2,500 for his education as of May 6.
"It's been amazing," Thompson said. "All the teachers in my life, my friends, my friends' families. Even in dire times like this, people are willing to read your story and are willing to support you. It's really great."
For more information, or to visit Robert 'Bobby' Thompson's Gofundme page, click here.