El-Chantiry: Ward 5 weekly news, March 30
The Councillor's Column
COVID-19 – LATEST NEWS
West Carleton-March rural COVID-19 pop-up clinic fully booked: Earlier this morning (March 30), I received word from Ottawa Public Health that the rural COVID-19 vaccine pop-up clinic taking place at West Carleton Community Complex on April 1, 2 and 3 is now fully booked and there are no more available appointments at this time. The pop-up clinics in Osgoode and Richmond are also fully booked. There is still some appointment availability at these other rural pop-up clinics:
Cumberland (RJ Kennedy Centre) – availability on April 1, 2 and 3
Greely – availability on April 6
Navan – availability on April 4, 5 and 6
Eligible rural residents should call 613-691-5505 (choose option 2 for designated rural communities) to book a vaccination appointment at one of the remaining locations listed above. Eligible rural residents include age 70+ and 75+ and adults who receive chronic home care.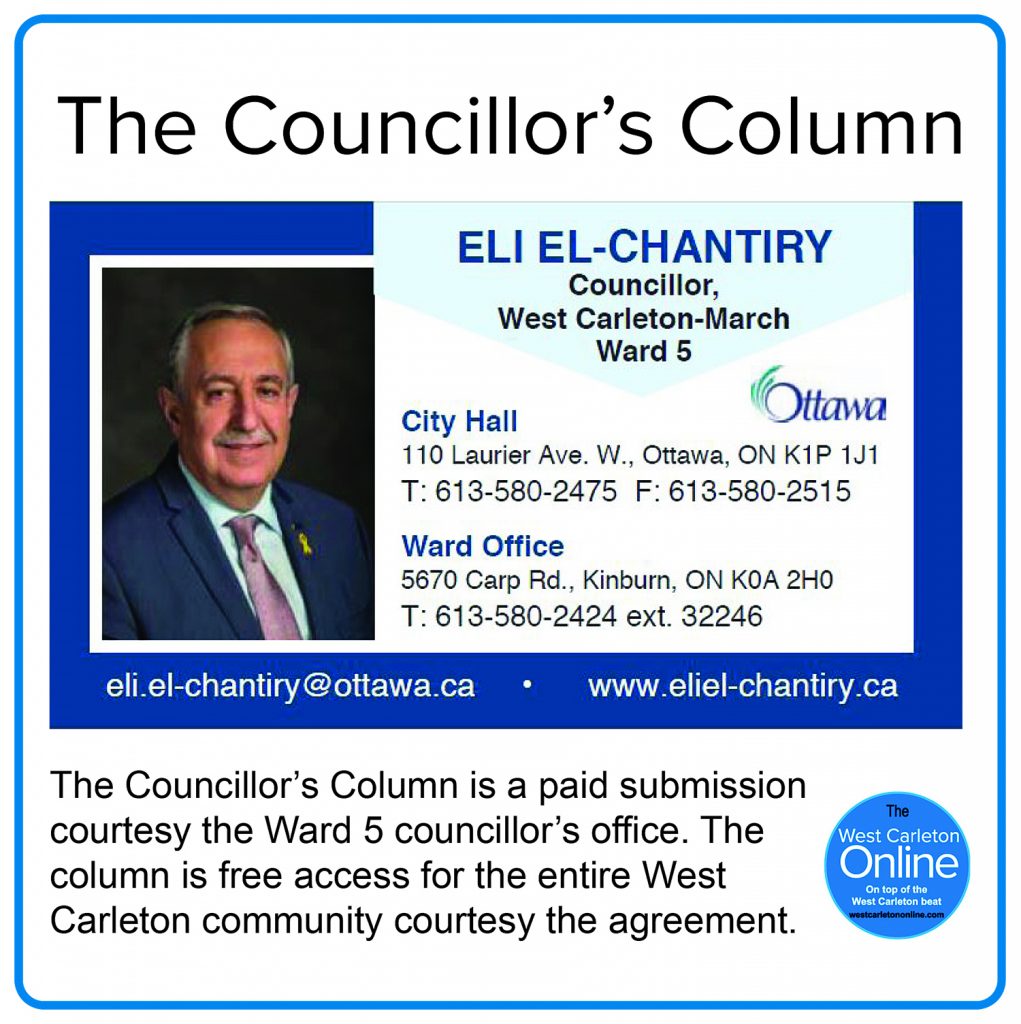 Vaccination appointments in provincial booking system full at community clinics: Community clinic appointments through the provincial booking system (for vaccination at Nepean Sportsplex, Ottawa City Hall, Eva James Community Centre and Ruddy Family YMCA) are temporarily fully booked. The provincial extension of the vaccine appointments on March 29 to residents aged 70 and older citywide has resulted in the booking of all appointments available up until April 7. In the coming days, as the city receives more vaccines from the province and the provincial booking system is updated, more appointments will become available. Residents will continue to receive vaccinations as planned. Stay tuned for more updates in the coming days.
FIRESMART – WILDFIRE VIRTUAL MEETING
West Carleton Disaster Relief is inviting residents to attend their "Firesmart – Wildfire Virtual Meeting" on April 1 from 6:30 to 8:30pm. To join this Zoom meeting please email your contact information to wildfireready@westcarletonrelief.ca. To read more information regarding the large amount of work and research that both West Carleton Disaster Relief and Huntley Community Association completed regarding fire safety in our rural area, please CLICK HERE.
EASTER WEEKEND – SCHEDULE CHANGES TO CITY SERVICES
Due to the upcoming Easter weekend, please be aware there will be schedule changes to some city services on Good Friday, April 2 and Easter Monday, April 5. This includes changes to garbage, recycling and green bin collection. All scheduled changes will be posted on ottawa.ca in the coming days.
HAPPY EASTER
I would like to wish everyone that is celebrating a very Happy Easter. Please remember that Ottawa is currently in the Red Control Zone. When planning your Easter celebrations consider meeting up virtually or limiting gatherings to members of your own household. Being #SocialWise means a safer celebration for everyone:
W – Wear a mask or face covering where required or when you cannot maintain a physical distance of two metres (six feet).
I – Isolate yourself from others when you are sick and get tested immediately if you have COVID-like symptoms.
S – Stay two metres (six feet) apart from those outside your household or your chosen social support person(s).
E – Exercise proper hand hygiene; wash your hands regularly or use hand sanitizer especially before touching your face.
CLEANING THE CAPITAL
Registration for Cleaning the Capital is now open. Register your litter pickup project by May 15. Please keep in mind that all participants must follow public health guidelines to reduce the risk of spreading COVID-19. This means your cleanup plan must include the following:
Keep a physical distance of at least two metres (six feet) from anyone who is not from your household
Wear a mask whenever physical distancing is not possible
Wash and/or sanitize your hands as early and as often as possible
If you are feeling unwell in any way, please stay home
CLICK HERE to register your participation. As a reminder, Cleaning the Capital is a great opportunity for high school students to get some of their Community Volunteer hours completed. Students must simply:
Register their cleanup online during the campaign.
Complete their cleanup project.
Submit their cleanup report prior to the submission deadline.
Contact cleaning@ottawa.ca to obtain a letter supporting their participation in the campaign
CLOSURE OF HWY 417 ON-RAMP AT MOODIE DRIVE
The on-ramp from Moodie Drive northbound to Highway 417 westbound will close for Stage 2 LRT work starting early morning on Thursday, April 1. It will remain closed until December. Signed detours will be in place through the duration of construction. Cycling and pedestrian routes will remain open. CLICK HERE to review the detour map.
UPCOMING CITY COUNCIL MEETING
Due to the fact the school spring break has been moved to the week of April 12 to 16, the next City Council meeting is scheduled for Wednesday, April 28. The agenda will be posted on ottawa.ca closer to the date.
AGRICULTURE & RURAL AFFAIRS COMMITTEE – UPCOMING MEETING CANCELLED
The Agriculture and Rural Affairs Committee (ARAC) meeting scheduled for Thursday, April 1 has been cancelled. The next regularly scheduled meeting is set for Thursday, May 6.