WCDR hosts last meeting of year
By Jake Davies - West Carleton Online
(West Carleton Online continues to provide free coverage to the community as a public service. We hope you will support community journalism and consider subscribing.)
CARP – It wasn't exactly a Christmas party but there were gifts, a bar and a Christmas tree there.
West Carleton Disaster Relief (WCDR) hosted their last affected residents meeting for 2018 last night (Dec. 20) at the Carp Mess Hall.
It was an update on all the news to date related to disaster recovery and it was a brief look in to the New Year. WCDR vice president Angela Bernhardt led the meeting touching briefly on several points with the promise to the roughly 75 in attendance the bar would open following the formal part of the night.
The meeting kicked off with, as many have before it, with a donation.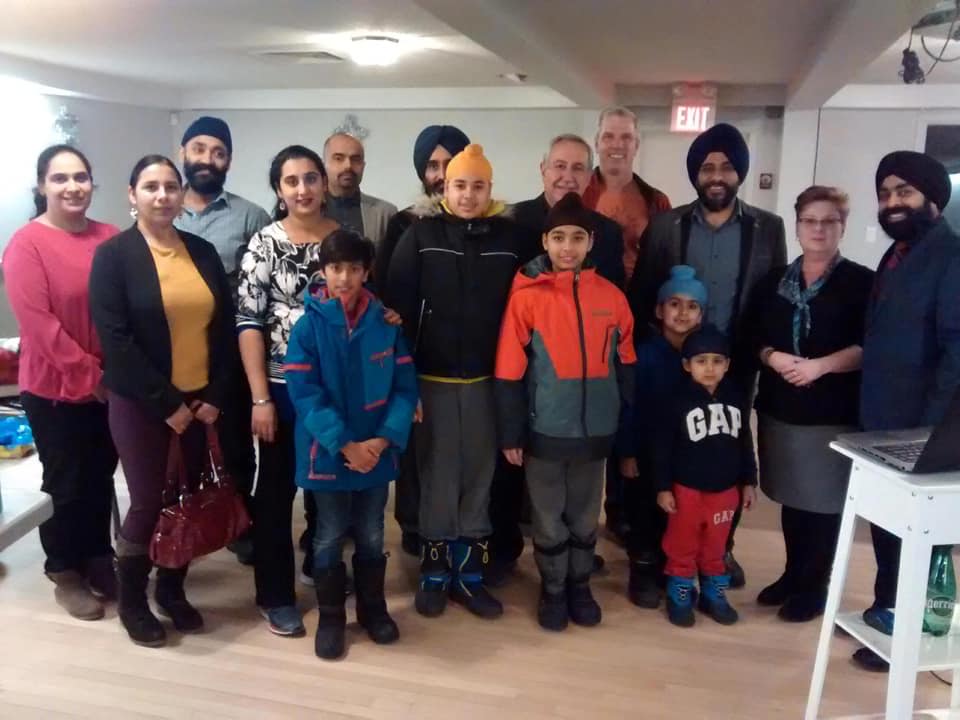 Bernhardt introduced Supinderjit Singh and his team from UFoundation. UFoundation runs an initiative called Langar for Hunger.
His team of volunteers came out several times to help the people of Dunrobin in the immediate aftermath of the tornado by providing food, physical help, mattresses and support. The Langar for Hunger team were also involved with the Constance Bay flooding in the spring of 2017. After a brief speech, Singh presented 44 gift certificates totalling more than $1,100 to some of the families present. The gifts were courtesy of the Sikh Association of Brantford and the Sehgal family of Ottawa. You can follow LangarforHunger on Facebook for more information or to volunteer or email ufoundation@outlook.com
For the more than 200 families displaced by the Sept. 21 tornado, there is a sense they have moved past the grief and shock and have added the incredibly time-consuming routine of living and dealing with the fallout of a natural disaster to their already Christmas-enhanced regular routine. There was almost a sense of relief this was the last tornado-related meeting of the year.
"With Christmas around the corner, as horrible as this has been, I think we should acknowledge the incredible good will we have seen since Sept. 21," Berhardt said. "WCDR has become a valued voice within the (Non Government Organization) community and we're proud to represent the community."
As of Dec. 18, WCDR has received $332,883 in donations.
The board has distributed between $500 and $10,500 to 141 registered families. The total cash disbursed to families is $129,500 and WCDR has approved 10 other circumstance-based measures to address critical issues including: Inspection and repair of temporary roof fixes, structural engineering reports, security patrols within Dunrobin Village, utility reconnection, tree removal, residential storage, shipping containers for farm storage. These expenditures are ongoing – to year end they are estimated at $46,000 with $16,000 invoiced and paid to date.
Bernhardt said the WCDR still in regular contact with the Red Cross and is working with the Red Cross – an organization many in the community were highly critical of in the time immediately following the tornado.
The Red Cross raised $1.99 million dollars in dedicated funding to the tornado response.
"We're negotiating an agreement with the Red Cross," Bernhardt said. "They will provide funds directly to us and we will distribute the funds to programs of our choosing. We're grateful to have that partnership."
Bernhardt also touched on the province's Disaster Recovery Assistance for Ontarians (DRAO).
"The reality is very few will qualify," she said. "They're lovely people, they really want to help and they are aware there are deficiencies in the system. If your home is valued at more than $278,000 you will not qualify. Farmers and renters do have a better chance to qualify."
More than a month ago the WCDR made 13 recommendations to the DRAO but "we had no success," Bernhardt said. "We will continue to fight that fight. We're now West Carleton Strong."
Bernhardt says the community organizations involved in the tornado response will soon start the debriefing process and she expects meeting participants will be a part of that. She also said the WCDR will be written in to the City of Ottawa's Official Plan as council begins that project.
"We will be an official part of the Official Plan in West Carleton emergency," Bernhardt said.
WCDR director – Emotional Care and Huntley Community Association president Judy Makin had some good news regarding landscaping.
She said she expects a partnership soon with Tree Canada. The organization is already fundraising for those who have lost trees in the community.
Bernhardt added, as the WCDR slowly reaches its goal, the organization is downsizing and re-shuffling.
"There is no other business in the world where success is measured by losing clients," she said. "People are getting back on their feet. Because of that we are going to be moving people around in the New Year. Some of our volunteers have to get back to their life. Thank you to all of our community contacts."
But Bernhardt stressed the WCDR is still fully functional and ready, able and willing to help.
"We have the resources, please let us help you," she said.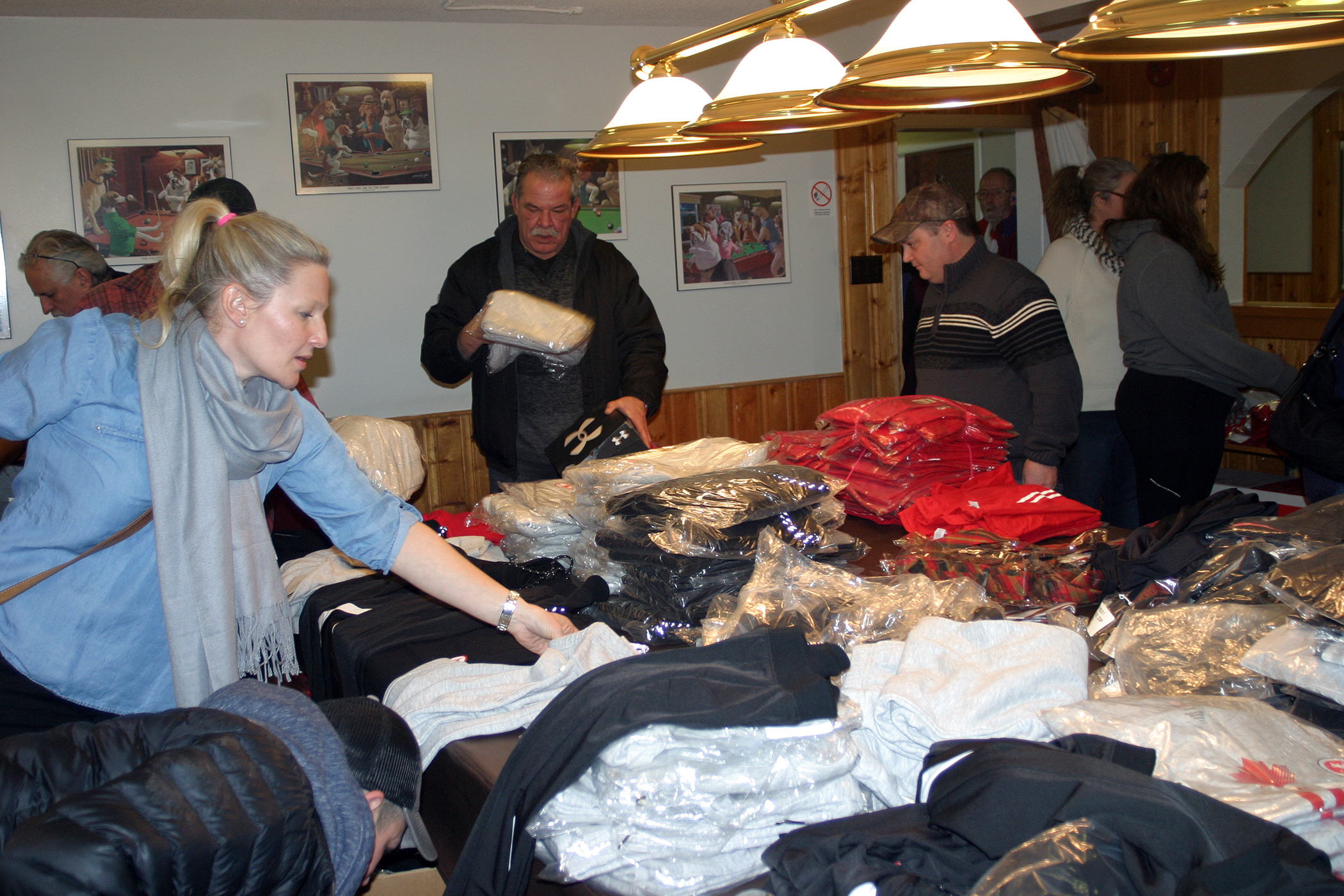 Dunrobin residents Todd Nicholson and Emily Glossop-Nicholson had presents for everybody and then some. Through their networking, they secured a huge donation of brand-new Paralympic swag including Under Armour winter boots and running shoes, Olympic-branded pants, jackets, shorts, golf shirts, t-shirts, even Team Canada flip-flops, as well as winter jackets and clothing donated by Team Canada and Mount Pakenham Ski Hill. Tens of thousands of dollars of clothing and footwear.
"They're very warm, but that's coming from someone who can't feel their feet," Nicholson joked.
Tanya Laughlin gave a brief update on the WCDR amazon.ca gift registry saying 306 of the 470 items have been purchases.
WCDR co-chair Greg Patacairk finished up the meeting with a few words the eve before the tornado's three-month anniversary.
"Someone recently asked me if I have taken the time to reflect on any of this," he said. "I said no, I hadn't had the time. Everyone is helping everyone else. Everyone is pitching in. I'm truly touched. I've made a lot of new friends. I remember the first day, looking at (Coun. Eli El-Chantiry) and saying 'what are we going to do now?' I want to say thank you to you. If everyone didn't help their neighbour, this wouldn't have worked. Thank you very much, I really can't say more than that."
The WCDR said they would be taking a short break over the holidays although will still be responding to emergencies.
Following that the noise in the hall quickly picked up to a distinctive buzz of happy conversation. For one night it seemed, what those struggling to get their lives back to normal needed, was a drink with friends.