WC Terry Fox Run founder Dupuis passes
By Jake Davies - West Carleton Online
CONSTANCE BAY – A long-time leader in his community and, along with his wife Linda Cassidy, the co-founder of West Carleton's Terry Fox Run, Robert 'Bob' Dupuis passed away Tuesday, July 7, 2020.
Dupuis, 84, born April 25, 1936, was one of Constance Bay's most active community members. Dupuis was a Constance Buckham's Bay Community Association (CBBCA) board member as recently as 2017 as well as from 2010 to 2012. Dupuis was a secretary for the Sandhills Seniors' Club (as well as other positions), a Constance Bay Bridge Club instructor, a member of the St. Gabriel Roman Catholic Church executive, a life member and past president of the Royal Canadian Legion, Branch 616 and the co-founder of the West Carleton Terry Fox Run.
"He is one of those people who was widely engaged over his lifetime," CBBCA President Len Russell told West Carleton Online this morning (July 10). "Bob was always volunteering somewhere to accomplish some altruistic purpose."
Good friend, regular volunteer partner and 20-year Constance Bay resident Marlene Vollmer agrees.
"He's been involved in so many things and I've known him for so long," Vollmer told West Carleton Online today (July 10). "We became good friends."
Vollmer met Dupuis approximately 15 years ago while both were on the St. Gabriel's executive, but their friendship blossomed when she decided to learn how to play bridge with the Constance Bay club.
Of all the things Dupuis was involved with, the Terry Fox Run was the closest to his heart.
"That was his baby," Vollmer said.
Dupuis met his "soulmate" Cassidy in 1992. Cassidy has participated in the Terry Fox Run in 36 of the 39 years the event has run, and Dupuis joined her from then on. The two founded West Carleton's own Terry Fox Run in Constance Bay in 2011 and raised $3,000 the first year. In the eight years they ran the event (with lots of help from Mila Dolezalova last year) the pair raised more than $60,000 for cancer research.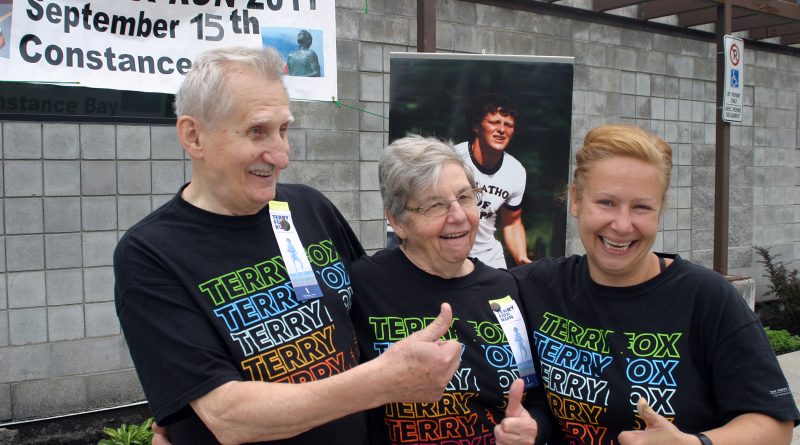 "That was his favourite thing," Vollmer, who has volunteered at the event each and every year, said. "When you looked at how many participants we had, people loved to come because our route went through the Torbolton forest. You could bring your dogs. It was more relaxed then other Terry Fox events, I think. They thought of everything."
"One of the main reasons I do it is because I'm a cancer survivor myself," Dupuis told West Carleton Online in 2018. "But also, because 82 per cent of the money raised goes to research. That's important. It's a worthwhile cause and they tell us exactly where the money goes and their successes."
In January of 2019, the pair officially retired from organizing the event.
"It has been a fulfilling eight years," Dupuis told West Carleton Online at the time. "We have met so many enthusiastic volunteers, participants, supporters and donors and have enjoyed every minute of it. We wish to thank all the above for all their help over the years."
But they couldn't stay away and 2019 organizer Dolezalova gave Dupuis and Cassidy much of the credit for organizing that year's event.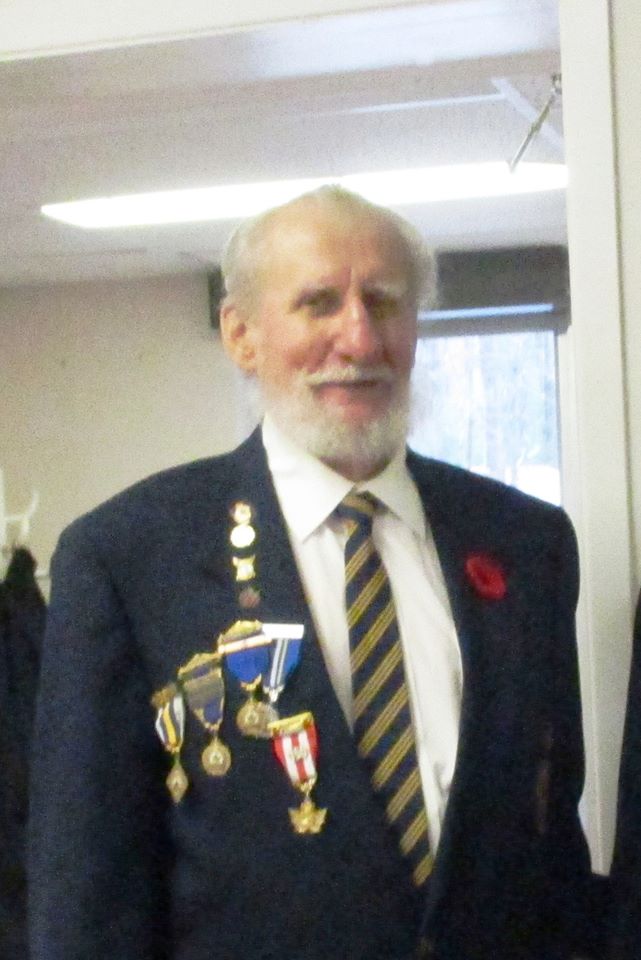 Dupuis, a retired member of the Canadian Navy. was a long-time and lifetime member of the Legion, Branch 616. Not only was Dupuis a past president, he filled several other roles on the executive and was a regular volunteer for the annual Poppy Campaign. The branch published a Last Post earlier today.
"He was a champion in his support of the legion and a champion at darts, winning numerous trophies and titles, including a Dominion Seniors Championship with his wife Linda," Branch 616 released in a statement. "Branch 616 sends deepest condolences to Linda and family."
Dupuis spent time in the 1970s as a competitive darts player. He was a founding member of the Canadian Darts Organisation. In 1976 he represented Canada at the very first Unicorn World Championship. He also represented Ontario at the national championship in mixed doubles in 1985 and in men's in 1987.
"I remember he was telling my granddaughter how he learned to play darts on a ship," Vollmer said. "He was saying how you had to have your sea legs beneath you to play darts on a boat. We just thought it was so funny."
The bridge instructor also loved throwing cards.
"He liked to play cards, he loved to play bridge," Vollmer said. "He was very, I don't know the word, he was very knowledgeable of protocols, how everything should work. Everything was according to the bylaws and the rules. When we would play bridge, we were there to play bridge, not to chit-chat like we were at the hairdresser."
But those who knew Dupuis, also knew he had a sense of humour.
"He did have a sense of humour," Vollmer said. "It was a bit of a dry humour. He always ended on a note of something pertinent. He was a good speaker. He kept your interest. When he talked, he had something to say."
Vollmer is one of many in West Carleton who will miss Dupuis.
"I'm just going to miss him," she said. "When you're used to seeing someone several times a week, all the stuff I think about, I always remember seeing Bob there. And Linda. They were inseparable."

Dupuis is predeceased by his first wife Alice Poirier (April 1988) and grandson Nicolas Dupuis (November 2014). The loving husband of Linda Cassidy, wife, partner and caregiver, who stayed by his side and cared for him throughout his illness.
Beloved father of Eugene (Cathy Brown), Wayne, Sherry, Barclay (Cindy Clyne). Beloved stepfather of Steve Daalmeyer (Jacqueline Leach). Much loved grandfather of Alyson, Christopher, Andy, Alex, Michelle, Amelia, Patrick, Alexandre, Vivian, and step-grandfather of Kyle, Cassidy and Phoenix. Beloved great grandfather of Hudson and Colton. Son of the late George Dupuis and Gertrude Gale.
Robert was a man that impacted all those who met him. He will be sadly missed by family and friends.
A celebration of Robert's life will take place at a later date.
For those wishing in Memoriam donations to the Terry Fox Foundation or Saint Elizabeth's Health Care are appreciated.
To view a list of West Carleton Online stories involving Robert 'Bob' Dupuis, click here.