WC nurse asks for homemade scrub caps
By Jake Davies - West Carleton Online
WEST CARLETON – Queensway-Carleton Hospital (QCH) nurse Tracey Zoobkoff is asking the community to help her team out by sewing scrub caps for nurses who desperately need them.
Zoobkoff, a Kinburn area resident, Carp Fair past president and Carp Health Access board member, earns her paycheque on the frontlines of the COVID-19 pandemic battle. She's a nurse in the Mother Baby Unit at the QCH.
She spoke to West Carleton Online this morning (April 6) about the need for scrub caps at the hospital. Zoobkoff has been a nurse for 20 years, but like many around the planet, has never dealt with what the world is dealing with now.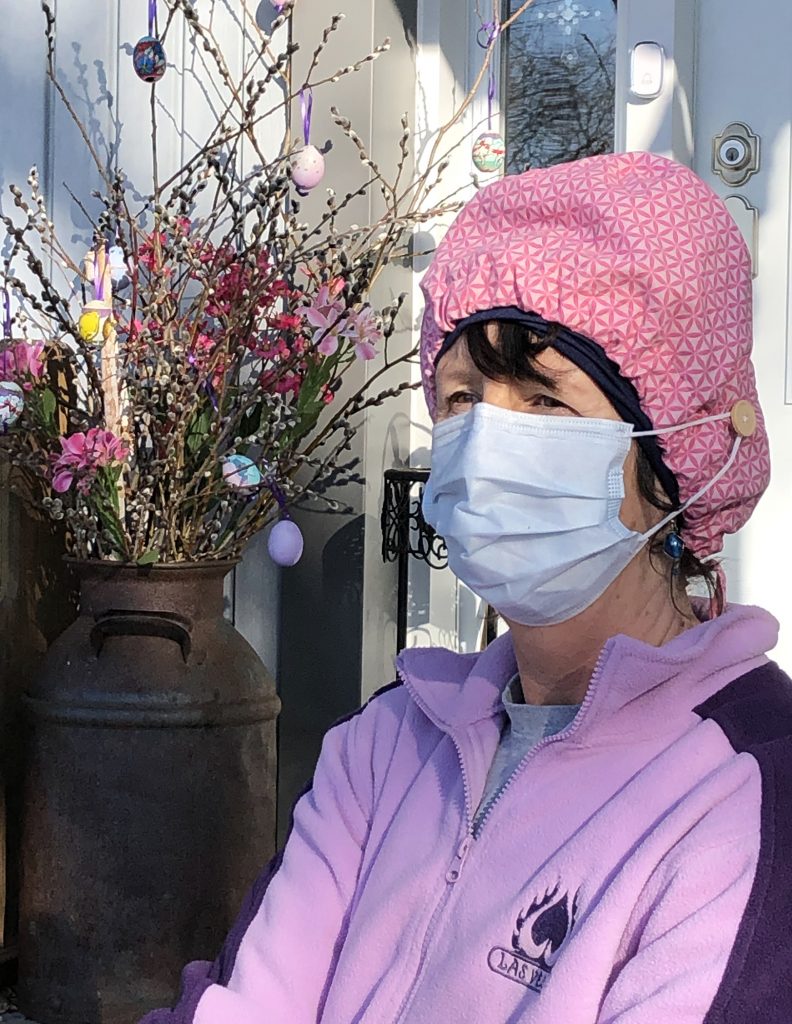 "It's a scary time for everyone," Zoobkoff said. "It really is. But if everyone can do their part, we can make it through this."
Despite the stress of working on the frontline of a pandemic, the mood and morale at the hospital is holding.
"Surprisingly much better than I anticipated," Zoobkoff said. "We're there to do our job. Yes, we're more nervous, but the community outreach has been amazing."
Zoobkoff says restaurants and residents are dropping off food almost daily and the hospital is receiving hundreds of supportive emails.
She says the Mother Baby Unit has not been invaded by COVID-19 yet.
"Not yet," Zoobkoff said. "We haven't had a mother test positive yet. I'm sure it's just a matter of time. But right now, we're safe. It's a scary time for mothers. What is supposed to be the happiest time in their life is now very stressful and they can't even have their friends and family with them."
But there is a need. Like all healthcare providers, there is a need for personal protection equipment and gear.
"The hospital has to conserve because they don't know what tomorrow will bring," Zoobkoff said.
She says there is one way the large community of crafters in West Carleton can pitch in. And that's by sewing scrub caps. The little hats nurses wear as part of their work wear.
"Every nurse needs three to four scrub caps," Zoobkoff said. "You can't wear the same one ever day. A full-time nurse usually works four days on and four days off – two day shifts and two night shifts. The hospital has not supplied any caps. We appreciate anything."
Zoobkoff says there are instructions and hundreds of patterns available on Pinterest – click here for a page of Pinterest scrub caps. For those who aren't Pinterest members, here's another pattern.
Zoobkoff is hoping sewers can make their scrub caps with the buttons on the side to help hold surgical masks.
"We are now instructed to wear surgical masks throughout our shift," she said. "Wearing a mask for 12 hours, four days a week can be hard on the ears."
If you can help in the creation of scrub caps, and have some to donate, you can contact Tracey Zoobkoff at tomandtracey@xplornet.ca. If you have a large amount to donate but do not have the means to transport them, West Carleton Online will volunteer to pick them up off your porch (we are not competent sewers) and make sure they are delivered to Zoobkoff. You can always contact us at westcarletononline@gmail.com.