Tireless visitors lead tornado clean-up
By Jake Davies - West Carleton Online
DUNROBIN – "I forgot how bad the mosquitoes were," Christiane Stieber says, combing the fields for tornado debris in Dunrobin yesterday (June 2) not 100 metres from the pile of rubble that used to be the family home for 35 years.
She's one of a small group of volunteers who agreed to come out on a damp, buggy Sunday and help search overgrown fields, bush and forest, cleaning up dangerous debris such as tin and boards, many with nails protruding, as well as keeping an eye out for lost items that might be returned to their pre-tornado owners.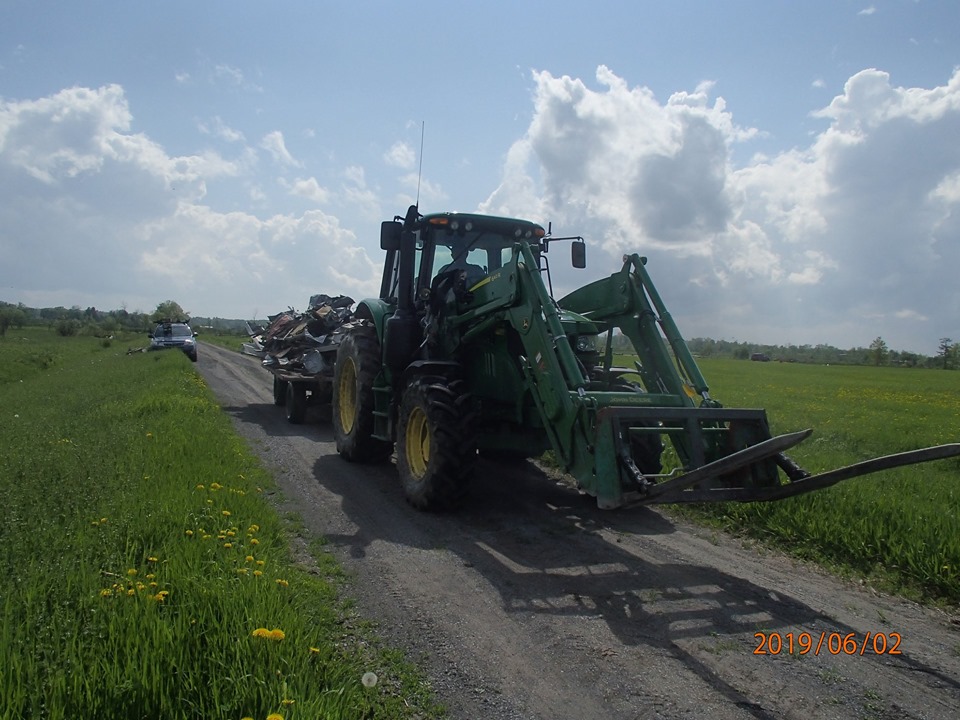 It was another tornado clean-up event organized by Ruth Sirman. She's organized dozens of volunteer tornado clean-ups since last October, shortly after the Sept. 21 tornado struck. The Friday afternoon tornado destroyed dozens of homes, farms and buildings from south of Antrim all the way to Dunrobin – scattering debris and personal items across the ward. Sirman doesn't know how many of these clean-ups she has organized – she wasn't worried about keeping track.
"We started searching back in October," Sirman told West Carleton Online from the mosquito-filled field yesterday. "We were looking for retrievable items and trying to make sure we could return items to those who lost them. We soon learned it was much bigger than that."
Sirman and/or her volunteers could be found with their little booth of lost items at the regular tornado-recovery meetings at the West Carleton Community Complex, or at the Dunrobin Winter Carnival, anywhere groups of tornado-affected might gather.
The rest of the time, they were searching.
"We had great success at Todd (Nicholson's) Rebuilding Through Sport event at West Carleton Secondary School," Sirman said. "I didn't grow up here. I don't know these people. The students were amazing. They would say, I know this person's sister, or I know that person. Teachers would recognize students they had taught."
That's right. Sirman isn't from West Carleton. If you are a Facebook user in West Carleton, you could be forgiven for thinking Sirman was a life-long resident who grew up to be a community leader in Ward 5. She is often involved in Facebook group conversation that revolves around disasters in West Carleton. Offering advice based on experience (she is the owner of CanMediate International), sharing details of what she's seen and found, and of course, planning out the next search mission. But she's from Bells Corners. She headed out to Dunrobin shortly after the tornado struck.
"I thought I would drop some coffee off the weekend after," Sirman said. "I said, I can do that, that's not that hard. I met (MP) Karen McCrimmon. She said she was really glad I was here. I though I could donate the afternoon. We didn't get the job done."
Last year, before the snow landed, Sirman and the team of volunteers were just searching for lost items. This year the team has added clean-up to their duties. Sometimes that involved getting in to some pretty tricky areas, even needing kayaks and dredging through swamps. They also have used drone footage to help them locate trouble spots well off the beaten path.
"We've found stuff in perfect condition," Sirman said. "We found stuff from the Heart and Soul that sill had the price tags on it. We found one of Julie Delahunt's business cards (Dunrobin Meat and Grocery). We've found photos, clothing, documents, jewelry, keys, money."
Sirman says, since the work started, there have been about 50 volunteers who have donated their time to the clean-up.
"While many are from West Carleton, there have been quite a few not from West Carleton as well," Sirman said. "Every time, some are new, some are regulars. There was a recognition the people here have enough on their plate."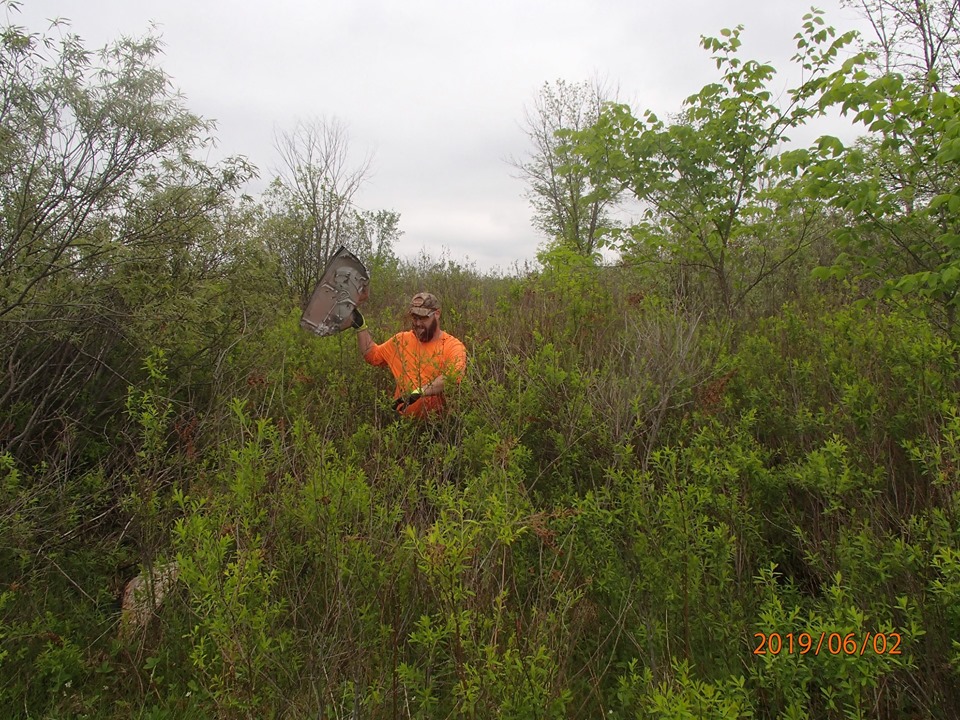 Another out-of-town regular, Tim Hayes drives 40 minutes one way to help West Carleton recover from the tornado. He's a Gatineau resident who is handy with a chainsaw and a pretty big guy to boot.
"I was out the following weekend of the tornado," Hayes told West Carleton Online. "I spent four days chainsawing. I try to get out every weekend."
Hayes' own community was also devastated by the tornado, and flooding. He says that community seemed more interested in contractors doing the job rather than cleaning-up by volunteer force, but he wanted to help.
"It's very organized here," he said. "I like helping out. People here have an upbeat attitude. I find it different than in Quebec."
There is a personal cost to spending every weekend volunteering far from home. Adding a two-hour commute to that just takes away more time from your own odd jobs and honeydew lists that must also be completed. But Hayes says this is more important to him.
Hayes points out a 'tornado flag' it's a damaged tarp stuck high up a tree. When asked how much longer he will dedicate his weekends to tornado recovery efforts, he says simply "until it's all done."
"It's disheartening to see the debris," He said. "When you see the reminders, it's hard to move on."
Two of the local volunteers helping out Sunday, are really local. Christiane and Michael Stieber's home used to stand not 100 metres from the field they are working in today (June 2). They raised three children in the home that still sits in a pile of rubble a little further down the driveway.
"I am totally impressed with the volunteer effort," Michael told West Carleton Online. "For morale, it was a great support. We really appreciate Ruth's initiative."
The Stiebers weren't up to rebuilding. They bought a home in nearby Dunrobin Shores on the Ottawa River. Luckily, the new home was not affected by extreme spring flooding. They begin moving in next week.
"My wife made a huge effort of making this place beautiful," Michael said. "All the trees she planted over the years are gone. It's incredible coming back here. It's a bit of a challenge."
The Stiebers bought the home from neighbour Leo Muldoon's uncle in 1983. They will take a lot of good times with them to their new home.
"Lots of good memories," Michael said. "We feel coming back wouldn't be the same and we'd rather keep the good memories and not be reminded of the tornado."
Today though, those tornado memories are front and centre. Michael started his tractor for the first time since the tornado to help with the clean-up. While the tractor started, there's not a window left in the cab thanks to the violent storm.
West Carleton Disaster Relief is organizing a weekend long tornado clean-up June 8 and 9. They are currently searching for volunteers. If you think you can help out, you can find more on the event on WCDR's Facebook page here. Students searching for volunteer hours are encouraged to sign up.