Rebuilding through sport
By Jake Davies - West Carleton Online
DUNROBIN – West Carleton's Todd Nicholson knows firsthand the healing power of sport.
As every West Carleton already resident knows, Nicholson was paralyzed following an accident in his high school years, and then went on to become one of Canada's most decorated athletes in history, competing in four Paralympic games as a core member, including time spent as captain, of Canada's world best sledge hockey team.
Last Saturday, (Nov. 10) Nicholson was the lead spokesperson in a multi-organization effort to make sure everyone affected by the Sept. 21 tornado in the Ottawa-Gatineau region, has the opportunity to enjoy all the benefits of participating in sports.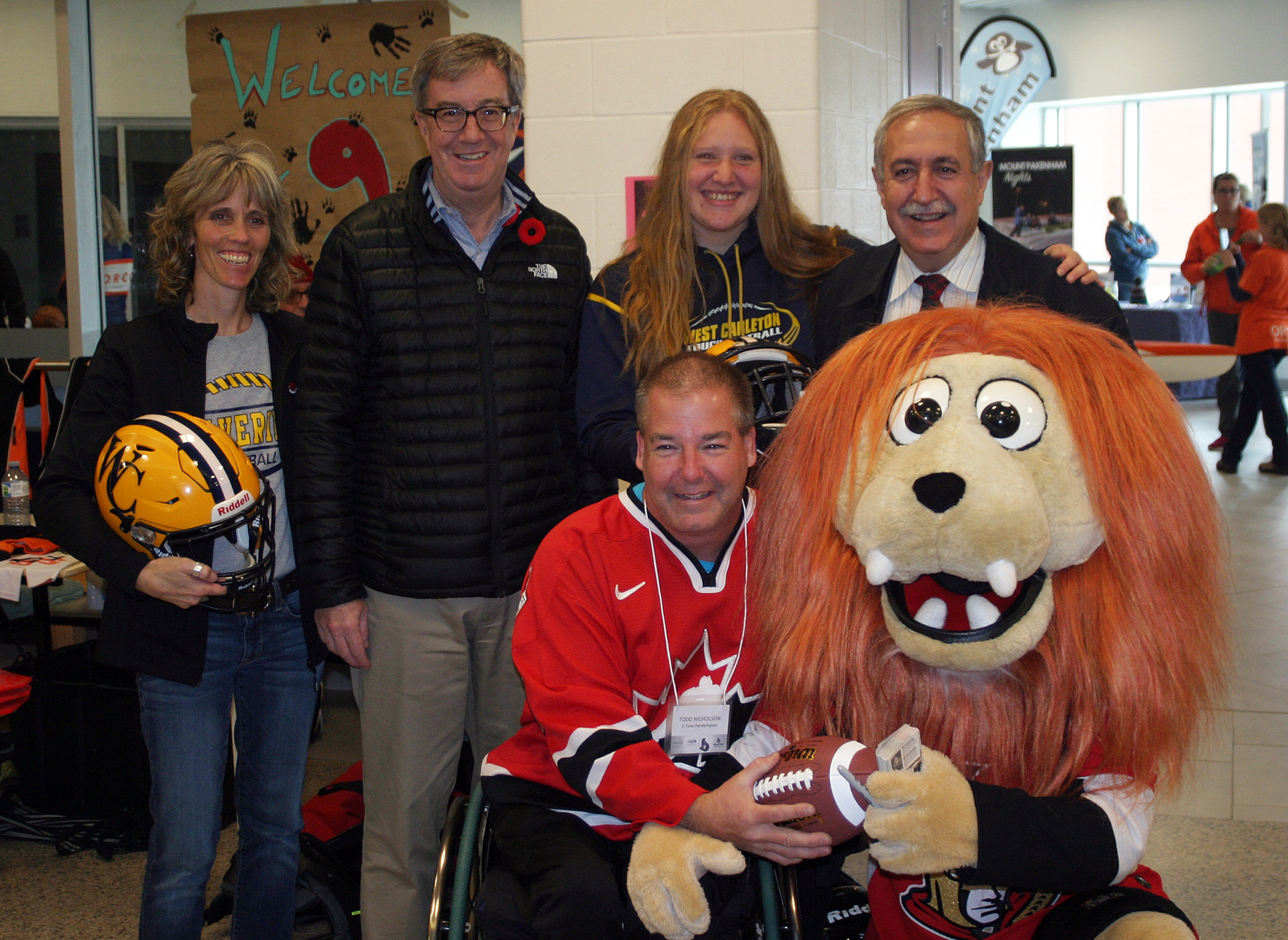 Their Opportunity, Own the Podium and the Ottawa Senators Foundation hosted a free day of sports at the high school and announced a new program that will provide families, especially those displaced by the Sept. 21 tornado, an opportunity to easily access support for sport and physical activity programs as a means of helping rebuild affected communities including Dunrobin, where Nicholson's and around 50 other homes were destroyed.
Ottawa Senators alumni, Olympic and Paralympic athletes and Sparty were all on hand to help guide kids through the demonstration sports on hand.
"West Carleton is amazing for sport," Nicholson, who is chair of the Own the Podium committee, told West Carleton Online following the announcement. "We have access to the Ottawa River; the Pakenham Ski Hill is close by. We have hockey rinks and ball fields. We want to make sure everyone has access to them."
The initiative is made up of more than 30 sporting organizations working together to provide subsidies and opportunities for even the most cash-strapped residents to get involved in sport.
During the day, many local sporting organizations such as the West Carleton Wolverines football club, the Ottawa River Canoe Club, the Pakenham Ski Hill and several others, were on hand to share information on their programs. The Abilities Centre had their trailer present so kids could try out specially equipped sledges with wheels instead of blades. There were many other games and sports for youth to participate in as well.
"You don't have to have done the sport before," Nicholson said. "If you want to give it a try, this is the perfect solution. If you are a family that has been affected, try to find some sort of normalcy. Whatever you are passionate about, get back in to it."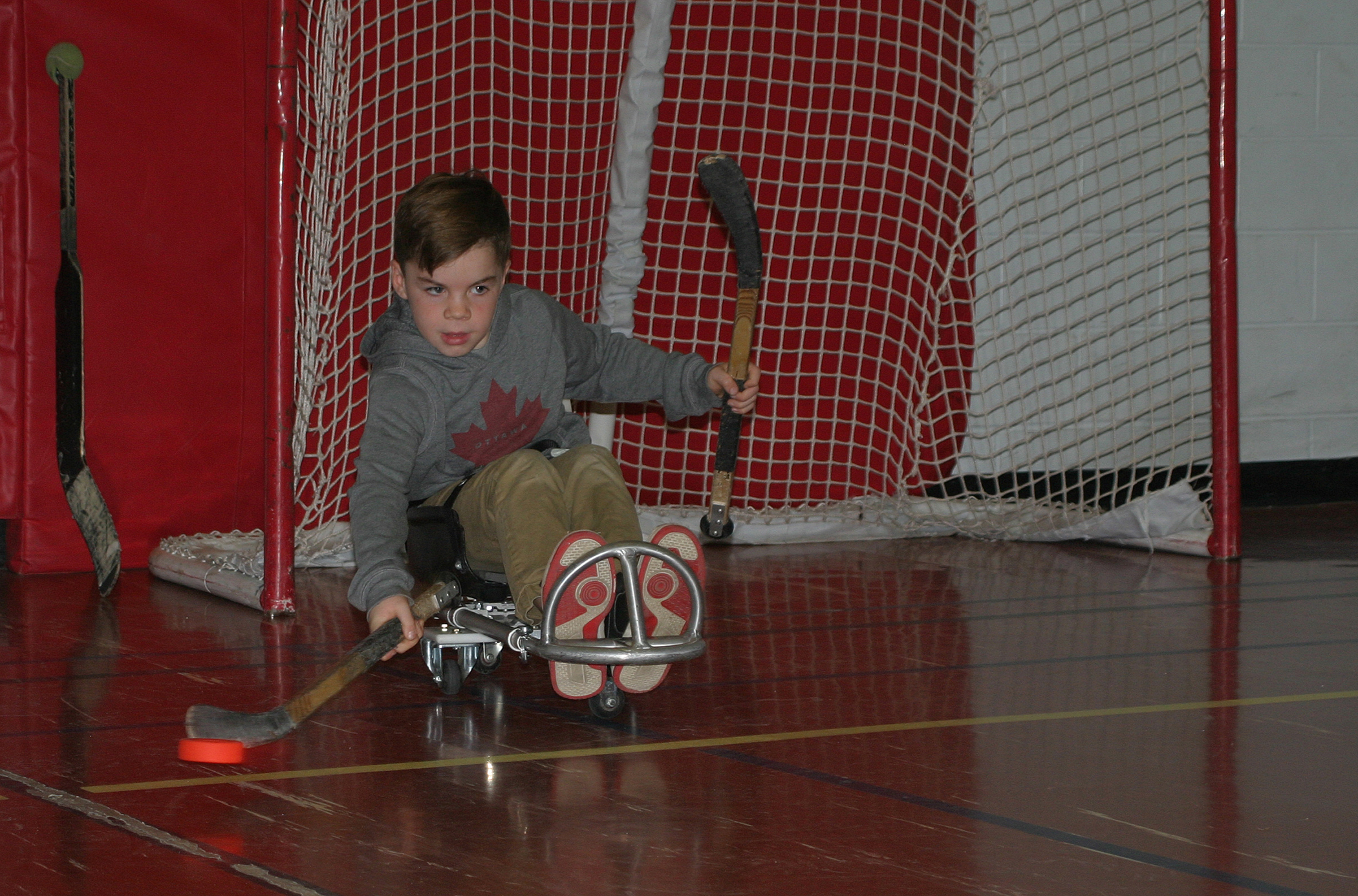 About 200 people, mostly made up of families, attended the announcement and visited with the organizations on hand.
"It's really starting to steamroll," Nicholson said during the official announcement. "This group is really growing and growing and growing. As much as we want kids to be active, we need families to be active. I look after the elite athletes of Canada and we can't have those athletes if our kids don't stay involved in sport."
Mayor Jim Watson was on hand and wanted to talk about the residents of West Carleton.
"Thank you to the people of West Carleton for your resilience," he said. "I can't imagine what you are going through as I have never experienced this. The community has not turned its back and I want to thank Todd, in part, for that. Thank you, Todd for your leadership once again."
MP Karen McCrimmon was also on hand.
"When the going gets tough, the leaders get going and that's exactly what you have done," she said.
Nicholson did not want the credit though.
"I am who I am because of you, the community that's supported me," he said.
Coun. Eli El-Chantiry also wanted to comment on the community effort.
"Our volunteers are the backbone of this community," he said. "West Carleton Disaster Relief really deserves a big hand from you. One hundred per cent of what they raise goes in to relief and support. I want to thank Ottawa's Public Works Department. They don't wear a uniform, but they do so much."
Own the Podium CEO Anne Merklinger was also in attendance.
"It's easy to approve Todd's ideas," she said. "Sport matters. It's a gamechanger for everyone."
Their Opportunity will manage and facilitate applications between the sporting organizations and the families looking to get involved. Their Opportunity president and CEO Randy Gill was also on hand at the announcement.
He said the organization has a fundraising goal of $30,000 "and we're about $10,000 away from that."
"It's amazing to see what happens when a community comes together and that's what's happening here," he said. "This was all pulled together in a couple of weeks. That's what community is and that's what Ottawa is."