Kinburn's Riley hits $10,000 donated
By Jake Davies - West Carleton Online
KINBURN – Five years and 106,431 empty bottles later, Kinburn's William Riley has raised $10,643.15 for The Abilities Centre Ottawa.
William, 15, started the huge bottle drive at 10-years-old after overhearing a conversation between his parents and their good friends Todd Nicholson and Emily Glossop-Nicholson while camping way back on May 17, 2015.
One of the Nicholsons' most important ongoing project is the creation of The Abilities Centre Ottawa, a fully-integrated, inclusive, multi-purpose and accessible recreation facility designed to meet the needs of all individuals and families.
"We were camping with them and I was playing with my friends," William, who was 10 at the time, told West Carleton Online this morning (June 2). "I overheard them talking about it and thought int was interesting. I asked them some questions, went over to my parents' camper and grabbed $10 out of my wallet to donate to them. I thought it sounded pretty cool."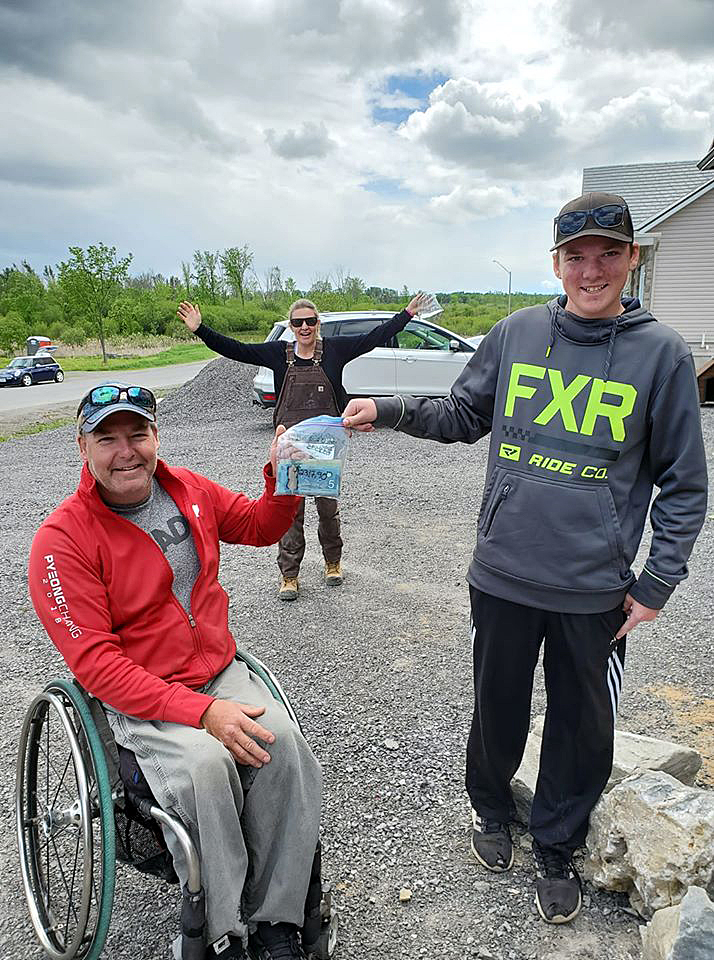 It was the Nicholsons' very first donation. William didn't stop there though. With his parents' help, Williams has been running Will's Bottle Drive for The Abilities Centre ever since.
For the first two years, William's knowledge of The Abilities Centre, was through conversation with Todd. But three years ago, he got the chance to see what the finished project may look like (construction has not begun and currently isn't scheduled) when he and his mom Karen travelled to Whitby to tour The Abilities Centre Whitby.
"I got to tour it and I thought it was pretty neat," William said.
He and his sister received an Abilities Centre sweatshirt with the phrase 'You Belong Here' emblazoned on the front.
And through it all, William continues to collect.
"It's been a lot of bottles and cans," His mother Karen said. "We've still been collecting during the pandemic."
But because of the pandemic, The Beer Store had stopped accepting empties. When they started accepting empties again, it was a busy couple of days for the Rileys. They delivered four full pick-up truck loads for refunds last weekend.
"We had to empty out the barn to make more room for more empties," Karen said. "People gave William empties while we were standing in line. We started talking to someone in line, and after he learned what we were doing, he donated his empties. Another person had overheard our conversation and he donated cash. It just fills your heart. Just because we were chatting at the beer store."
And that is what has made the project a $10,000 success.
"Originally it started with our group of friends," Karen said. "And then it was friends of friends and now it's even strangers. Several times a month we come home to a donation of empties. It's been pretty special what we've received over the years."
And William expects he will keep the drive going.
"Everything seems to be going good and we're excited to have the Abilities Centre come to Ottawa," Karen said. "When we were on the tour in Whitby it was completely eye-opening. It was so inspirational. It is truly amazing how adaptive it is."
So far, William's donations have been turned into important items for the Abilities Centre.
The first $4,000 went to purchase a trailer so the team can bring accessible sports equipment to different locations for the community to try out the equipment and learn about some of the accessible sports people play. Todd after all is one of Canada's most decorated athletes winning world championships in sledge hockey and competing in four Paralympic games. The Abilities Centre team even came to West Carleton Secondary School in 2018 to let those recovering from the destruction of a tornado enjoy the healing power of sport.
The next year, William's donations were used to purchase two sport wheelchairs.
"Will's donations have been instrumental in moving the mission and vision of Abilities Centre Ottawa (ACO) forward," Emily released in a statement May 31, the first day National AccessAbility Week which runs to June 6. "Will's donations have purchased the ACO trailer which has travelled to more than 50 schools and community-based programs in Ottawa and the surrounding regions as well as two sport wheelchairs. Huge thanks to Will, his family and many thanks to all those who donated to Will's Bottle Drive. Your kindness and generosity have supported, and will continue to support, the growth and sustainability of ACO ParaSport Education and Awareness Programs in our community."
Reaching the $10,000 mark was a huge milestone for William, but it is not the end for his years-long bottle drive. He's going to keep going.
"It's kind of amazing to see the tangible results of what we're doing," Karen said. "We're just so grateful for the support. It's amazing how generous people are."
If you would like to contact the Riley family or make a donation, they can be reached at willsbottledrive@hotmail.com.