Challenge of rebuilding begins
By Jake Davies - West Carleton Online
DUNROBIN – Two days later, the West Carleton community can now begin the long road forward.
West Carleton residents and business owners were finally able to view the damage and assess the scene at their properties yesterday (Sept. 23), a day after two tornadoes touched down in the Ottawa area, one cutting a swath of destruction from Antrim through Dunrobin.
According to The Weather Network, the West Carleton tornado was classified as a high-end EF-3 tornado with wind speeds up to 265 km/h.
"Yesterday was really bad – the toughest time," Coun. Eli-El Chantiry told West Carleton Online from a very busy West Carleton Secondary School today (Sept. 24). "Today we are organizing volunteers."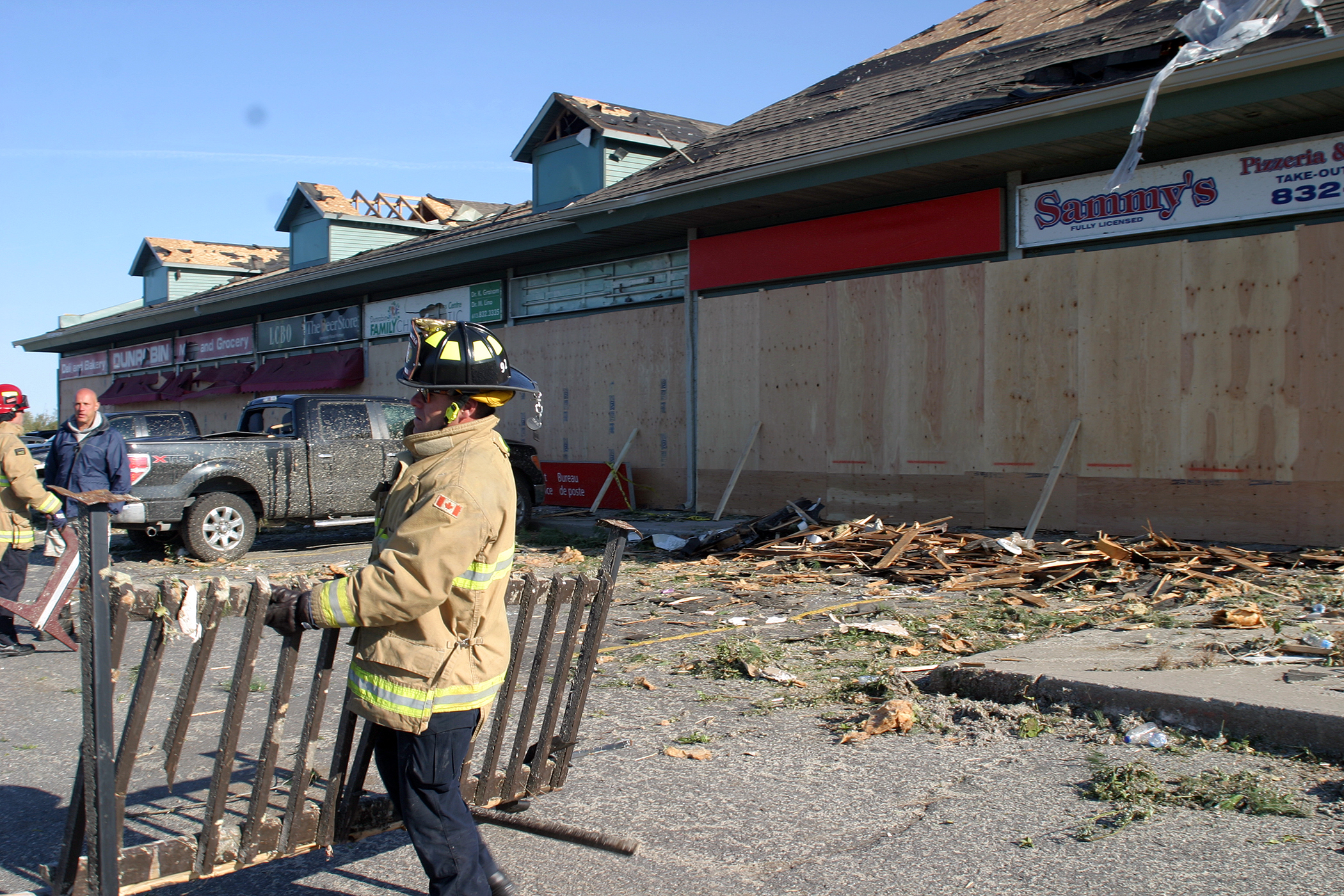 While media were not allowed in the temporary Red Cross emergency relief centre, the parking lot was full with approximately 100 vehicles. Many people moving with purpose either in to the high school or out. Individual volunteers, volunteer organizations such as the Menonite Disaster Service, Salvation Army and Church of Latter-Day Saints, first responders, Ottawa Victim Services, emergency personnel, media members, contractors, tow trucks and Hydro One employees all responding to the emergency created by the tornado, using the school-turned-relief-centre as a staging area.
El-Chantiry said the West Carleton portion affected by the tornado that travelled an estimated 40 kilometres from start to finish, was divided in to three sections by city officials.
The 53 habitable buildings damaged by the tornado in West Carleton were tagged either green, yellow or red, with obvious meaning.
"The next few days are going to be crucial," El-Chantiry said.
El-Chantiry says it is important to get the standing structures covered before expected wet weather moves in.
"You're going to say it looks like a war zone," El-Chantiry said. "I'll say it looks worse."
With that, West Carleton Online and a few other media outlets were permitted to visit, by Ottawa Fire Service escort, what was formerly the business hub of Dunrobin.
West Carleton Online's escort, off duty firefighter Steve Styles, said his daughter was working at the Dunrobin Meat and Grocery store when the tornado hit.
"Earlier in the day I told her to give me a call if it was starting to hail," he said. "She gave me a call just after and told me 'we got hit.' I didn't know what she was talking about at first – we got hit?"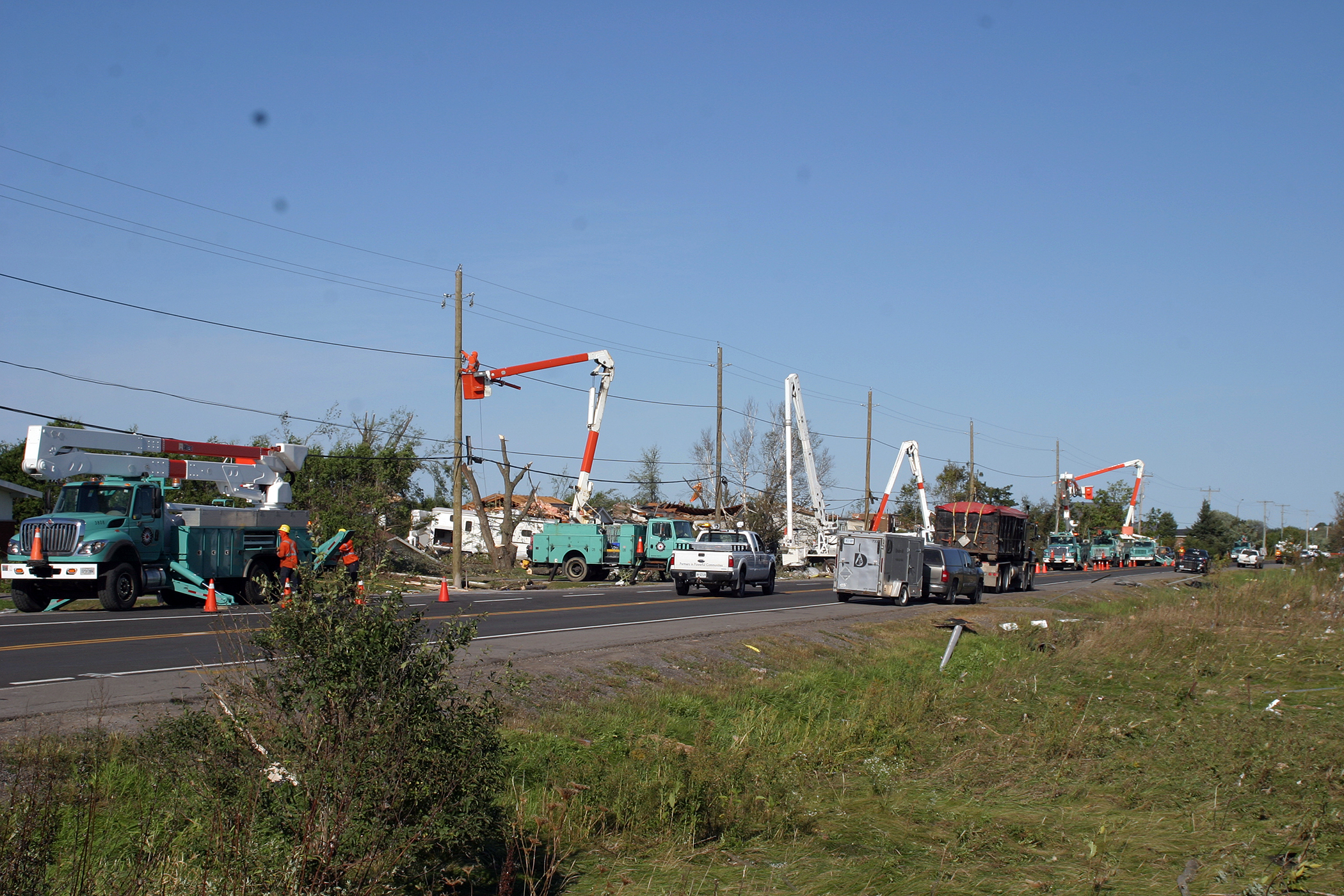 Green vehicles and Hydro One staff lined the Dunrobin Side Road as a huge crew of staff worked to restore electricity to the area.
Homes with roofs torn off, or worse, could be seen between the hydro vehicles.
"We're expecting power to be restored by this evening," El-Chantiry said. "Firefighters are going door-to-door, checking breakers and ensuring buildings are ready for when the power is turned on."
At Dunrobin's only multi-business building, at the intersection of Thomas A. Dolan Parkway and Dunrobin Side Road, the brick building is boarded up with a roof ripped off in many spots and extensive damage to vehicles in the surrounding lot.
Mike Fines, who manages the liquor store, is there to give an up-close view of the destruction.
His wife Julie and her sister Cindy Delahunt, own Dunrobin Meat and Grocery. All of them, and others, were in the building when the tornado hit.
Fines and a couple others took cover in the beer fridge. Cindy and some staff made it to the grocery's office while Julie was close to where the roof was torn off. An unidentified person received serious injuries when the debris from homes across the street flew in to the grocery's front windows as she was about to exit the front door.
"It happened so fast," Fines said. "Cindy and Julie are pretty rattled right now."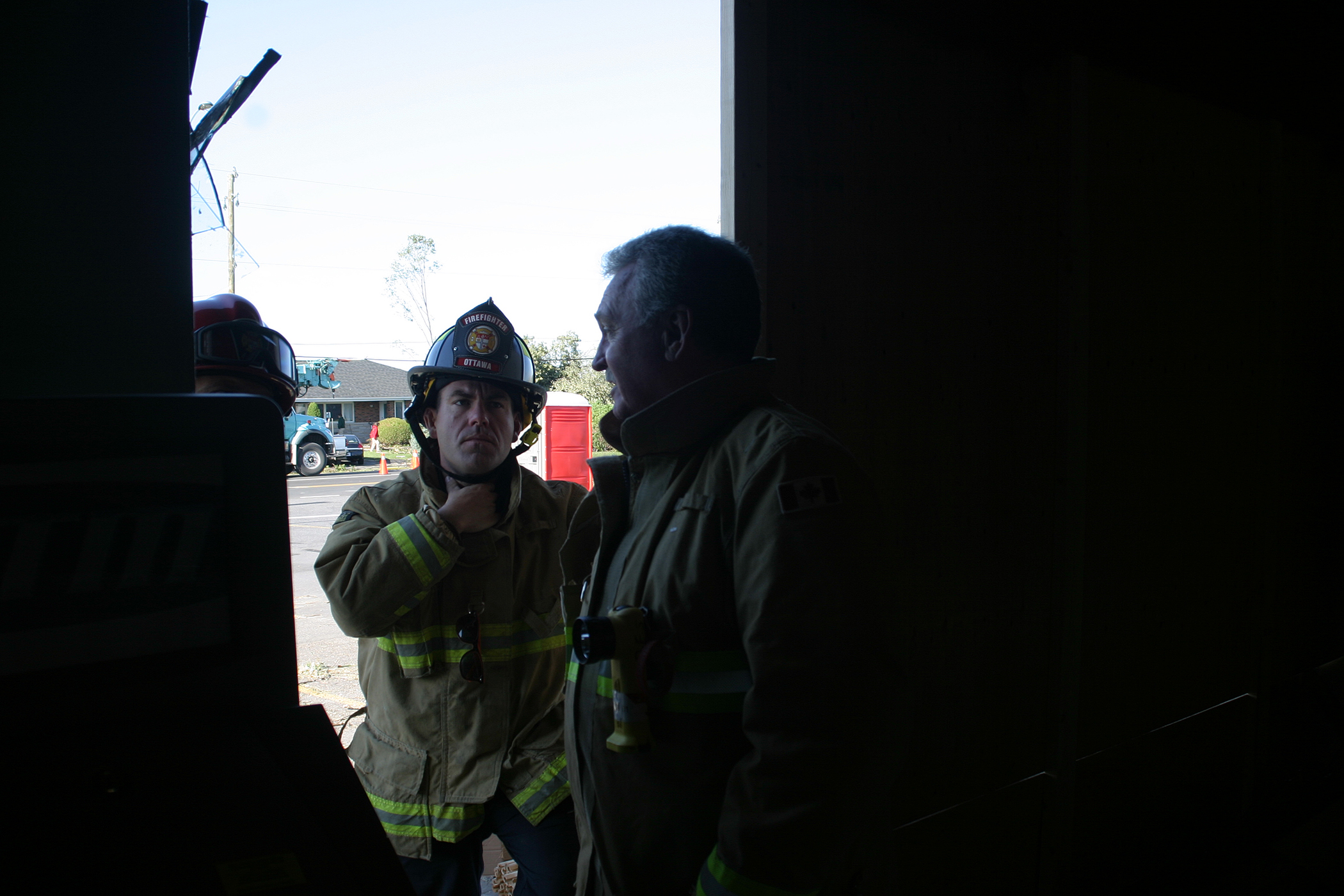 The night before the tornado (Sept. 27) the sisters and their family were celebrating, volunteering and donating dinner at the Carp Fair's Homecoming Night event.
"The girls have been a big part of the community for the last 30 years," Fines said. "This is the central hub for this area. Over the years their business has raised more than $150,000 for charity."
"Certainly," was Fines' answer when asked if he thinks they will rebuild.
"I know they'll get better in the next few days," Fines said.
"The fact that nobody died is unbelievable," a firefighter was overheard.
"If this happened at 3 a.m., it would be a different story," El-Chantiry said.
El-Chantiry said the outpouring of support has been incredible and wants the community to know, no more clothes are needed.
"I would love people to check our Facebook page before sending more donated items," he said.
El-Chantiry says his website is also posting City of Ottawa updates as well.