Slewidge WC Rivermen anthem singer for Game 3, EOSHL awards
By Jake Davies - West Carleton Online
ARNPRIOR – Former Ottawa Senators anthem singer and retired Ontario Provincial Police officer, Lyndon Slewidge will perform the national anthem to kick-off game three of the Eastern Ontario Senior A Hockey League West Division Championship this Saturday (March 26) in Arnprior.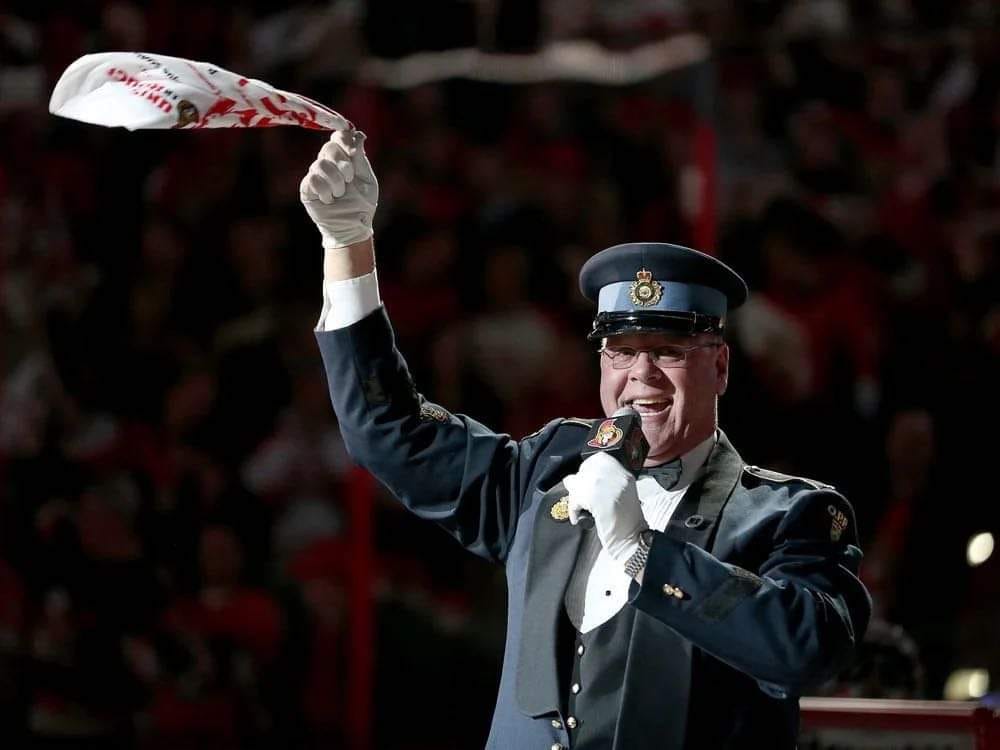 The West Carleton Rivermen are hosting the Gananoque Islanders Saturday evening at 7:45 p.m. at the Nick Smith Centre and the winner goes to the EOSHL Championship Series.
A sporting event of this magnitude deserves the best, and Rivermen team owner, Galetta's Adrian Moyes, has brought in the best to sing Canada's national anthem.
Slewidge, 68, is best known as the Ottawa Senator's anthem singer from 1994 to 2016, which includes singing the anthems during the Senators' Stanley Cup run in 2007. Slewidge began singing publicly at a young age, winning at the Kiwanis Music Festival in his hometown of Sault Ste. Marie at the age of nine.
Slewidge got his start as an anthem singer with the Ontario Hockey League's Sault Ste. Marie Greyhounds. As an OPP officer, Slewidge last served in Smith Falls at the OPP's East Region headquarters.
"Lyndon is a customer of mine and also a friend and was gracious enough to donate his time to help us bring some more bodies through the door," Moyes told West Carleton Online today (March 22) about how he was able to snag the booming anthem singer.
Puck drop is at 7:45 p.m. inside the Bert Hall Arena. Tickets are $10 adults, $8 for seniors and youth, anyone 18-and-under accompanied by a paying adult gets in free.
EOSHL 2022 regular season awards
Following a league front office meeting, the EOSHL has announced this year's winners of its 2021-2022 regular season awards.
"The EOSHL owners and general managers voted Sunday (March 20) on the 2021-2022 regular season awards," the league released in a statement yesterday (March 21). "Congrats to all winners."
MVP of the league: Marc Andre Labelle (Cornwall Prowlers). Labelle had 18 goals and 31 assists for 53 points in 18 games. The 32-year-old St-Jerome, QC, native played in the QMJHL (to name a few) for the Moncton Wildcats and Chicoutimi Sagueneens from 2006 to 2008.
Top Forward of the league: Marc Andre Labelle (Cornwall)
Top Defencemen of the league: Brett Costello (Smiths Falls Rideaus). Costello had five goals and 26 assists in 18 games for the team with the best regular season record. The 28-year-old Lombardy, ON, native played in the NCAA for SUNY-Canton from 2014 to 2016.
Top Goaltender of the league: Matt Jenkins (North Dundas Rockets). Jenkins went 12-1-1 in 15 games with the Rockets posting a 346 GAA and .896 save percentage. The 30-year-old Charlottetown, PEI, native played for the Carleton University Ravens from 2016 to 2018.
Sportsmanlike player of the league: Ryley Egan (West Carleton Rivermen). Egan finished second in regular team scoring with 10 goals and 13 assists in 18 games. The 30-year-old Carp native only took one penalty all season. Egan previously played hockey in the American Collegiate Hockey Association and in the Icelandic professional league for Björninn.
Coach of the year: Troy Ward (Tweed Oil Kings). Ward led the Oil Kings to a 14-4-0 record, good enough for second place in the EOSHL West Division, The Oil Kings were knocked out of the first round of the playoffs by the West Carleton Rivermen.
Executive/GM of the year: Co Winner Lucas Stitt (South Grenville), Rusty McArthur (Smiths Falls)