Rivermen back at home Saturday
By Jake Davies - West Carleton Online
GANANOQUE – The Islanders seem to have the Arnprior Rivermen's number as Gananoque thumped the Rivermen 11-6 last Saturday (Oct. 29) in Eastern Ontario Super Hockey League (EOSHL) action.
Two five-goal periods for the Islanders (5-0-0) created an unsurmountable hill for the Rivermen (2-3-1) to climb, despite outscoring their opponent 2-1 in the third period.
The Rivermen were able to score two goals in each of the three periods, but continue to have difficulty keeping the puck out of the net.
Wakefield, QC's, Ryan Peck continues to lead the way offensively for the Rivermen scoring two goals during the game. Peck now has 14 points, including 10 goals, in six games for Arnprior to lead the team in scoring.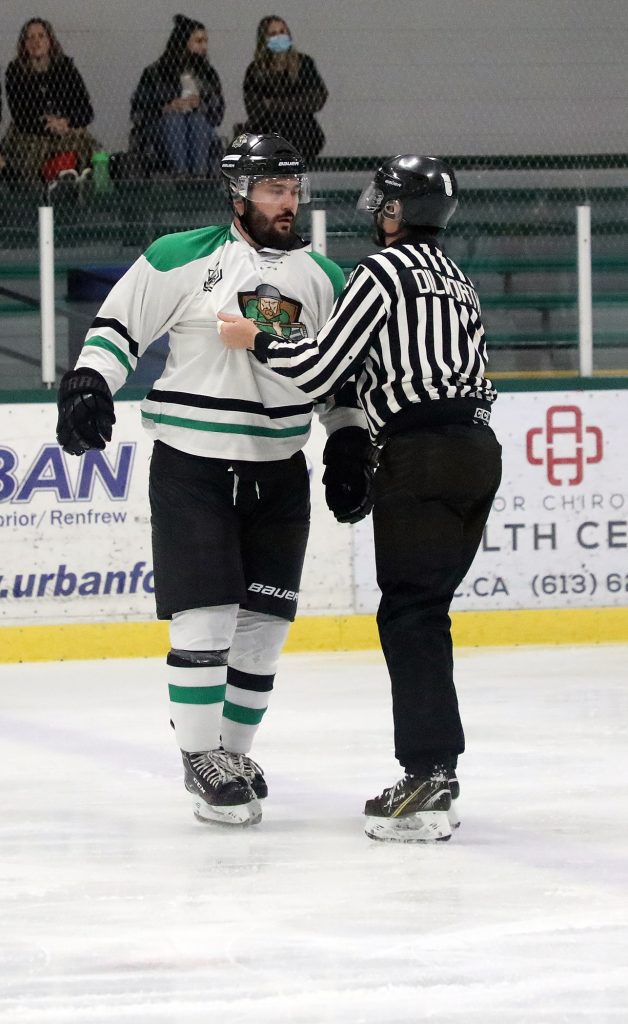 Team owner, Galetta's Adrian Moyes scored thanks to a couple of Pecks, Carter and Cole who assisted on his goal.
Jérémy Maisonneuve added a goal in his first game as a Rivermen and Luca Nocita also scored giving him 12 points in five games (three goals).
The undefeated Islanders have had the Rivermen's number so far this season scoring 21 goals against them in two games. The Islanders now sit on top of the EOSHL West Division.
The loss has knocked the Rivermen out of playoff position early in the season as the team now sits in fifth in the six-team division. But they are only one point out of a playoff spot behind the Deseronto Bulldogs (3-3-0).
But there is no time for the Rivermen to feel sorry for themselves, because they are right back at it tomorrow (Nov. 5) facing those Bulldogs at home for a rare evening game (7:30 p.m.) at the Nick Smith Centre.
The Bulldogs are led by Brodie Maracle who has nine points (one goal, eight assists) in six games and Luigi Martone (five goals, four assists).
The Rivermen have brought back a couple of fan favourites from last season following a trade earlier this week (Nov. 2).
The Rivermen have re-acquired fan favourites, forward Brett Ashton and defenceman Eric Lanciault from the Bytown Royals for future considerations.
Ashton and Lanciault are known for their energy and physical presence, while also being able to contribute offensively. Ashton was a key player in the third and deciding game of the west semi-final game last year, scoring two of three Rivermen goals while Lanciault remains the only Rivermen defenceman to ever record a hat trick.
"I'm absolutely thrilled to add Ashton and Lanciault back to our lineup," coach and general manager Mike Byrne said following the trade. "These were two players we never wanted to move, and we are happy to get them back to where they belong."