Legion Week kicks off Sept. 15
By Arleen Morrow for West Carleton Online
(Editor's note: Legion Week is a week-long celebration of the Royal Canadian Legion and in this area, specifically Branch 616. Branch 616 and its crew of hard-working volunteers are incredible supporters of the West Carleton community. They have answered the call during the flood in 2017, the tornado in 2018 and the flood in 2019. You can read about some of their incredible work during those trying times here, here and here. Their leadership has been strong supporters of West Carleton Online since Day One, and heck, they are a great bunch to have a beer with. Go say hi and thanks during the week we celebrate the Royal Canadian Legion Sept. 15 to Sept. 20. Details below.)
CONSTANCE BAY – Branch 616 had a great summer and is ready for fall.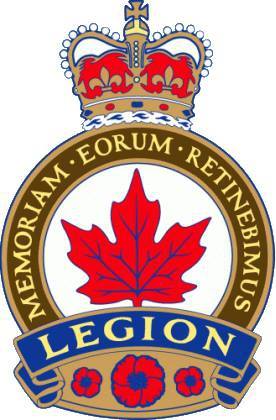 The first thing on the fall agenda is the Earlybird Membership Campaign which is on from Sept. 1 to Nov. 30. As members are aware, anyone who submits their 2020 dues during these three months is entitled to a discount and a chance of reimbursement. When you pay, your name goes in to a draw. At the end of each month one lucky winner will be drawn and will get their money back. Your name stays in the draw until the end of the campaign, which means if you pay in Sept. you have three chances. On Dec. 1 regular membership payment will revert to $60, due by Dec. 31 to remain in good standing.
September also means Legion Week. This year Legion Week is from Sunday, Sept. 15 to Saturday, Sept. 21. Rather than the pig roast this year, a barbecue will follow the four p.m. Honours and Awards opening ceremony on Sunday. The dart leagues will resume on their usual nights, using Legion Week and the week after to welcome regular and new players. The new singles dart league is off and running with Wednesday Sept. 4 being the kick-off. Legion Week will wind up with the annual Legion Golf on Saturday Sept. 4. Branch 616 welcomes everyone to drop in during Legion Week and see what your local Legion has to offer. Please join in the activities and special events.
Branch 616 had the pleasure of presenting the Centurion Sea Cadets with a donation of $1,000. Accepted for the cadets by Lieutenant Jeremy Kennedy, the award is in appreciation of their work on the annual Poppy Campaign and Branch Remembrance Day.
The new dart league West Mixed Singles is starting on Wednesday, Sept. 4. The first session will be from Sept. to December. Call Chad at 613-266-0149 for more info.
Legion Week schedule
Sunday, Sept. 15: Honours & Awards, BBQ. Kick-off to Legion Week! 4 p.m., followed by BBQ ($14). Entertainment by Forever Friends karaoke. Come and take in the awards presentations, treat yourself to the BBQ and treat us to your Karaoke talents. Everyone welcome.
Monday, Sept. 16: Monthly Meetings. Executive, 6:30 p.m. General, 7:30 p.m.
Tuesday, Sept. 17: Ladies 7 p.m. Darts. First dart session after the summer hiatus. New players are encouraged to check it out, see if you like it, perhaps become a regular when the season starts Oct. 7. Everyone welcome.
Wednesday, Sept. 18: West Singles Mixed Dart League 7 p.m.
Thursday, Sept. 19: Carpet Bowling 1 p.m. Men's Darts 7:30 .pm. New players are welcome to try out these events. Everyone welcome.
Friday, Sept. 20: TGIF Dinner 5:30 p.m. Ham & Scalloped Potatoes $14 tax inc. Children under 9 half price, toddlers no charge. Jim's Trivia! 7 p.m. Small entry fee. Everyone welcome.
Saturday, Sept. 21: Legion Golf: 12:30 p.m. Copperdale Links. One golf cart per team: $75 with cart or $60 walking. Dinner and awards back at the branch. Call Tom at 613-832-1143 for more details.
Coming events
Saturday, Oct. 12: Tony True Night. Get ready for a special evening sponsored by the Sandhill Seniors. Tony True is back at last with his fabulous vocals, covering everyone from Orbison to Johnny Cash. Dine and dance or just listen to the music. Tickets are $15 per person and are available at the bar. For more info call Gloria Wilson at 832-3222 or the branch at 832-2082.
Friday Oct. 25: Hallowe'en Party. details coming…
Don't forget
Next L.A. meeting – Monday Sept. 9: 7 p.m.
Next Branch meeting – Monday Sept. 16: Executive 6:30 p.m. General 7:30 p.m.
Musical Opportunity: Branch 616 is offering the hall free of charge to aspiring musicians who would like to have a place to practice on Friday nights after TGIF dinner. Perhaps you need to try out your act on an audience, iron out some kinks, or break in a new number. Call the branch or the entertainment chairman at 613-800-5057.
We have an 80 to 100 capacity hall for rent. Call the Branch for info 613-832-2082.
Standing dates
Monday: Every first Monday: Ladies Auxiliary Meeting 7 p.m.
Every third Monday: Branch Executive Meeting 6:30 p.m. Every third Monday of every second month: Branch General Meeting, 7:30 p.m. Joint Meeting of Branch & LA third Monday of February & August, 7 p.m.
Every Tuesday: Ladies Darts 7 p.m. Resumes Tuesday, Sept. 17.
Every Wednesday: Mixed Darts 7 p.m.
Every Thursday: Carpet Bowling 1 p.m. Men's Darts 7:30 p.m. Resumes Thursday, Sept. 19
Every Friday: Cribbage 2 p.m.
Sept. 20 – TGIF Dinner 5:30 p.m. Trivia 7 p.m.
Sept. 21 Legion Golf 12:30 p.m. Copperdale Links