El-Chantiry: Ward 5 weekly news, July 13
The Councillor's Column
COVID-19 – LATEST NEWS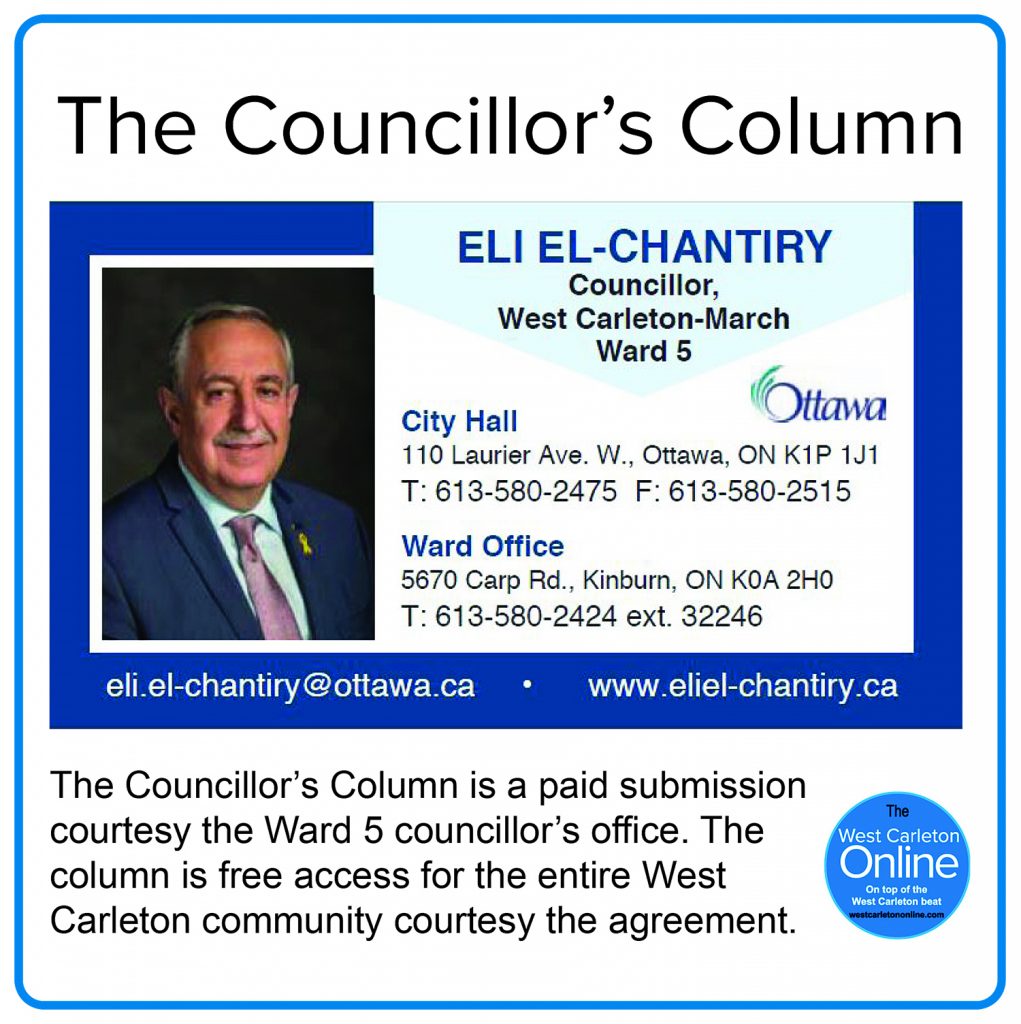 Ontario moving to Step 3 of reopening on Friday: With key public health and health care indicators continuing to improve and the provincewide vaccination rate surpassing the targets outlined in the province's Roadmap to Reopen, and in consultation with the Chief Medical Officer of Health, the Ontario government is moving the province into Step 3 of the Roadmap to Reopen at 12:01am on Friday, July 16, 2021. Step 3 of the Roadmap focuses on the resumption of additional indoor services with larger numbers of people and restrictions in place. This includes, but is not limited to:
Outdoor social gatherings and organized public events with up to 100 people with limited exceptions
Indoor social gatherings and organized public events with up to 25 people
Indoor religious services, rites or ceremonies, including wedding services and funeral services permitted with physical distancing
Indoor dining permitted with no limits on the number of patrons per table with physical distancing and other restrictions still in effect
Indoor sports and recreational fitness facilities to open subject to a maximum 50 per cent capacity of the indoor space. Capacity for indoor spectators is 50 per cent of the usual seating capacity or 1,000 people, whichever is less. Capacity for outdoor spectators is 75 per cent of the usual seating capacity or 15,000 people, whichever is less
Indoor meeting and event spaces permitted to operate with physical distancing and other restrictions still in effect and capacity limited to not exceed 50 per cent capacity or 1,000 people, (whichever is less)
Essential and non-essential retail with with capacity limited to the number of people that can maintain a physical distance of two metres
Personal care services, including services requiring the removal of a face covering, with capacity limited to the number of people that can maintain a physical distance of two metres
Museums, galleries, historic sites, aquariums, zoos, landmarks, botanical gardens, science centres, casinos/bingo halls, amusement parks, fairs and rural exhibitions, festivals, with capacity limited to not exceed 50 per cent capacity indoors and 75 per cent capacity outdoors
Concert venues, cinemas, and theatres permitted to operate at:

up to 50 per cent capacity indoors or a maximum limit of 1,000 people for seated events (whichever is less)
up to 75 per cent capacity outdoors or a maximum limit of 5,000 people for unseated events (whichever is less); and up to 75 per cent capacity outdoors or a maximum of 15,000 people for events with fixed seating (whichever is less)

Real estate open houses with capacity limited to the number of people that can maintain a physical distance of two metres
Indoor food or drink establishments where dance facilities are provided, including nightclubs and restobars, permitted up to 25 per cent capacity or up to a maximum limit of 250 people (whichever is less).
Face coverings in indoor public settings and physical distancing requirements remain in place throughout Step Three. This is in alignment with the advice on personal public health measures issued by the Public Health Agency of Canada, while also accounting for Ontario specific information and requirements. Face coverings will also be required in some outdoor public settings as well.
Drop-in appointments now available for residents needing first dose: The City of Ottawa and Ottawa Public Health are making it easier for residents who have yet to receive their first dose of the COVID-19 vaccine. Anyone who has not yet had a first dose can now drop in to any City-run community clinic between 10am and 7pm or pop-up clinic while supplies last. No appointment needed. You can find a clinic near you by using the vaccine clinic location tool on OttawaPublicHealth.ca/COVID19vaccine. Residents who have already received their first dose are also reminded to book their second dose appointments to an earlier date. All residents who are 12 years old and up can book their second dose as early as 28 days after their first dose.
NEW CARP WATER TREATMENT SYSTEM LAUNCH
A new water filtration unit has been installed to improve the quality of drinking water for residents using the Carp Well System. For many years, the water supply in Carp has had an unpleasant taste due to the presence of naturally occurring Sulphur in the groundwater. While completely safe, the water had a noticeable taste of elemental Sulphur in the tap water. Not any longer! The new system uses a Granular Activated Carbon (GAC) treatment to remove organic substances, including odour and taste compounds. This method will not only mean better tasting water, but it also filters and removes compounds like Sulphur from the groundwater. The new filtration unit is now operational and residents should have noticed an improvement in their water. This project is being funded by your municipal, provincial and federal governments through the Clean Water and Wastewater Fund. The federal government contributed $2.57M, with the Province adding $1.28M, and the City contributing the remaining funding for the $6.85M project.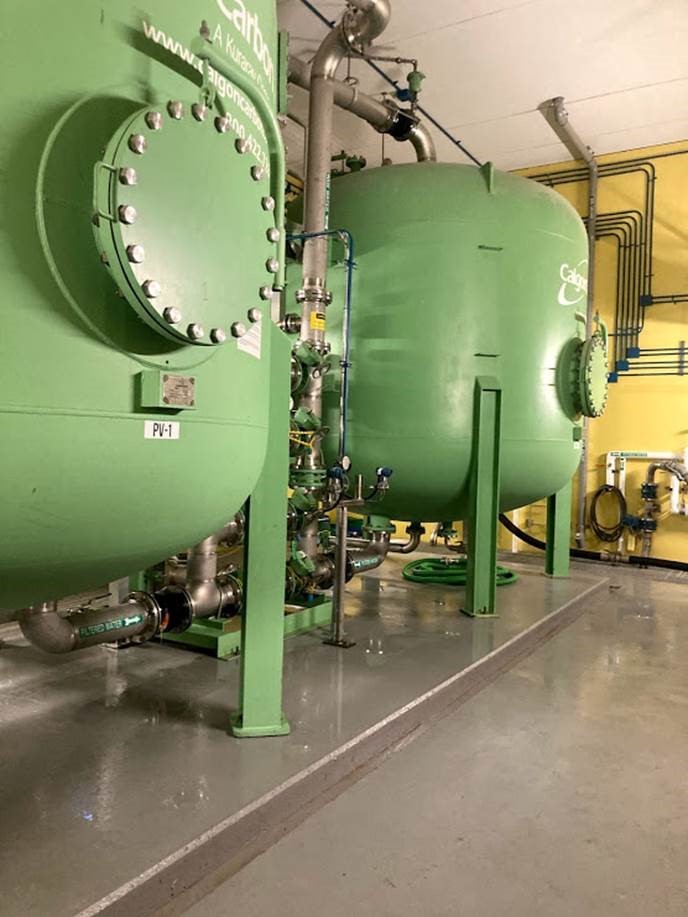 VOLUNTEER FIREFIGHTER RECRUITMENT
The Ottawa Fire Service is currently recruiting Volunteer Firefighters in several rural communities in Ottawa. Visit Ottawa.ca/Fire to learn more.
TOURISM RELIEF & INVESTMENT PROGRAM FUNDING
Are you a tourism business who is making adaptations to your site to safely welcome visitors back in the context of public health recommendations and protocols? Administered by Ottawa Tourism, the Tourism Relief and Investment Program (TRIP) can help you recoup some of your financial investment into those projects. The fund provides one-time, non-repayable grants of up to $20,000 to eligible francophone, Indigenous, rural, and semi-urban tourism businesses in the Ottawa region (Ottawa – Prescott-Russell corridor) to assist in offering a COVID-wise visitor experience. Applications for TRIP are still open. Funding (which can be applied retroactively to June 1, 2020 and/or used for projects up to December 31, 2021) can be used for the following types of projects and more:
PPE purchases
Patio space expansion and/or retrofits to enable physical distancing
Improvements to existing tourism infrastructure to make it COVID-safe
Digital tools aimed at contactless booking and purchase of tourism experiences
Creation of COVID-19-related signage
LEARN TO SWIM REGISTRATION
Registration opened yesterday evening (July 12) for City of Ottawa indoor swimming lessons. Check out the eGuide for classes. When registering, fees will be adjusted to reflect the delay in start dates. Classes are projected to begin the week of July 26. The Learn-to-Swim programs for all levels and ages will be offered in English and French at select locations. It's important to note that, in order to support physical distancing, a parent or guardian is still required to be in the water with their child for all preschool levels and Swim Kids levels one to four.
WIND TURBINES
My office has received a number of calls recently from residents regarding the potential of wind turbines in the Ottawa/rural area. The City of Ottawa is not planning nor does it have any intention of developing or installing large scale wind or solar renewable energy generation projects. The City is proposing draft policies in the new Official Plan to direct where large-scale renewable energy generation projects could be located in the rural area. These proposed policies, if approved:
Would direct where large-scale renewable energy generation projects as well as bio-energy projects could be located in the rural area. (Note: these projects would also require a Renewable Energy Approval from the province.)
Are consistent with the Provincial Policy Statement for renewable energy generation in prime agricultural areas.
Would provide direction to establish zoning by-law provisions for renewable energy generation facilities to address nuisance impacts such as noise and shadowing. Public and stakeholder consultation will be undertaken on any new proposed zoning provisions following Council adoption of the Official Plan.
The revisions to the new Official Plan will be posted on the Official Plan webpage later this month. When it is released, additional detail will be provided about how to make public delegations at the statutory public meeting expected later this summer. Upon approval of the new Official Plan, large scale projects that are initiated by energy developers would still require approval by the Province (i.e. under the Renewable Energy Approval or Environmental Activity Site Registry process). However, there is currently no provincial policy or procurement mechanism that allows renewable electricity to be sold to the grid (i.e. there is no immediate opportunity for large scale wind or solar development in Ottawa).
CITY COUNCIL MEETING – JULY 7
City Council met on July 7. The following items were actioned at the meeting:
City Council approved a vision, guiding principles and goals for its plan to manage Ottawa's solid waste over the next 30 years. The second phase of the Solid Waste Master Plan envisions a zero waste Ottawa and outlines actions to achieve that vision, including through collective changes to lifestyles and practices. The plan aims to extend the life of the City's landfill at the Trail Waste Facility by reducing the waste we generate, increasing how much we reuse and recycle, and reducing our waste-related greenhouse gas emissions by 100 per cent. Staff will evaluate and narrow a high-level list of options that support the plan's goals and develop two potential waste management systems. The City will consult on these with residents and stakeholders starting this fall. Council will then consider the draft master plan and five-year implementation plan in the first half of 2022.
Council approved renaming the Prince of Wales Bridge the Chief William Commanda Bridge in honour of the Algonquin elder and spiritual leader. Commanda was Chief of the Kitigan Zibi Anishinabeg First Nation from 1951 to 1970 and dedicated his life to promoting environmental stewardship. He was awarded the Order of Canada in 2008 for his dedication and outstanding service to his people. The City has applied for funding from the Government of Canada to rehabilitate the currently inactive railway bridge, which crosses the Ottawa River and Lemieux Island to connect Ottawa to Gatineau. The project will bring the bridge back into service as a multi-use pathway, providing an interprovincial link for commuters and recreational users. Council approved more than $8.9 million in municipal funding today – the balance of the City's commitment to this $22.6-million rehabilitation project – and dedicated one per cent of the estimated construction cost to Indigenous art.
Council approved a Shepherds of Good Hope proposal to build a 48-unit mixed-use building on Murray Street that will offer permanent housing solutions to Ottawa's homeless population, relocating residents from the nearby shelter at the corner of King Edward Avenue. The eight-storey building will also house a drop-in centre and community kitchen. The development will be funded through the City of Ottawa and the federal government's Rapid Housing Initiative.http://ottawa.ca/farmdiversified
Farmers in rural areas are now able to diversify their businesses after Council approved changes to several City regulations to permit a range of small-scale commercial and industrial activities on agricultural properties. While the changes will continue to protect Ottawa's farms for agricultural use, they will encourage rural economic development by permitting farms to open small businesses such as retail shops, yoga studios, bakeries and repair businesses. Residents can find more information at ottawa.ca/farmdiversified.
Homeowners will soon have access to new financing to pay for home energy improvements and help reduce greenhouse gas emissions. Council approved the launch of the Better Homes Loan Program, which uses funding from the Federation of Canadian Municipalities to offer residents low-interest loans tied to their properties through local improvement charges. Residents could qualify for funding up to $125,000 or 10 per cent of their home's value for eligible improvements, which include upgrades for space and water heating and for renewable energy systems. The program will launch later this year for an initial term of three years.
The next scheduled City Council meeting is on Wednesday, July 21 at 10am.