Davies: More election coverage
By Jake Davies - West Carleton Online
Were down to single digit days before we pick Canada's leader, and absolutely no one cares.
That was made abundantly clear Wednesday (Sept. 8) evening when the Huntley Community Association (HCA) held its Kanata-Carleton all candidates debate online, where anyone could tune in on a computer, tablet, laptop, phone, heck even their television to catch West Carleton's only local debate without even leaving the house. Maybe it was too easy.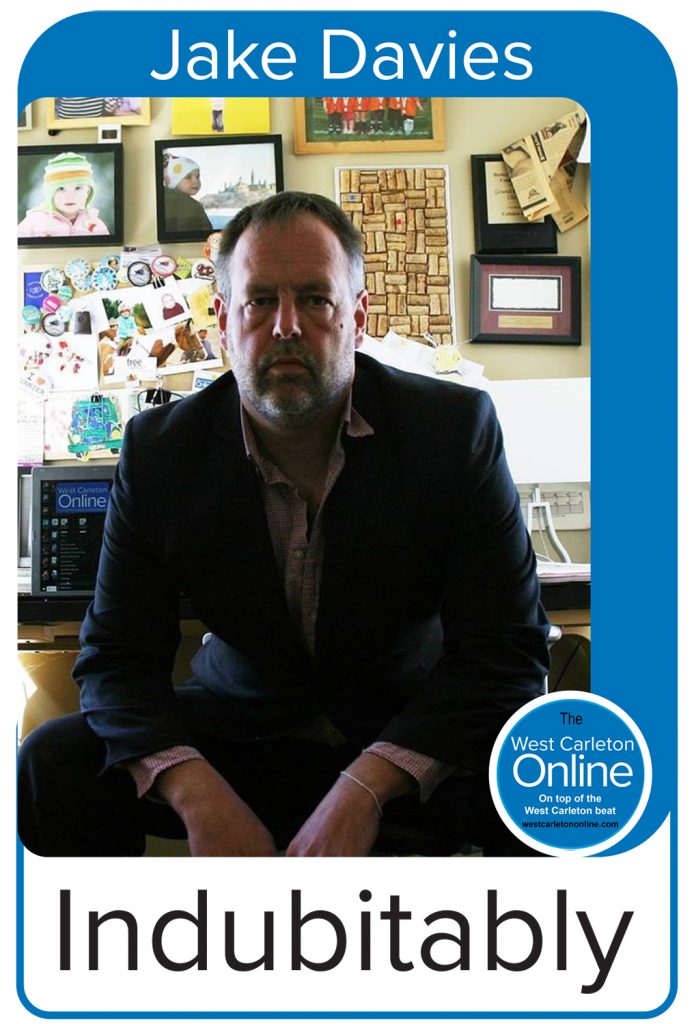 It's the first time in provincial or federal election history a West Carleton-based election debate was available to watch on a screen, any screen, live as candidates debated issues specific to the rural west Ottawa community. The HCA sent invites to their mailing list which includes more than 1,000 email addresses. West Carleton Online also published a story on all the opportunities residents had to see the candidates go toe-to-toe. We made it free access for the sake of democracy. On Facebook, according to their mysterious stats, we reached 257 people. Also, according to Facebook, in the last 28 days our posts have reached 18,220 people. According to Google Analytics, in the last week 56 people clicked on the story making it the 17 most visited page on West Carleton Online in that same time.
The actual HCA all-candidates debate topped out at 51 people watching at one time. The HCA was expecting to run it live on YouTube as well, but had issues during the livestream. You can watch the debate for yourself here.
The only thing that will be less viewed than the coverage of the HCA all-candidate debates will be this column.
I get you can't draw firm conclusions from that data, but I'm going to anyway, and people just do not seem to care about the 44th federal election.
It was a huge risk for Justin Trudeau's Liberals to call an election following the year-and-a-half Canadians have gone through, and are still going through, with a constantly moving light at the end of the tunnel, allegedly in sight, and it seems according to the polls, he's paying for it. The last thing Canadian taxpayers wanted to hear was $610 million of their money was going to fund an election nobody asked for. Although, when you read in a recent news story a national poll only includes about 2,000 individual responses, it's hard to put much value in polling.
West Carleton is known for consistently having high voter turnout. As someone who has covered every election this century in some way in ridings around Ottawa and the Valley, I can say first hand this community is engaged in the democratic process.
In the 2019 election, nearly 200 people packed the Kinburn Community Centre for that debate. More than 140 people filled the much smaller Carp Mess Hall two weeks later with the only empty chair being that of Conservative candidate Justina McCaffrey.
But only 51, roughly, tuned in to Wednesday's livestream (another 57 or so had clicked on the YouTube video the HCA posted of the event as of Sept. 10 afternoon). The most glaring absence of these online all-candidate debates is the audiences and their reactions. It has always been the emotion of those in attendance that have made any of these debates worth watching, and like rock and roll music, in person is the best way to do it.
Who could forget the sound of the collective cringe of Conservatives in Kinburn on Sept. 25, 2019 as McCaffrey read every single answer off notes to every single question asked of her. Except for one. For that question, McCaffrey sincerely told the crowd she did not have the answer to that particular question in her notes so she would not be answering that particular question. Her performance created the unmistakeable sound of hope leaving a room.
Further up the line and further back in time, a fresh-faced politician named Cheryl Gallant was battling Liberal incumbent Hec Clouthier in the long red riding of Renfrew-Nipissing-Pembroke.
Poor 'Give 'em' Hec Clouthier had to try to sell the men and women of Renfrew County on the idea of the gun registry. At an all-candidates debate hosted by the Ottawa Valley's hunting and game club. In the heart of Cobden.
You could actually hear the voters turn blue that evening. Gallant, the first female MP in Renfrew-Nipissing-Pembroke history, has defended her seat six times since, with the narrowest margin of victory being about 6,000 votes.
This election is hard to cover as a journalist.
There are no public events to attend and get that face to face. No controversial outbursts at public debates. The odd Twitter spat. There are many private events, but invitations to those are hard to come by for the media. If you think a business, corporation or large organization is going to be outwardly vocal about their support of a single party, or even imply they have a preference, then you don't get the game. The truth is these organizations support all the candidates no matter whose party it is they represent. While only one of those candidates can become the MP, there is definitely going to be an MP after the election. And that MP will be responsible for federal funding announcements in his or her riding for the next, well I guess these days, two years at least.
We did get invited to a farm, we will go to any party's event in West Carleton we're invited to. Yesterday (Sept. 11) I went fishing and headed to the Carp Farmers' Market expecting to see some campaigning, but clearly, I missed the action as I didn't find any candidates, although I did grab some Hudson's Corn and some garlic, so it wasn't a total washout.
We don't really cover the leader's race, there is lots of options out there for that, but we do try to follow it.
The federal leaders' debate Thursday (Sept. 9) was nearly impossible to watch. No candidate was given the opportunity to provide the how behind their platforms. If they dare tried, they were sure to be cut off by another camera hungry candidate. Or even the moderator.
Angus Reid Institute President Shachi Kurl seemed more like the official opposition, repeatedly cutting off candidates and firing off non sequiturs, seemingly having a beef with each candidate personally. She was a poor substitute for a live audience, though.
I now revise my statement, it was impossible to watch. I feel I learned as much about who is best qualified to lead this country watching the NFL season opener, as I would have if I was able to finish watching the debate. Kurl has my vote.
We'd love to hear how you, the West Carleton voter, are following the campaign, or if you are at all. Have you been more, or less engaged compared to previous elections? Have any Kanata-Carleton candidates stood out for you, and how have they done it? Let us know in the comments section below, but first, read our Top Five stories for the month of August, as selected by our readers.
August Top Five
In August, West Carleton Online had 19,760 pageviews. And just to ruin the whole premise of the previous column, the number one story is connected to the ongoing federal election. You really do care. I knew I should have looked at the pagviews before I opened my mouth.
The publisher's favourites you may have missed
Renfrew native Stewart a force in Carp (published Aug. 25): Just a fun profile on one of West Carleton's community and business leaders whose has a number of interesting projects on the go.
Dunrobin on the catwalk (published Aug. 11): Just a heartwarming story about an event that is a huge confidence boost for those involved.
WC's last mayor a united empire loyalist (published Aug. 20): Just a history lesson about a man who is a big part of West Carleton's modern history, and the story of how his family name is a big part of Canadian history.