Curling club needs new roof
By Jake Davies - West Carleton Online
(Editor's note: the interview for this story was done on Friday, Dec. 18, prior to Premier Doug Ford announcing the current lockdown)
CARP – It's a year of uncertainty and challenges and the Huntley Curling Club (HCC) will take them head-on after deciding to move forward with a curling season and begin fundraising for a new roof to replace the leaky one.
West Carleton Online dropped by West Carleton's only curling club just as the team of volunteers led by ice master Dwayne Lowe was getting to work putting the rink together. West Carleton Online dropped by last year in October to see the master at work. The HCC usually gets to icemaking in fall, not a week before Christmas.
But as everyone knows, 2020 has not been a usual year.
The club and its members just decided this month to have a season.
"It's a lot more complicated this year with COVID-19 protocols," HCC board member and long-time volunteer Peter Smith told West Carleton Online from the club Dec. 18.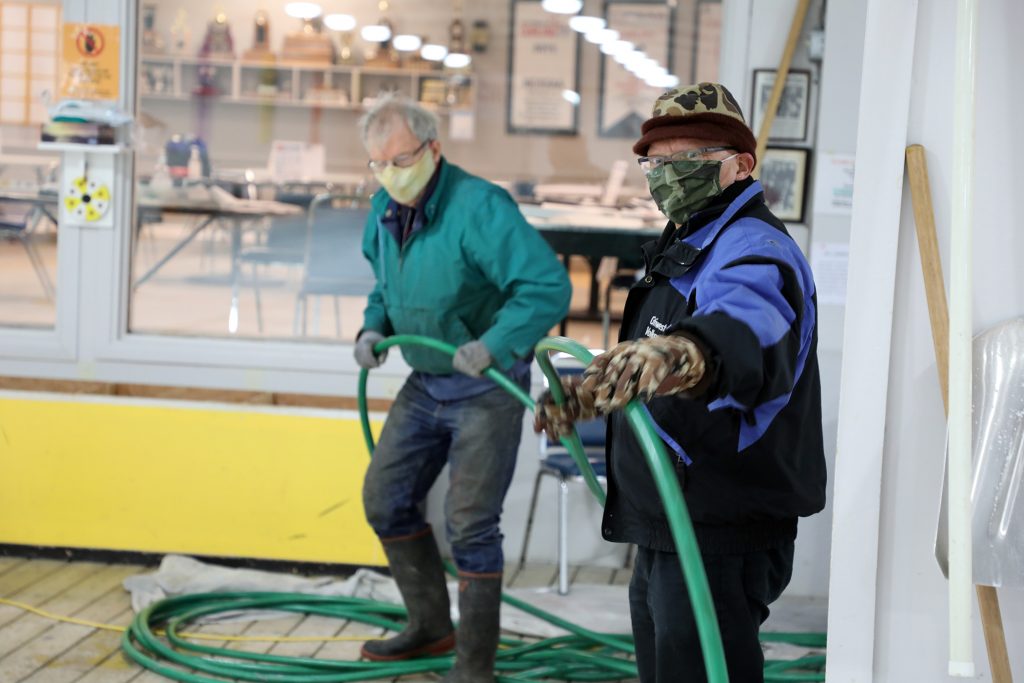 Part of this year's ice installation is posting safe spot stickers on the ice so curlers can physically distance.
At the time West Carleton Online interviewed Smith, the plan was for the HCC to open Jan. 1. The provincial lockdown announced Dec. 21 changed that, as the very earliest the lockdown will be lifted is on Jan. 23. The decision to put the ice in is an expensive one, so it is expected the HCC will still plan on hosting a scaled down curling season in 2021.
Only league play, only members. There will be a kids' program, but parents won't be allowed to stay to watch.
"We are going to run at a deficit this year and that will eat a bit in to our reserves," Smith said. "The decision to open wasn't made until Dec. 6. The ice is going in today (Dec. 18) and Premier Ford could shut it all down tomorrow (which he did). Once you have the ice in, well you have spent your money and have no revenue coming in."
Although, Smith said the club did sell some non-curling memberships this season as well.
"Were looking at ways at making it a 12-month operation," Smith said.
Meanwhile, the board is starting a project in the works for more than a year. The club is fundraising for a new roof expected to cost in the $350,000 to $450,000 range.
The club has been around for 40 years," Smith said. "For the last 10 to 15 years, we've been doing a lot of patchwork. It wasn't uncommon to see a bucket lying around. We need a new roof."
Smith says the HCC is looking at everything from a five-year solution to a 30-year solution.
The HCC is working all avenues to come up with the funding. The club applied for a Trillium Grant on Dec. 9 and will hear back around mid-February. Even if successful, that grant will only cover a portion of the expenses.
Smith says 65 per cent of the club's membership is from the Kanata and Stittsville location. The club has put together a list of 1,400 businesses embers will also approach. Despite the pressure local businesses are under during the pandemic, Smith says the club has raised about $30,000 in commitments.
Meanwhile the roof replacement project moves forward with the job going to tender sometime between February and March.
"It will be a totally new roof," Smith said. "That's it in a nutshell. Obviously, it's a tough year, but there are some markets that have done well too. Our attitude is everything is fine as long as you have a roof over your head."
If you are interested in more information on the Huntley Curling Club roof fundraiser, you can contact Peter Smith at manager@huntleycurling.ca.