Vydon residents race against rising water
Special to WC Online
(Editor's note: As we did during the 2017 flood, 2018 tornado, 2019 flood and COVID-19 pandemic, we will be making our coverage of potential extreme flooding in 2023 free access to our entire community to hopefully provide flooding updates, important information and resources to all West Carleton and beyond, so those outside the area can better understand what is happening in our rural community)
VYDON ACRES – West Carleton riverside residents, city staff and volunteers continue to build sandbag walls across the community preparing for a flood currently building momentum but expected not to exceed a one-in-10 year flood level.
Yesterday (April 18), West Carleton Online toured Willola Beach and the offical flood response's headquarters in Constance Bay.
Today, we were in Vydon Acres and the Morris Island area. A quiet part of West Carleton hit hard in 2019.
About 15 people were filling sandbags at the filling station at the intersection of Lighthouse Lane and Loggers Way. Most of them were residents, a couple of volunteers including a gentleman who travelled from Perth to help and Coun. Clarke Kelly's brother Mike, as well as Coun. Kelly with a couple of his staff members also present filling bags between managing phone calls.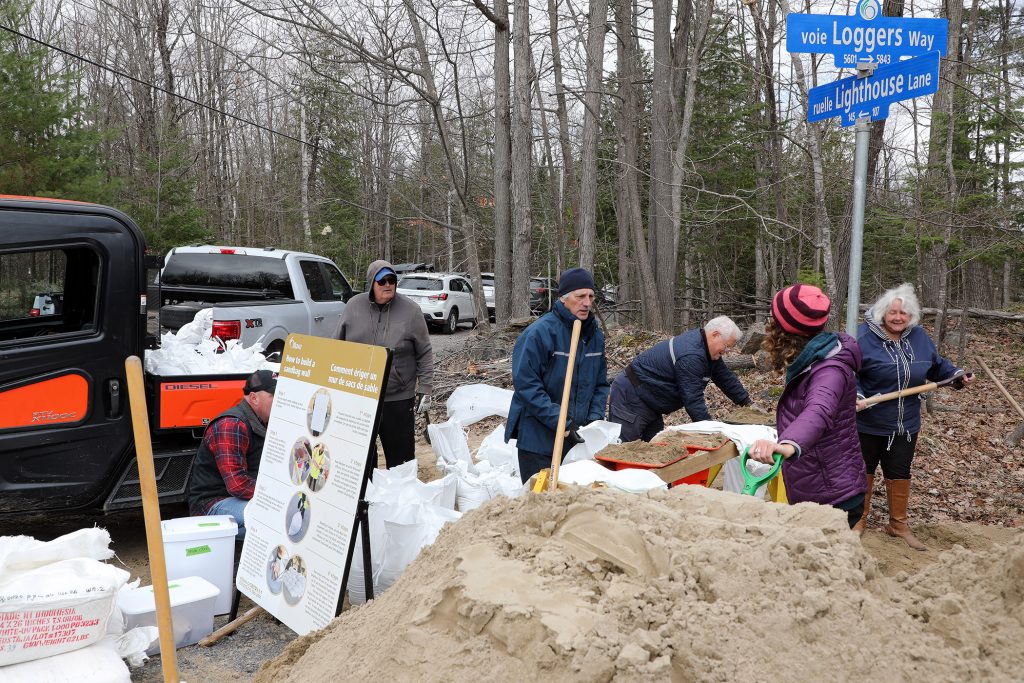 Lighthouse Lane is a short gravel road serving roughly 10 houses on Lavergne Bay, part of the Ottawa River. Today started with snow and wind and the river is choppy and rough.
"It's higher than it was yesterday," Lighthouse Lane resident Bruce Hoskin told West Carleton Online. "Not a big jump. According to the Ottawa River Regulating Committee it went down. The water was not at my hill yesterday, but it is today."
Days like today remind Hoskin of 2019.
"We were sitting in our backyard and things looked great," Hoskin said. "The next day we knew we were in trouble."
But the volunteers, the city staff and the army were there to help. They were able to put about 5,000 sandbags out to protect his property.
"The support was amazing," he said.
This year, every afternoon around 4 p.m., Hoskin says all Vydon Acres is on their computer.
"Every day, everyone in this community is waiting for the next day's projections," he said. "They're usually about an hour-and-a-half late."
There is no long-range forecasting when it comes to flood levels. Most projections end three days out, and Hoskin says they can be confusing to follow.
"In the absence of good information, people make stuff up," he said. "Things are better this year than they were in 2019, but there's still room for improvement."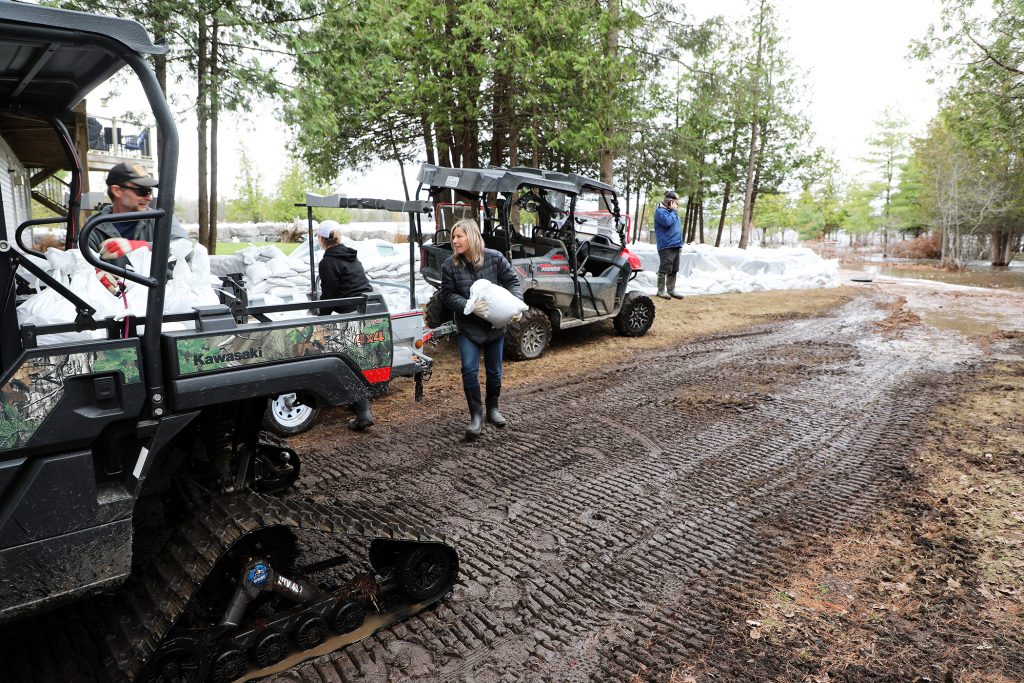 Today (April 19), residents are filling sandbags, transporting sandbags, helping neighbours and preparing, but not necessarily knowing what they are preparing for.
"The unknown is how far the river will come up," Hoskin said. "We know how to sandbag."
Hoskin says he noticed an improved city response as well since the first big flood this century in 2017.
"The city has been incredible," he said. "They were in 2019 too. The city support was great, and the community support was great."
Coun. Kelly, taking a short break from his other duties, shared the latest information he had available.
"The latest update this morning is the ORRC expects it will be a one in 10-year flood," Kelly told West Carleton Online. "I think levels right now are better, but there's lots of water in the Ottawa River basin, so we're sandbagging like we're preparing for 2017."
By way of comparison, 2017 saw one in 50-year flood levels and 2019 saw one in 100-year levels. As of this morning (April 18) at 7 a.m., water levels in Constance Bay are at 59.73 metres and are forecast to reach 60.23 (2017 peak 60.44 m/2019 peak 60.75 m). Water levels in Arnprior are at 75.14 m and forecast to reach 75.50 m (2017 peak 75.95/2019 peak 76.28 m).
Kelly says many of his fellow councillors have also reached out to ask how they could help.
"Councillors have reached out and asked what they can do," Kelly said. "They're reaching out to their base looking for volunteers and I'm directing them to West Carleton Disaster Relief (which is leading the volunteer effort in West Carleton). I'm encouraged by the volunteers that have come out. We still need more people at Lighthouse Lane and Loggers Way. They need walls today."