Canadians hit Carp ODR for chilly shinny
By Jake Davies - West Carleton Online
CARP – It was cold, players had to change outdoors or get dressed at home, but the sun was out, the ice was great, and the Carleton Place Canadians junior A hockey team was having a great time on the Carp outdoor rink yesterday (Jan. 26) for some good old shinny.
With the Central Canadian Hockey League (CCHL) on hiatus due to the COVID-19 lockdown spurred by the Omicron variant, and indoor hockey rinks shut down across the province for the same reason, Carleton Place Canadians owner, coach and general manager Brent Sullivan wanted to get the boys on the ice as the season gets ready to start up again next week, and the Carp native knew just where to go to get that done. Although, playing in -25 degree Celsius weather had him asking why after one hour of a two-hour ice time.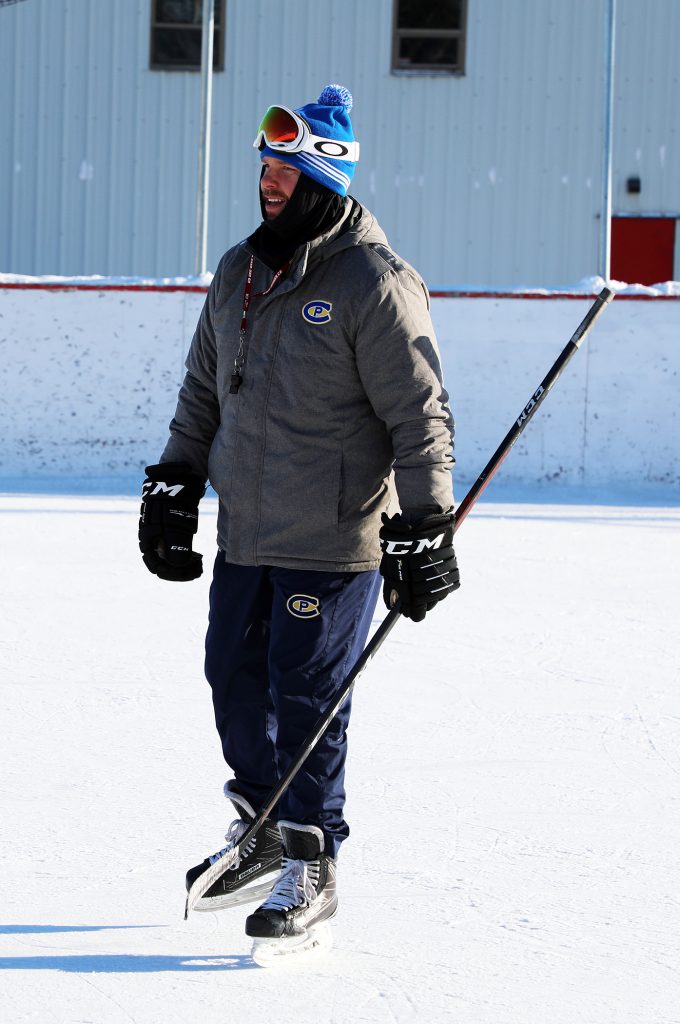 "Tough to say at this point," Sullivan told West Carleton Online, referring to the cold weather. "Things are opening up next week which is really nice. It was an opportunity to get our guys together, and I think it also links in to Bell Let's Talk Day too. The main focus for me is to try to keep the guys entertained, keep them active as possible, and also the mental health aspect, get them out, get them playing, get them having fun. This isn't anything structured, we're just playing some shinny. An opportunity for the guys to bond for a bit, under the parameters we have to follow at this point."
Sullivan not only owns the Carleton Place junior A team, he owns the Canadians hockey club, which also includes a jr. B and U18 AAA team.
The CCHL has been on pause for the last three weeks due to the COVID-19 provincial regulations. The team had just returned from the league's three-week holiday break. The Canadians have played one CCHL regular season game in the last six weeks. The Canadians hit the Carp outdoor rink Tuesday (Jan. 25), yesterday and are expected to hit the ice again today (Jan. 27).
"Tuesday, we ran a skills session with our player development coach Evan Brownrigg and then today was just an opportunity to get the boys back, a little chillier today obviously, but it speaks volumes of the guys' commitment," Sullivan said. "They want to be here, I didn't force any of them to be here, but everybody's here."
Sullivan has a pretty strong hockey resume himself. A defenceman, at 14 he was playing for the Ottawa Valley Titans, before moving on to the CJHL and then four years in the Ontario Hockey League playing for the Sarnia Sting for four seasons and one game with the Windsor Spitfires.
He also played for Carleton University for a handful of games. Sullivan is very familiar with the Carp ODR and knew it would be a great spot to get some ice time in.
"I grew up here, 500 metres away," Sullivan said. "The conditions are fantastic, really nice. Obviously, you wish the indoors were open just to warm your toes a bit, but we're really luck, Alice's Village Café brought over some hot tea for some guys, and they've been sipping on that, which is really nice."
The CCHL starts up again next week with the first indoor practice set for Monday (Jan. 31) and then their first game on Friday (Feb. 4). He says the team is looking forward to getting back indoors, but all of them know what it's like to be a lover of hockey in Canada.
"I think that's the biggest thing, most of these guys are from the area, a lot of guys from Ontario, a couple of east coasters," Sullivan said. "Minus 25, the wind is not too bad, it's blocked a bit by the building, but there's no complaints out here. Everyone is having fun, we're making the most of our current situation, which isn't ideal, but we're out here, we're being active, we're together and we're having fun."
The last time the Canadians played a regular season game was Jan. 4, and there has only been one in the last six weeks.
"It's been tough, I think the last six weeks have been hard on the guys," Sullivan said. "Our last game prior to the first shutdown was Dec. 12, we went on holidays until Jan. 2, then got one game in before another lockdown. We're looking forward to starting up next week, getting back to practicing on Monday and playing on Friday (Feb. 4)."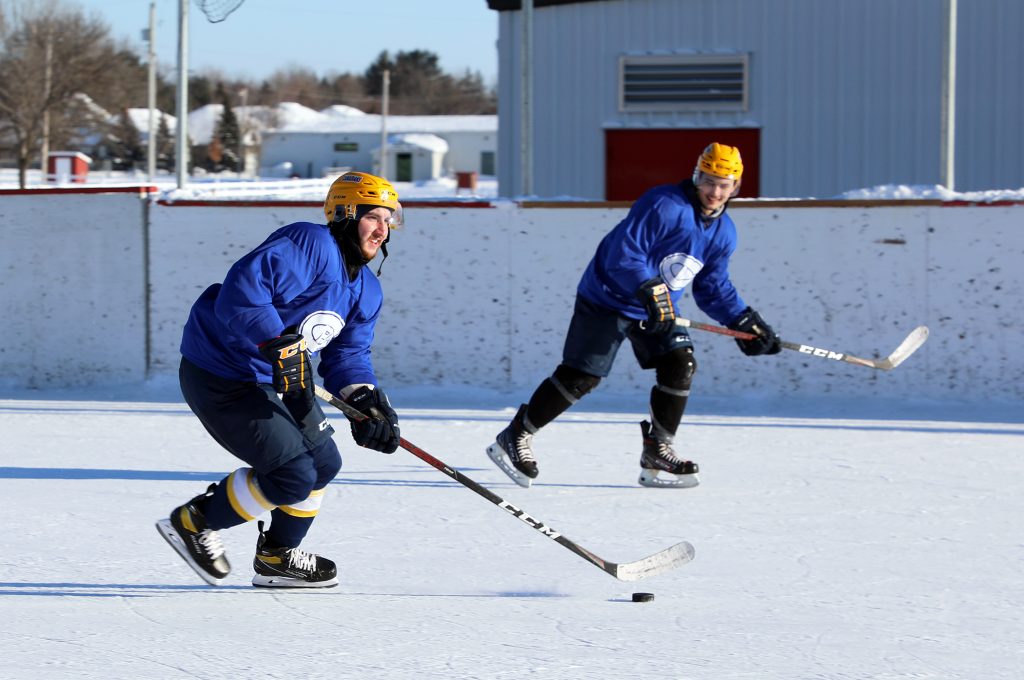 Canadians forward and Carp native Bill Gourgon, 19, is in the middle of a strong season with nine goals and 13 assists for 22 points in 25 games and 71 penalty minutes. He honed those skills on the Carp ODR.
"I lived in Carp my whole life," Gourgon told West Carleton Online. "I was born in Carp, I spent almost every night in winter when I was a kid playing here at this outdoor rink. I grew up playing for West Carleton, went to Silver Seven then I went to the (Ottawa Valley AAA) Titans, now I'm in Carleton Place and I love it here. Right now, this is all we can get for ice as a team and it's nice to be in my hometown where I grew up and all the guys are having a fun time."
Asking Gourgon how the ice is was a bit of a conflict of interest for the player.
"The ice is really good, my grandpa floods here," Gourgon said. "Joe Palsson, he just lives down the road from me, he floods it, he does a really good job. He's always been at the rink for me growing up, and he's contributing to our team right now."
Gourgon says COVID-19 has made for a challenging hockey year, but the team is great at focussing on what they can control.
"It definitely has had its ups and downs," he said. "We have a pretty tight group of guys, but through all these ups and downs, we've always persevered and were getting through it, like right now. We're on an outdoor rink in January, our season has stopped, but we're all out here having a ton of fun and that is all that matters."
The Carleton Place Canadians currently sit in fifth in the CCHL Robinson Division with a 11-12-1-3 record, good enough for 26 points. The team holds the last CCHL playoff spot with a five point lead over the Rockland Nationals. The top eight teams from the league make the playoffs.
The Canadians have a proud tradition in junior A hockey as a four-time CCHL champion; three-time Fred Page Cup champions; and three-time national Jr. A finalists.