Davies: The middle ground
By Jake Davies - West Carleton Online
For the last two years it seems like I'm writing the word 'unprecedented' every couple of weeks to describe the current condition.
And it's happening again, in downtown Ottawa. An unprecedented demonstration, now being followed up by an unprecedented police action within the city.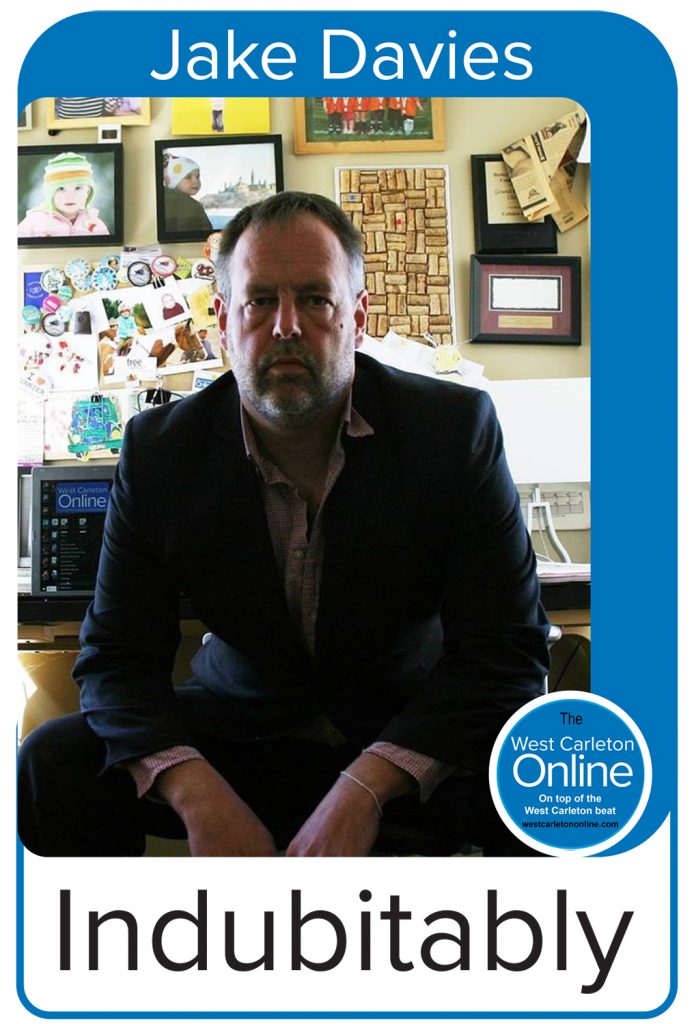 Meanwhile the battle continues online as well. It doesn't matter what side you're on, the case is presented in black and white. Specious arguments presented with much rage on both sides of the issue. One photo is presented as stone-cold evidence it represents the entirety of the protest. Then the other side presents a photo, the antithesis of the first, and it is positioned as the "real" example of what the protest is. Meanwhile, the reality is somewhere deep in-between. When I was on West Carleton's overpasses on Jan. 29 meeting with supporters cheering on the convoy as it headed to Parliament Hill I never once felt threatened. The supporters treated me with respect; several were happy to go on the record and have their photo taken; and one or two politely deked out of the way of the camera's view. No one threatened me, no one yelled "fake news" at me, not one angry word was directed my way. Off the record, we talked about life. But other reporters were absolutely harassed and threatened by convoy supporters as well. I saw the videos and read the stories. I absolutely believe it. And that's just it. Both things can happen at the same event over the same issue. Each report is a unique experience and not the sum experience of one massive event.
But in today's world, you're either with them (and it doesn't matter which them you choose) or you're against them. There is no middle ground, especially on social media. You are either a true believer, or you are a true believer for the other side. And that apparently gives you the right to insult, threaten, and bully the 'enemy' as much as you please. It's okay to make fun of them because they are wrong.
In reality there's been a lot of wrong on both sides.
We'll start with the Freedom Convoy 2022 organizers, three of them now arrested. They were well organized and well-funded, capitalizing on the modern communication and fundraising technologies available on the Internet. But they put themselves in an impossible spot right off the bat – they made demands nobody could deliver. They inspired a movement with no coherent direction.
Sure, the mandates could be dropped in Canada, but you still can't enter the U.S. without a vaccination. And of course, it's an irony lost on the protestors that one of Freedom Convoy 2022's goals is to force the removal of a democratically elected leader.
Anyway, both of those demands are impossible to deliver, and it means no matter how the protest ends, it will end in abject failure for the demonstrators. It put the very gung-ho protestors on the ground in the very difficult position of deciding how they want to lose. Leave on their own, failing to achieve their goals on the way out with their tails between their legs? Or, be forced out not achieving their goals, as it appears many of the true believers have chosen, as the police operation to end the demonstration enters its fourth full day. Since birth, all of us have been taught you have to fight for what you believe in. We all have an ego, so in a way, this violent confrontation unfolding on the streets of Ottawa as I type was always going to be the destined conclusion to the protest.
But the protest, as Coun. Eli El-Chantiry put it last week, "lost the room" for me when Freedom Convoy 2022 self-declared spokesperson Tom Marazzo said he was open to forming a coalition with the Conservatives, NDP and/or Quebecois.
That's not quite how democracy in a free country works. In Canada, you can't just show up on Parliament Hill and say you're a political party. You actually have to win that right. The fact the protestors' spokesperson, and presumably those he was speaking for, don't have the slightest idea how the politics they are rebelling work, is disappointing to say the least.
But I guess if they had some idea of how Canadian government works, they could have accomplished their goal with a lot less trouble, nearly zero expenses, perfectly peacefully and with far less travel exactly five months ago. When we had a federal election. Already a year and a half in to the pandemic, surely these same people had the same grudges against Prime Minister Justin Trudeau on Sept. 20, 2021. Sixty-two per cent of eligible voters exercised their franchise in last fall's election. More than 10 million votes were left on the table. I'm not going to cast aspirations on the type of people who vote and the type who don't, but I will say if 100 per cent of the demonstration supporters (not just those on the Hill) voted, Canada would have a Conservative government today. That's one of the parties Mazzaro was ready to form a coalition with.
There were big and plentiful mistakes made on the other side as well.
The city's mistakes were obvious. They waited too long to act. They frustrated and alienated their residents by not enforcing the same rules they enforced upon their own residents for years. The Ottawa police had a peacetime chief when a wartime chief was needed. We're already seeing some of the fallout from those mistakes with one police chief relieved of duty, one Ottawa Police Services Board chair removed from her seat and several other board resignations. Fallout for city council will continue right in to next fall's election, I'm sure.
When Trudeau blasted the demonstration as a "fringe minority" with "unacceptable views" he drew a line in the sand and clearly divided a segment of the country that was already feeling disenfranchised. I don't know how big, definitely the minority, but if I can use my Facebook page as a metric, that minority is certainly more than I think Trudeau gives them credit for. But numbers aside, it is who I see supporting the convoy. I'm not naming names here, but I've seen people I've interviewed in the past post statements in support of the demonstration. They are community volunteers who have stepped up for their community time and time again. They have done it selflessly and without ever looking for recognition except as an opportunity to raise more funds to do more volunteer work. They are dotted throughout the support I see, and contrary to social media practice, I don't want to ridicule them, but I do want to know why they feel this way.
I may not agree with their view on this issue, but I certainly have to give it some weight based on where it's coming from. And I think Trudeau does too. After all, he's the fringe minority's prime minister too.
Top Five stories of January
West Carleton residents must have resolved to read more in 2022 as West Carleton Online had 19,989 pageviews in January spread between 6,461 users.
As is always the case, emergency news always gets the clicks, but readers in January were also interested in real estate, outdoor patios, tiny homes and of course the so-called freedom convoy. Actually, our Jan. 31 story Convoy support from WC overpasses, came in sixth in January with 180 clicks. Although, that's still pretty impressive as it was posted mid-morning on the last day of the month, and still cracked the, umm, Top Six, I guess.
Young girl dies following Constance Bay snowmobile crash (791 pageviews, published Jan. 1): The number one story of January was a New Year's Eve (Dec. 31) snowmobile crash – a tragic start to the year for an out-of-town family we learned more about a few days later.
Cheshire Cat patio popular despite chill (327 pageviews, published Jan. 10): With the New Year starting with yet another COVID-19 lockdown, Cheshire Cat Pub owner Dustin Therrien made lockdown-lemonade in the second most clicked story of the month. He expanded his patio, added firepits and blankets and welcomed all to enjoy the Cat's winter patio. It was the chilly place to be.
WC's cheapest real estate available in Carp (212 pageviews, published Jan. 6): Did someone say cheap real estate in Carp? Obvs, that story is coming in the Top Five, number three to be specific. It's a single-room home! You read that right.
Victim in C Bay New Year's Eve fatal snowmobile crash mourned by Airdrie community (208 pageviews, published Jan. 12): On Jan. 12 we learned the identity of the young woman who died in a New Year's Eve snowmobile crash. Cassidy Crompton of Airdrie, AB, was an accomplished cheer leader and loved by her community.
Tiny home debuts in Carp (194 pageviews, published Nov. 23, 2019): I guess that number three story got people's imaginations going because our number five story for the first month of 2022 is more than two years old. But it is a story about West Carleton's own tiny home builders.
Publisher's picks
Hey, it's Family Day weekend so here's some more reading material for you for that extra day off. Some of the publisher's favourites that just didn't get the clicks for whatever reason.
Canadians hit Carp ODR for chilly shinny: The junior A hockey team holding practice on the Carp ODR on a freezing Wednesday afternoon may have been from Carleton Place, but the coach and player we spoke with are both from Carp and that's how they knew some good ice to practice on while locked out of their own facility.
We had all your pre-Olympic coverage as three athletes with deep West Carleton roots competed at the 2022 games. A brother-sister combo who compete in the ski cross who grew up in Dunrobin and a Swiss born hockey star who grew up in Carp.
Constance Bay Skateway returns: Who would want to spend their nights in the extreme cold flooding, and their days plowing and shovelling all in the name of bringing the Constance Bay Skateway to the community? These guys, that's who.
WC experiencing record-breaking snow: On Jan. 17, like you, we were housebound as another provincial lockdown kicked off the new year. Not only that, it was snowing. A lot. We needed a story and had nowhere to go, so we called up Ottawa weather historian Rolf Campbell who put the day's storm in perspective for us at the exact same time as the record-breaking snow was hitting the ground. Our story was published before the last flake flew.