Tiny home debuts in Carp
By Jake Davies - West Carleton Online
CARP – After three seasons of work, Humble Creek Homes debuted their tiny home last Saturday (Nov. 16) in Carp.
Last March West Carleton Online met Simon Feizo-Gas in Constance Bay as he and his partners were just launching their new business Humble Creek Homes.
The idea involves building custom designed homes from as small as 250-square-feet up to around 800-square-feet. Dunrobin's Feizo-Gas is hoping to provide rural landowners an opportunity to take advantage of coach house opportunities in rural Ottawa. Just one of many uses for these so-called tiny homes.
On Saturday. Nov. 16 at Old Quarry Park along the Carp Road, Humble Creek Homes hosted a tiny open house. The timing seemed perfect having their event the same day as three Christmas craft sales were being held in West Carleton.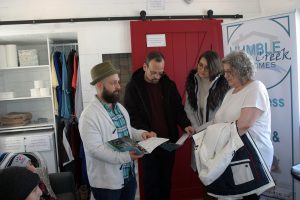 By the time West Carleton Online dropped by Saturday at 3 p.m., more than 100 visitors had toured the home.
"We would have been happy with 20 to 40, we didn't expect this," Feizo-Gas said. "Some serious shoppers. We're talking to a lot of people who know what they are talking about. They're very informed."
Feizo-Gas said the words 'tiny house' were enough to attract people driving by.
"Some have just come in from seeing the sign by the road," he said. "We've done great, we got slammed early."
Feizo-Gas' partner Patrick Lamothe says some of the advantages of modern tiny homes is taking advantage of current technologies. Heating, lights, entertainment, security and more, all controlled by one device, from anywhere.
"Everything is hooked up to smart tech," he said. "You can control the whole thing from your phone."
For more information on Humble Creek Homes, click here.