WC remembers, online
By Jake Davies - West Carleton Online
CARP – It was the usual somber service at the West Carleton War Memorial for Remembrance Day, amplified by the silence due to a crowd reduced by thousands from the previous year due to the ongoing global pandemic.
About 37 people were allowed to attend the fifth annual West Carleton War Memorial Remembrance Day service, down by thousands from a service that has become very popular in a short amount of time. But this year, for the first time, the event was live-streamed on the West Carleton War Memorial Facebook page (and you can still watch the taped version of the event).
The 37 in attendance were made up solely of military members and their loved ones, dignitaries including MPP Dr. Merrilee Fullerton and Coun. Eli El-Chantiry (MP Karen McCrimmon switches between the West Carleton and Kanata service each year and this year she was in Kanata) and members of the West Carleton War Memorial committee and event organizers.
Despite the unique nature and the unique challenges of hosting a service in the age of COVID-19, there was no way organizing committee member Dunrobin's Stuart Hodge wasn't going to hold the event.
"It's always important," Hodge told West Carleton Online shortly after the service. "It has to happen. The Second World War, for example, six years of warfare, through all weathers, through all fronts. Rain wouldn't stop anybody. This shouldn't stop anybody from remembering either. Now we have to do it safely, which is why we did it the way we did it."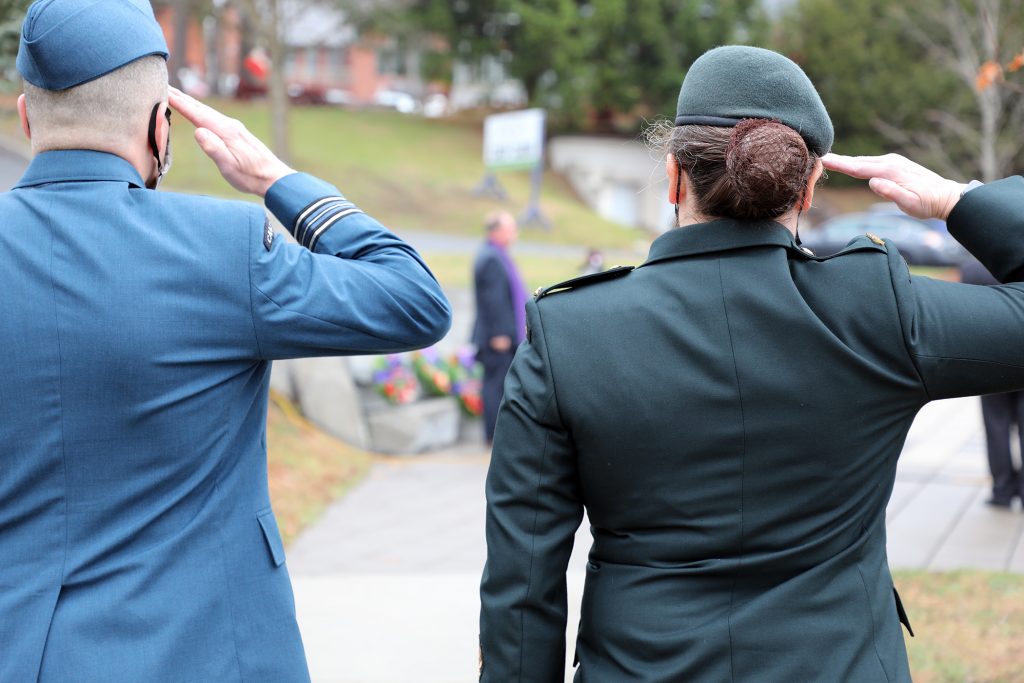 Holding the service safely meant some heart-breaking decisions.
"We've had to keep it as safe as possible, many of the veterans are very vulnerable right now," Hodge said. "For example, (World War Two veteran) Roly Armitage would normally be here and would put up a real fight if he knew we were doing this. We didn't tell him, because the fighting spirit is still alive and well in him and the other vets, they would love to be here today. We would hate for people who have gone through what they have gone through, be taken out by the virus."
The small nature of the service, the smallest in the service's history, was noticeable. Normally traffic is not allowed through the location of the memorial on Donald B. Munro Drive and Falldown Lane as the road is usually full of spectators. This year, vehicles, although attempting to be respectful, could be heard throughout the service. There was no music, no school children, no horn playing and no crush of people looking to place their poppy on the letter-reading soldier at the monument following the service.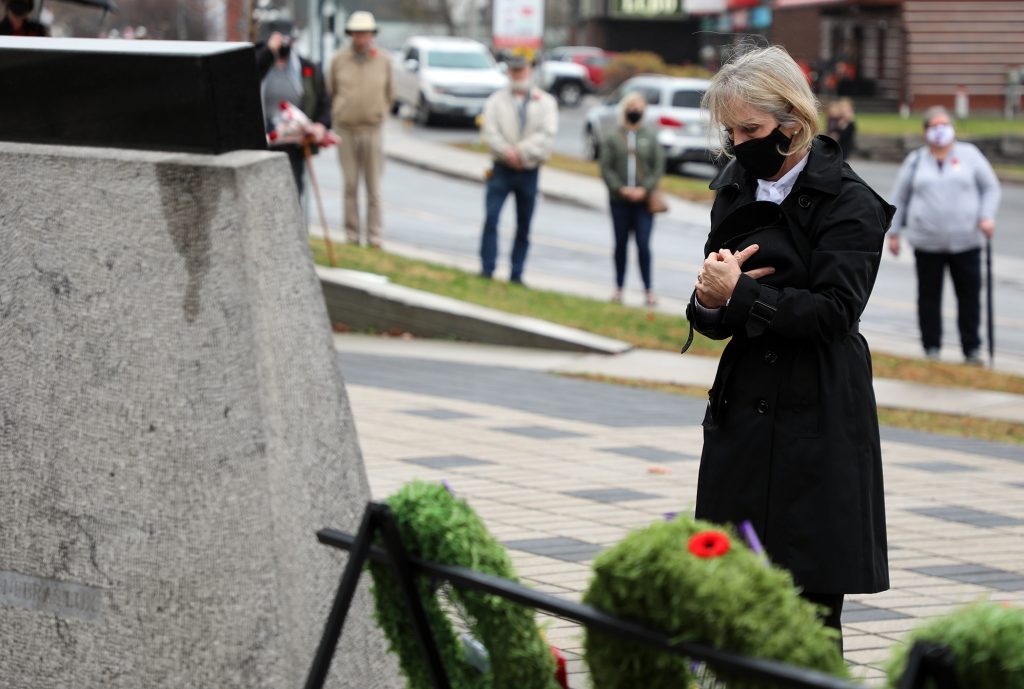 Organizers did encourage the community to come and pay their respects at the memorial when they can.
"It's gone pretty well," Hodge said. "It's not all over, we have a couple web cameras up around here and we've been videotaping since sun up this morning and we will continue to do so until sundown, and we will put it all together, so the whole day is captured. There have been a lot of people here over the last two hours. I'm actually amazed at how many people have been through paying their respects. It went pretty well. There were a few technical issues, we haven't done this before (live-streamed), we're learning as we go but it went pretty well."
Hodge also had some advice how community members could continue to support and remember the veterans who died for our freedom.
"It's really important we support the legion," Hodge said. "These are desperate times for any of the charities, but the Legion needs support to keep doing all the great things they are doing. Go online, get a membership. I believe it's $20 a year. Do what you can. Support your local legion branch as much as you can."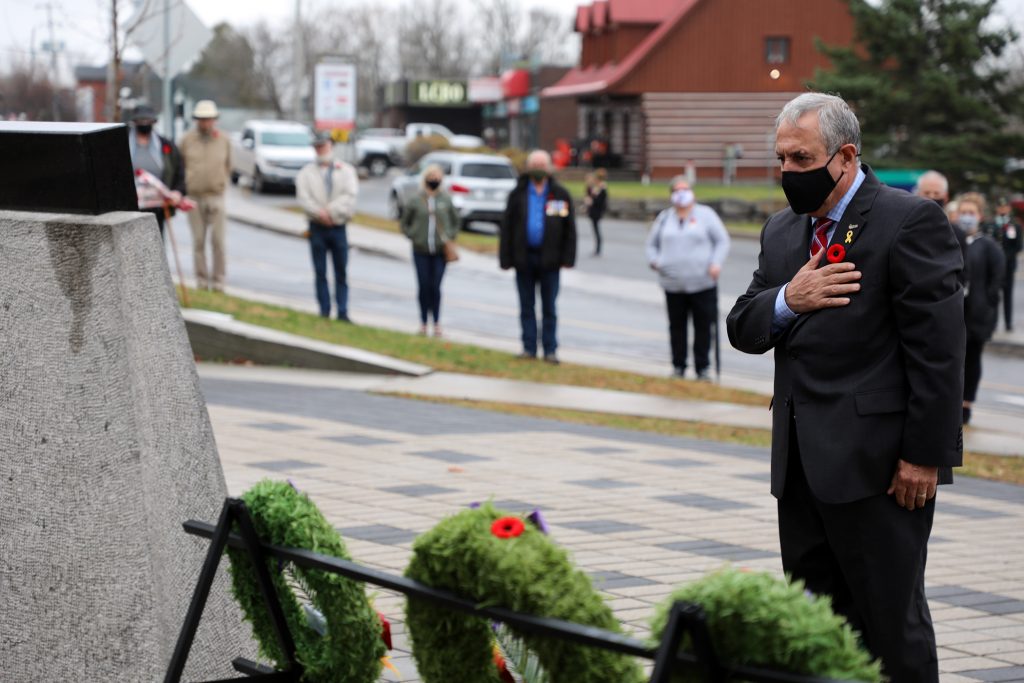 It is times like Remembrance Day when you really notice the effect of COVID-19. While Remembrance Day services are always somber events, the mood always picks up considerably afterwards. In Carp, the village usually comes alive after the service. The Carp Agricultural Society traditionally hosts a free luncheon following the service and Alice's Village Café, owned by retired Canadian Forces member retired Lt.-Col. Todd Hirtle, also provides free meals to members of the military. Both places would be filled to capacity after the service with the loud buzz of conversation as friends and comrades reminisce about times gone by.