Warriors play shinny, meet Borowiecki
By Jake Davies - West Carleton Online
CARP – When it's not a school day in Carp, it's a hockey day. And for several of the peewee A West Carleton Warriors, last Friday was a day of it including a little ice time with Ottawa Senators rugged defenceman Mark Borowiecki.
Many of the Warriors, yes, those Warriors, got together Jan. 24 to hang out together on a PA Day from school. It was certainly the best day for outdoor skating last week and the 11 and 12-year-olds took advantage hitting the Carp outdoor rink at 10:30 a.m.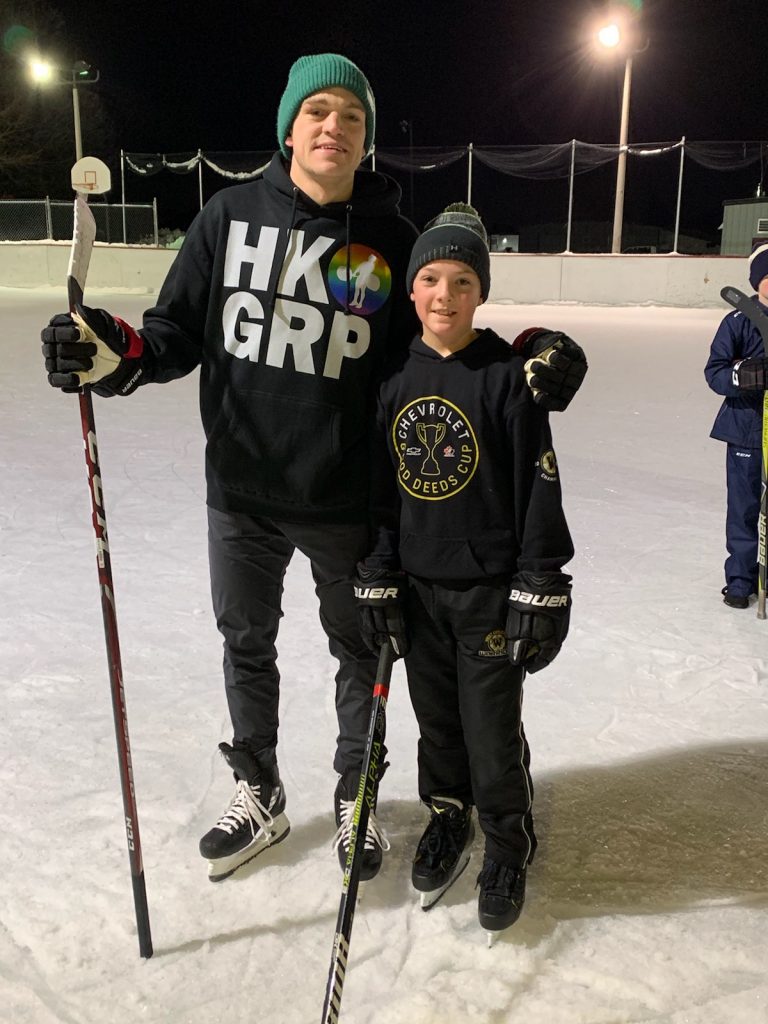 It was a day of shinny with only a couple of breaks for food. As the sun went down, a well-known hockey player and a few of his buddies showed up at the rink. It was fan favourite Borowiecki.
"When Mark walked in to put his skates on at the old outdoor rink benches with his buddies, it was obvious they just wanted to come and hang out and prove that boys will always just be boys," Warriors mom Shelley Welsh, who organized the day of hockey, told West Carleton Online Saturday (Jan. 25). "The normally pristine Carp ODR ice was a little slushy because of the mild temps but no one cared. A few of the boys noticed him straight away. Their eyes opened wide and they whispered to each other. Blake (Voelker) came over to me and said, 'Mom it's Mark' and I said 'yep they just want to skate and hang out just like you guys. You can go and say hi when he's on the ice.'"
Borowiecki and his friends joined the game of shinny and chatted with both the players and onlookers and posed for a few photos.
"It was really cool being on the ice with him, but it was just like being out there with my friends," 12-year-old Blake, who was on last year's Chevy Good Deeds Cup winning squad, said. "Just playing with someone better than us."
Borowiecki told Welsh her son was a "great young skater. Solid. I was sure he was a D player," with a laugh.
"It was super cool to play with an NHL hockey player even though he was only playing 40 per cent," said Logan Forgie, 12, who was also on the 2019 Good Deeds Cup team. "It was a great experience and super fun."
Borowiecki and his wife Tara are expecting to become first-time parents in the next few weeks.
"Honestly I think he will make one of the best dads ever," Welsh said. "He's so great with the kids, always. And his love for the game was obvious last night as he hung out with his lifelong friends on the ice. Easy going and welcoming as always."
Welsh and Blake are super huge Ottawa Senators fans and have followed the lifelong Senator his entire career. Apparently Borowiecki was also following the hockey career of the Warriors.
"Mark knows all about the Good Deeds team and how we've worked in the community," Welsh said. "Blake and I were both wearing our hoodies from Chevrolet. He is such incredible part of the Ottawa Senators family and Sens Army. His 'passion team' being the Capital City Condors ranks high up there for him. He does so much work with them and it's inspiring. It helps all aspiring players see there is more to hockey than just what happens on the ice. It's a family with a massive heart. It's simple to do a good deed and to see the ripple effect that comes from it. Mark has that nailed down. I was a proud Team Mom knowing our boys were on the ice with such a great man."
While certainly a highlight of the day of hockey, that wasn't the end for the Warriors. After playing outside all day, the team and a few family members headed to the Cavanagh Sensplex in Kinburn to see the West Carleton Rivermen senior A team take on the Cornwall Prowlers in an EOSHL regular season game.