McDougall a COVID community hero
By Jake Davies - West Carleton Online
CARP – In an effort to keep busy during the global COVID-19 pandemic work slow down, Meadowridge Circle resident Barbara McDougall became a community hero thanks to her efforts to keep kids occupied and entertained during a trying time for the whole world.
Her efforts, already long recognized by her neighbours, was officially recognized by the City of Ottawa with a visit from Coun. Eli El-Chantiry and McDougall's neighbours on Christmas Eve (Dec. 24) morning.
"It was a surprise," McDougall told West Carleton Online this morning (Jan. 3). "I felt really overwhelmed. I'm so thankful to Eli and the community and Bonnie (O'Connor) and my husband (Terry)."
At roughly 9 a.m. Friday morning El-Chantiry and more than 20 community members safely dropped by the McDougall residence in Meadowridge Circle to surprise McDougall with a certificate of appreciation from Mayor Jim Watson and the City of Ottawa.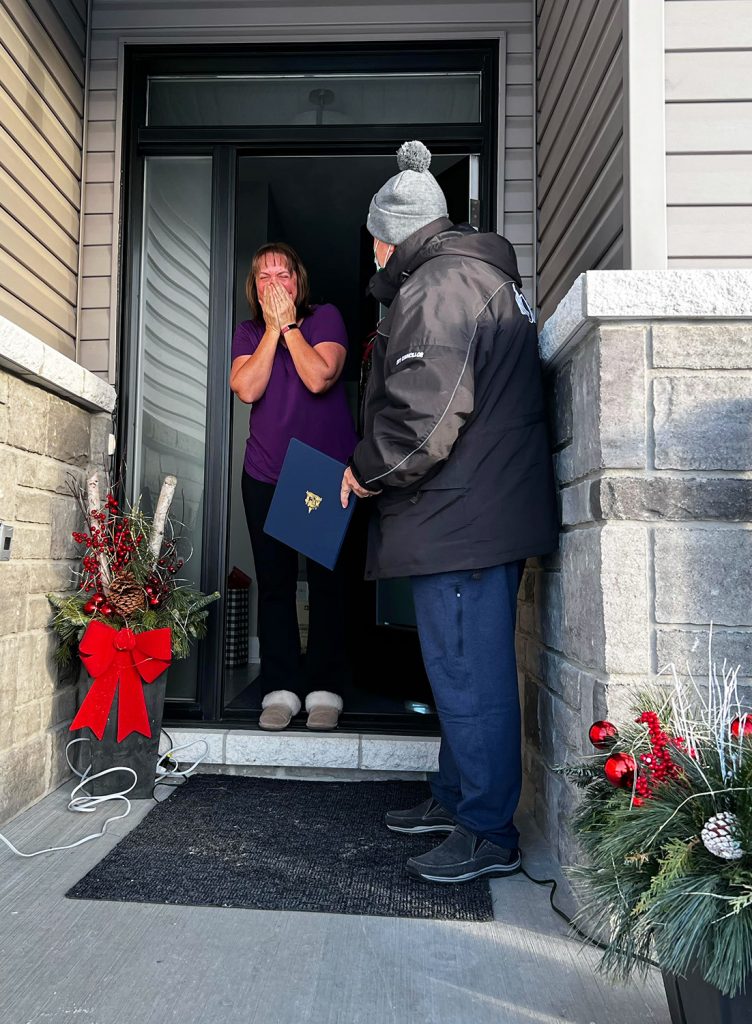 "I was cleaning my house, doing the things you usually do before Christmas," McDougall said. "My husband (who helped organize the event with neighbour and friend Bonnie O'Connor) was worried I would answer the door in my nightgown. I couldn't believe it. It was so overwhelming and touching. I don't do these things to get recognition, I do it to help the community."
And also, to keep busy. For the last year, McDougall has really stepped up for her Carp community. McDougall is already a director on the Alzheimer Society of Ontario and volunteer at the Huntley Curling Club. She decided to add event organizer and crafting host to her resume in 2021 as well.
"I like to be busy," McDougall said. "When work slowed down due to the pandemic, I wondered what I could do for the community. The kids around here are so lovely, it's hard not to be that way."
Last January, McDougall had an idea to keep the youth of her Meadowridge Circle community busy and entertained, while giving their haggard parents a break from trying to parent and work at the same time.
"It was an inspiration from my husband's family," McDougall said. "They were doing a pastry making lesson over Zoom (online webcasting). I though wouldn't that be cool if I could do something like that for the kids around here to give their parents a bit of a break."
From January to June, McDougall hosted a monthly craft workshop over the popular video conferencing software for kids as young as three and as old as 12. Before each workshop, McDougall would safely drop off the craft supplies to each participant so they could build that month's project.
As restrictions loosened, and the warm weather arrived, McDougall did some small, in-person sessions.
"I turned my garage in to a crafting room," McDougall said. "For Mother's Day we made a flower arrangement and homemade card and for Father's Day we made steak spice with a card."
McDougall used her kid army for other projects as well. She and other volunteers identified 54 seniors in retirement residences that would benefit from a gift for the holidays.
"Seniors who have been going through a tough time," she said.
McDougall's employer Darling Solutions pitched in some funds and McDougall recruited some volunteers from Huntley Centennial Elementary School and was able to provide 54 gifts each with a homemade card from one of Carp's youth.
Her volunteers then dropped off the presents and cards to those seniors selected.
"Those cards were really big," McDougall said. "The seniors really loved the idea of a homemade card from a young person."
From May to June, McDougall helped organize a 'Music Road Show' to bring live music to senior residences across the city. McDougall, her husband ("When I come up with a crazy idea, he just 100 per cent supports me.") and Darling Solutions teamed up again to turn a pick-up truck in to a travelling music stage. They found local musicians to perform and went on tour.
"We took our truck to all the retirement homes in Ottawa," McDougall said. "It was amazing, and we had such a great time. We had to move the truck around one building during the show, so all the residents could hear."
Last November, McDougall returned to her kid crew and organized a food drive for the West Carleton Food Access Centre.
"We raised 300 pounds (136 kilograms) of food," McDougall said. "It was so amazing. Three-year-olds knocking on doors asking for donations. It was adorable."
And all of this volunteer work caught the attention of her neighbours and her community.
McDougall's neighbour O'Connor said she felt all the volunteer work over the last year should be recognized, whether McDougall wants it or not.
"I reached out to the City of Ottawa, and our local councillor see if they can do something to honour her for her timelessly giving back to her community by organizing countless children's activities to make special occasions a little brighter for them, their parents and older adults in retirement communities during these especially trying times of COVID-19 pandemic," O'Connor told West Carleton Online. "Her thoughtfulness commitment, hard work and community building efforts deserve special recognition. Barbara is especially loved, respected and honoured by the residents of Meadowridge Circle for all that she contributes throughout the year."
El-Chantiry says it was an honour for him to present the certificate.
"I was honoured to help surprise Carp resident, Barbara McDougall, with a certificate of appreciation on behalf of Jim Watson and myself," he released in a statement shortly after presenting the certificate. "Thank you to Bonnie O'Connor for organizing this presentation and to Barbara for your volunteerism and all you do for the Ward Five community."
McDougall says she's not done yet, and although she's not ready to announcer her next project, she has a couple of ideas she hopes to put in to action this winter with her volunteer team.
"There are so many things we can do if we just work together," McDougall said. "I feel very humbled. It's really all about the community."