Vydon Acres homes now islands
By Jake Davies - West Carleton Online
VYDON ACRES – The residents of Vydon Acres, a community surrounding Lavergne Bay on the Ottawa River, are at the mercy of the water and the western wind.
West Carleton Online toured the area yesterday (April 30) where about 15 to 20 homes are already surrounded by water and, if not flooded yet, at extreme risk. In the hour and a bit West Carleton Online helped with sandbags, the water in the driveway rose noticeably.
But the river was calm and there was a decent turnout of volunteers for a community mostly overlooked by the media. It was the best homeowners could hope for.
But today's predictions call for a river that might rise 19 centimetres today to a peak of 41 cm above the May 2017 peak. There's rain in the forecast, and snow, and sleet.
"It's quite calm right now," Liz Higginson, owner of a hard-hit home at the end of Lighthouse lane, told West Carleton Online this morning by phone. "But if we have wind from the west, the waves will start breaching our sandbag walls."
It was something Higginson experienced just a couple of days ago on a windy Sunday (April 28).
"It was devastating to watch the waves come crashing over the sandbag wall you thought would help," she said.
But it's time to focus on today.
"Today we need lots of ready-made sandbags and muscle power in hip waders," Higginson said. "We need to reinforce our walls."
Higginson said her sandbag wall is on top of a three-foot retaining wall giving her around six feet (just under two metres) of protection. The river is already over the retaining wall, and when it's wavy, it easily splashes over the sandbags.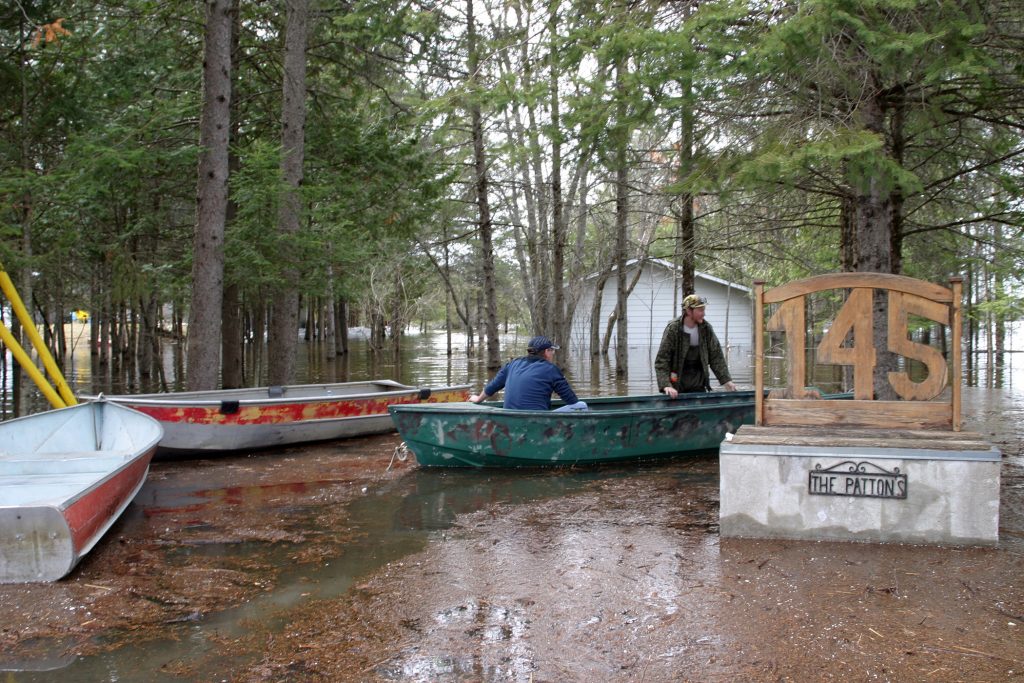 "It's brutal," Higginson said. "There's more to come."
Higginson says there are about 20 homes affected right now. "All six houses on Lighthouse Lane," Dave's (King) on Logger's Way, Mississippi Drive.
Higginson said the wellness check crew, made up of Ottawa Public Health officials and emergency personal, dropped by yesterday and encouraged her to evacuate.
She's moved all her furniture up to the second floor and she's ready to go, but she's not ready to go quite yet.
"For the time being," Higginson said. "It's tenuous."
So far, most of the sandbagging work in Vydon Acres has been done by the community – the homeowners, their children, even daughter-in-laws.
Yesterday the volunteers got a much-needed boost. A group of about 15 construction workers, young, strong men with positive attitudes, spent the day assisting in sandbagging efforts. Aecon Construction told a group working on the Elgin Street rehabilitation project to put in a shift in Vydon.
Several of these volunteers were helping Kim Worsley, who was helping her parent-in-laws – a couple that bought their place on the bay just last summer.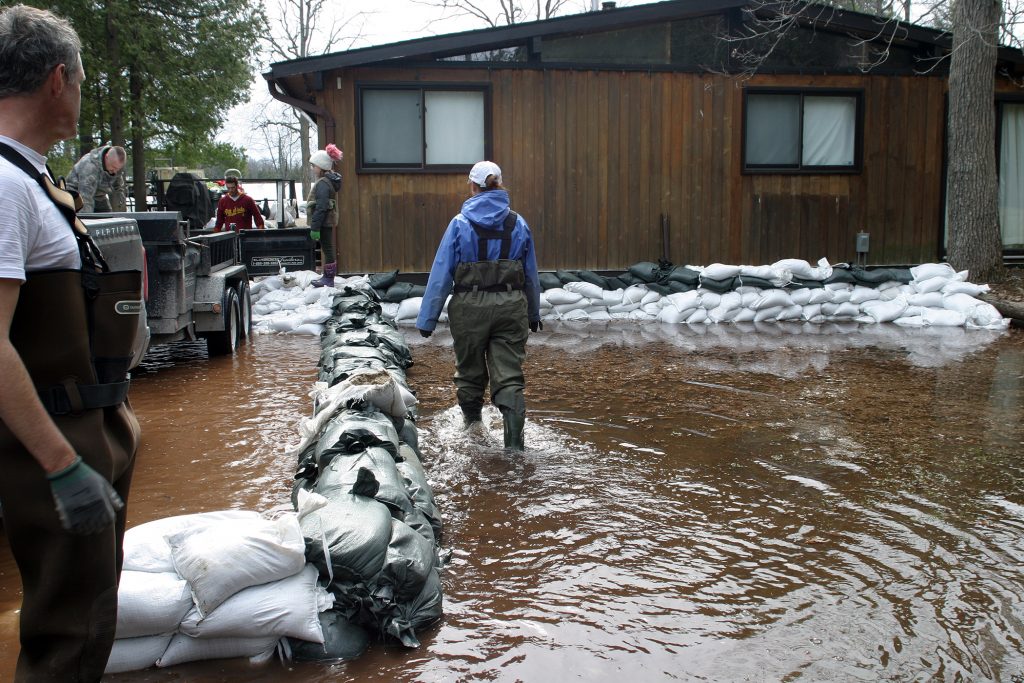 "This wasn't flooded this morning," she says of the house's driveway.
She says they started sandbagging about six days ago. It's been a productive couple of days.
"Yesterday was amazing," Worsley said. "We kept the water to a couple of inches in the basement."
If the sandbag wall fails. The water will almost instantly go up to the first floor.
Dave King's house is already surrounded by water. He's helping out his neighbours delivering and moving sandbags.
He says he estimates he put around 4,000 sandbags at his house.
Coun. Eli El-Chantiry released his key messaging for April 30.
There is still a great need for volunteers to assist today with sandbagging at Armitage/Greenland, MacLaren's Landing and Fitzroy Provincial Park. You can volunteer by going to the Volunteer Check-In Centre at the Dunrobin Community Centre at 1151 Thomas A. Dolan Pkwy. They are coordinating efforts until 7 p.m.
Donations needed at the West Carleton Food Access Centre. Coun. El-Chantiry requests all food donations be donated directly to the centre at 5670 Carp Rd. Specific items requested include Gatorade or Powerade, juice boxes, chocolate bars, small bags of chips, small packages of dried fruit, protein bars, granola bars, hot chocolate packets and cups with lids.
Private wells could be compromised. IF flood waters have reached the level of your private well head, stop using your well water – it may be contaminated. Used boiled, treated or bottled water for all uses.
Residents with natural gas that smell gas or their natural gas meter, regulator or appliance are affected by flooding, notify Enbridge Gas on their emergency line at 1-866-763-5427 at any time.
If you are self-evacuating it is important you register your household with the Red Cross to ensure you receive all available support. You can do so in person at the Community Support Centre in Constance Bay.
The city is opening a drive-through Commodity Distribution Point to provide drinking water and hand sanitizer to residents whose private wells are affected by flooding. Impacted residents may pick up water at Ottawa Fire Station 63 at 341 Bayview Dr., between noon and 7 p.m. daily beginning on today (April 30).
Self-service drinking water for residents whose private wells are affected by flooding are also available 24/7 at:
The intersection of Greenland Road and Armitage Avenue
5201 Canon Smith Drive
The intersection of Greenland Road and Armitage Avenue
The Ottawa River through West Carleton is still expected to peak this evening or tomorrow morning at 41 cm above May 2017 levels. Since the city started registering volunteers, 10,200 have signed up (this doesn't include the hundreds that just showed up at some of the smaller communities on their own). In total, 1.17 million sandbags have been filled. There have been 21 self-evacuations to date.